Winter Love Island Has Its First Bombshell, But There's A *Major* Twist
Plus, everything else you need to know about the series.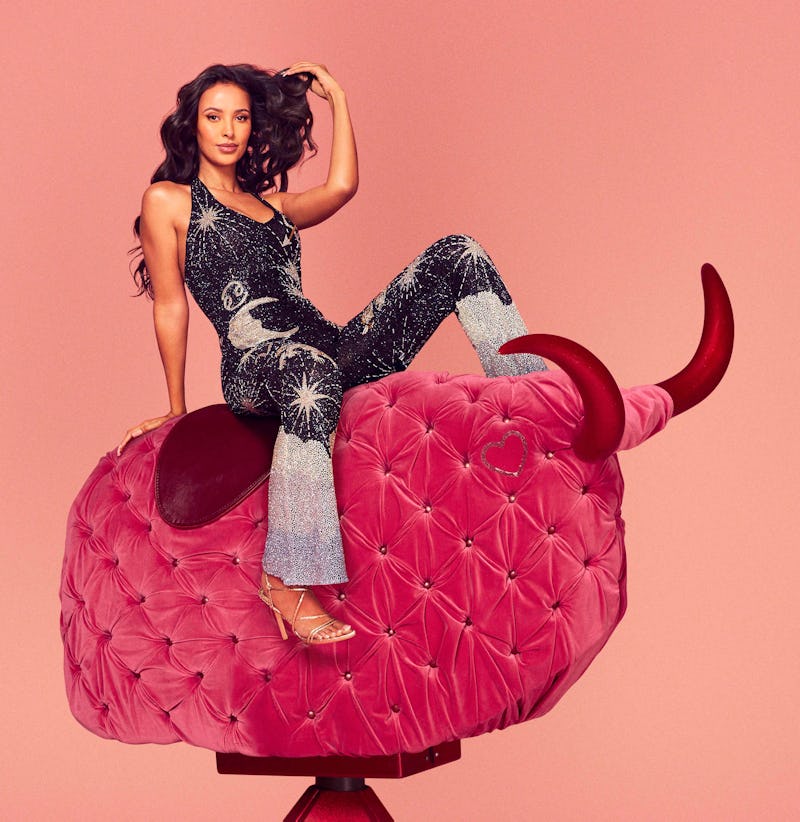 ITVX
Brace yourselves, die-hard fans of Love Island. We are in for double trouble in 2023 as ITV is giving us not one, but two series of the popular dating show. With a return to the Winter villa in South Africa coming up fast, you can expect all the classic Love Island antics — sexy challenges, fit bombshells, and hideaway shenanigans — to remain.
Speaking about the announcement, Paul Mortimer, Director of Reality Commissioning and Controller, ITV2, said: ''Love Island has once again proved itself to be the nation's favourite talking point across the summer, and we're always blown away by the show's ongoing impact and talkability amongst our younger audience. So, rather than just serving up a Summer of Love, we thought we'd make 2023 the Year of Love with two full series of the show." And so, see below for everything we know about the Winter series so far, including the all-important start date and what new host Maya Jama has to say about it all.
Winter Love Island 2023 Teaser Trailers
The British nation presumably needs no further encouragement to hop onto the Love Island train, as ITV has released very minimalist teasers for the latest season. An Instagram reel featuring the new host showed Maya looking stunning in an astrology-themed jumpsuit, captioned: "New year, new series, new host. Let's do this, @mayajama! 💛🏝"
ITV also uploaded a clip of a rodeo bucking bronco upholstered completely in pink, complete with a glittery love heart. With the iconic Love Island music playing, the caption reads: "Are you ready to grab love by the horns? You know what's coming when you hear this noise. 😉" Looks like viewers need to buckle up for a wild ride.
Winter Love Island 2023 Villa
A new Winter Love Island means a brand new villa, and ITV has pulled out all the stops with its South Africa spot. This year's batch of Islanders have been moved to a different location from the former winter series, but the villa has all the luxurious amenities that you'd expect from Love Island. There's a plush bar, a large pool, and, of course, a fire pit for everyone to gather around.
The Islanders will enter the new villa through a heart archway (as you do), and will have the opportunity to sneak up into a treehouse — a surprising new feature — which overlooks the stunning mountain scenery. So if any of this year's contestants want to have a private moment that doesn't include The Hideaway, this may be the spot to do just that.
Winter Love Island 2023 Cast
Announced on Jan. 9, the full cast includes a farmer, a Bond star, and a biomedical science student. Here's everything you need to know about the Winter Love Island 2023 line-up.
Tanya Manhenga
First to be confirmed to be heading into the South African Love Island villa was Tanya Manhenga. The 22 year-old is currently studying biomedical science in Liverpool, alongside making a living as an influencer. "I'm looking for a boyfriend and I think being in a Villa with lots of different people will help me work out who it is I may want," she told ITVX. Guys that don't wear socks in the house give her the ick, though.
Anna-May Robey
Welsh payroll administrator Anna-May Robey is 20 years old and looking for love – at the behest of her mother. "I've been single for quite a while, my mother is bugging me, she's like, 'You need to find a boyfriend,'" she told ITVX. "I want a boyfriend, I want to find someone who makes me laugh."
Kai Fagan
If his Instagram is anything to go by, 24-year-old Kai Fagan loves four things in a big way: rugby (he played rugby 7s for Jamaica and currently plays for Burnage RFC), food (who doesn't?), travel (ditto), and his little sister (adorable). In the villa he's looking for the right girl, "I feel like I have quite high expectations. I don't feel I should commit to someone unless I'm absolutely buzzing over them, because it's not fair on them."
Will Young
No, not that that Will Young. Winter Love Island's Will Young is a fifth generation farmer from Buckinghamshire. He has two pet pigs, named Timon and Pumbaa, and regularly shared topless pics of him tending to farm animals. "Having grown up on a farm, it's been quite difficult juggling relationships and work," he told ITVX. "Love Island will give me time away from the farm to solely go out and find love. I think I'm at the time of my life where I'm mature enough to go and find a wife."
Lana Jenkins
Luton-based make-up artist Lana Jenkins once appeared in Benidorm. She's also quick to drop the L-bomb. "I fall in love quickly," she said. "I tend to know quite soon if I could fall in love with that person and then, as long as everything is going well, I'll probably tell them I love them in about a week." One to watch, for sure.
Tanyel Revan
26-year-old hair stylist Tanyel Revan is based in North London but lives the true jet-set life. Her Instagram is a whistle-stop tour of hot (and haute) destinations, including Dubai, Cyprus, and Paris.
Ron Hall
"On meeting me, you'd never know I am blind in one eye," Ron Hall, the 25-year-old financial advisor said ahead of entering the villa. "It was the result of a football injury when I was 8; I went in for a header and got kicked in the face. It's not hindered me in any shape or form."
Shaq Muhammad
London-based airport security officer Shaq Muhammad hasn't been lucky in love so far, but he has high expectations when it comes to Love Island. "I thought, why not be in the sun and potentially meet the love of my life? Hopefully I do come out with my future wife."
Olivia Hawkins
27-year-old Olivia Hawkins has a surprising connection to Emma Watson and Michelle Keegan: she was a body double for both stars. And she appeared in a James Bond film, opposite Daniel Craig. Originally from Brighton, the actor and ring girl is hoping to bring "fun" and "vibes" to the villa. "Maybe a little bit of drama!," she added.
Haris Namani
The TV salesman from Doncaster has never found love. "I think this is the show that can help me," Haris Namani said ahead of entering the villa. "It's the best opportunity for me to find the girl and find the right one. I've obviously not found the right one myself." The lucky lady will know they are the right one when he takes her home to meet the fam. "I'm not going to say I've fallen in love until I've taken them to meet my mum and dad or sisters and brother," he explained.
Winter Love Island 2023 Bombshells
Alongside Love Island's contestants, of course, you'll also find the reality show's famous bombshells. Sent forth along the way to shake things up, these latecomers have to "move mad" in order to break up established couples and win their own more permanent place in the villa. Usually, bombshells are chosen by producers behind-the-scenes, but this year, there's been a shake-up.
For the first time ever, viewers at home will now be responsible for selecting the show's first new agent of chaos. Voting opened at 8 a.m. on Jan. 12 via the Love Island app and will remain open until Jan. 13 at 9 p.m. The bombshell with the highest number of votes will enter the villa.
So, who are the contenders?
Ellie Spence
Norwich-based Business Development Exec Ellie promises "drama, fun and a bit of unpredictability," if she's chosen to head into the villa. The 25-year-old has been single for three years, and though she describes herself as "flirty, forward and very confident," she's also looking to find serious commitment on the show. You can find her on Instagram, here: @elliespennie.
"I'm single because I fall in love really quick, but I fall out of it just as quickly," Ellie explained. "I could literally fall in love with a chair and then a week later be like, 'Oh wait, no, that's a chair!'" Those sun-loungers had better watch out.
Tom Clare
23-year-old semi-pro footballer Tom Clare is a striker for Macclesfield FC, and was the club's top goalscorer last season. Luckily enough, though, his club bosses — including former Manchester Utd and Wales player Robbie Savage — fully backed his decision to head to Love Island. You can find Tom on Instagram, here: @tomclare__.
A self-confessed High School Musical fan, Tom says he would hire Zac Efron to play him in a film about his life, and also admits to enjoying an ABBA remix. When it comes to his approach in the villa, he said that he won't resort to any sly or underhand tactics. "I'm a good laugh, a good vibe. I'm not snakey, I don't like that kind of stuff," he explained. "If I've got an issue with someone I'll speak to them."
Winter Love Island 2023 Host
The voice of Love Island, Iain Stirling — who is married to former host Laura Whitmore — is confirmed to be taking on narration duties for Love Island USA as it moves from CBS to Peacock, meaning he could be in for quite a few summers and winters of love.
Maya Jama was confirmed to be the villa's new winter host in October 2022, after Whitmore announced her departure from the show in August. "I've always been such a massive Love Island fan and I'm so excited to be hosting one of the nation's favourite shows," Jama said in a statement. "I can't wait to get into the villa and meet all of the islanders."
Ahead of jetting off for her very first Love Island, Jama joked that she's feeling most nervous about successfully completing the infamous slo-mo walk camera shot that accompanies presenters entering the villa. "The biggest pressure [outfit] is the slow-motion walk to enter [the villa]," she told This Morning on Jan 6. "So much pressure! It has to look good in the wind, you've got to be able to move in it, then you've got to be, like, saucy but not too saucy… "
"How many times do you walk and know that someone's taking a shot of every bit of you?" she continued. "You don't want your hand to look funny, you want your face to look nice." Outlining how she thinks she will approach the new gig, Maya added that she'll try to channel the enthusiasm she always feels as a die-hard fan watching at home. "I've screamed at the telly for years," she says, adding that she's watched every single season to date.
This Morning hosts Alison Hammond and Dermot O'Leary asked Maya for her all-time Love Island highlight. For the new presenter, it has to be Season 3, and the moment when Chris Hughes asked: "Shall I rap a little bit and lighten the mood?" Maya commented: "That still gets put in the group chats every now and then when there's an awkward situation."
Quizzed on whether she would back an edition of Love Island with older contestants, as suggested by Davina McCall, Maya was in favour. "Get them all in, the nans and grandads," she said. "Ask the producers. Maybe next time!"
Elsewhere, Jama revealed that she'd love to see Season 3's Theo Campbell return as a bombshell, similar to how Adam Collard did in the previous series. "I found him hilarious," she told ITV. "That line about 'leave with them' — it was that. We were all feeling it and Theo actually said it. You need that honesty sometimes!"
Love Island 2023 Duty of Care Regulations
On Dec. 30, ITV released a new set of protocols for Islanders appearing on Love Island in 2023. Notably, in the upcoming series, participants will be asked to pause all accounts for the duration of their time on screen, meaning their family and friends won't be able to post on their pages on their behalf. The network believes this will ensure the Islanders and their families are protected from the adverse effects of social media.
Before entering the villa, participants will also be trained in engaging in mutually respectful relationships and in identifying coercive or controlling behaviour. This comes after the most recent season saw domestic abuse charities calling out the male contestants' "misogyny and casual sexism."
Similar to previous seasons, this time too, contestants will be advised on using inclusive language and creating safe spaces for one another. Moreover, ahead of the winter season, new participants will watch a video where former Islanders share tips on how to deal with being filmed 24/7, how to interact with producers, how to deal with social media trolling and how to adapt to life after the show. The welfare programme also includes financial advice and mental health check-ins with the Islanders before, during and 14 months after the completion of the show.
Winter Love Island 2023 Podcast
Throughout the new series, former Islander Indiyah Polack will be joined by Made In Chelsea's Sam Thompson on the official Winter Love Island podcast to dissect all the latest goings on in the Villa.
Titled Love Island: The Morning After, the audio series — announced on Jan. 5 — will see the duo share their thoughts on the latest couplings, dumplings, and firepit antics — and interview some of the most memorable Islanders from seasons gone by.
Meanwhile, the duo will also join Love Island host Maya on the ITV2 spin-off show Aftersun to deep-dive into all the latest news from the sun-drenched South African Villa.
"I genuinely can't explain how excited I am. I can't wait to speak to the Islanders and get all the cheeky goss from their friends and families. It's gonna be an insane series, I can't wait," Polack said of the podcast, while Thompson said in a statement: "It feels like I'm with my family and we're all in it together and I really like it. We're all massive fans of the show and it's really, really nice."
Winter Love Island 2023 Start Date
Winter Love Island will start on Monday, Jan. 16 at 9 p.m. on ITV2 and ITVX. Mike Spencer, Executive Producer at Lifted Entertainment, said of the TV event: ''After eight brilliant series, we are excited to be serving up two helpings of love in 2023 by kicking off in January at a stunning new villa in South Africa. We can look forward to more romances, bromances, and everything in between as we embark on another epic year of love.''