The Luther: The Fallen Sun Trailer Is Giving Major Bond Vibes
Here's everything to know.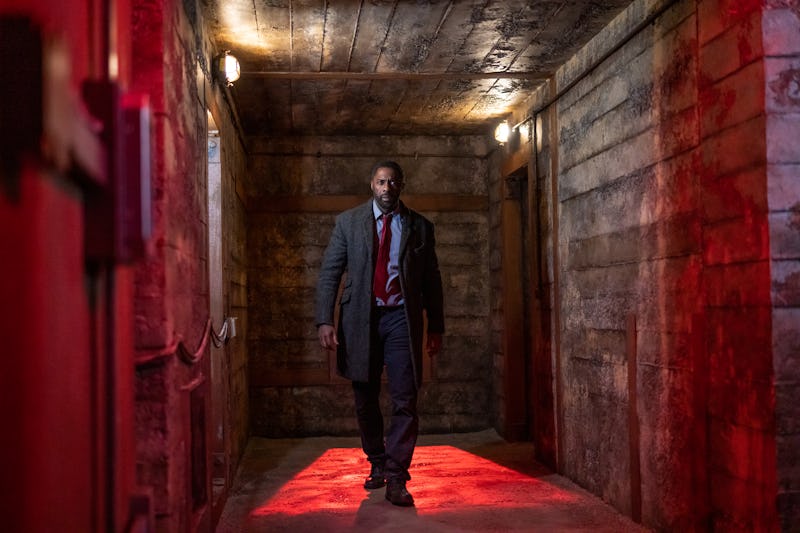 John Wilson/Netflix
As fans of the original series are likely aware, a Luther film is officially on the way, with Idris Elba reprising his role as the troubled yet talented detective, DCI John Luther. The award-winning crime drama will be returning as a one-off feature film for Netflix and has been written by Neil Cross, the brains behind the original BBC drama series. A Luther reprisal was rumoured to be in the works for quite some time, but nothing was confirmed until Netflix tweeted the exciting announcement in 2021, also revealing some big-name new cast members. As Elba prepares to dust off his character's iconic trench coat, here's everything you need to know about Luther: The Fallen Sun film.
Luther: The Fallen Sun Plot
Speaking to Empire in Nov. 2022, lead star Elba revealed that fans can expect detective Luther to "break out of the gritty streets of London." The actor continued: "We take it outside of that a little bit. And that's great. It feels like now we're entering a different life of the Luther experience."
Speaking to Radio Times in 2021, series creator Cross also teased a "bigger and better" production compared to the original TV drama thanks to the film's increased budget afforded by Netflix. "What we've been able to do [with the movie] — having delivered every episode of Luther on budgets which are comically small — is to have a wider canvas and a bigger budget to tell the kind of stories that we've always wanted to be able to tell," he explained. Luther ran for a total of five seasons between 2010 and 2019, becoming a huge hit for the BBC. As Digital Spy reports, the drama's 2019 finale peaked with an impressive 4.7 million viewers.
The first trailer (more on that to follow) teases that and more. Giving us a glimpse of a truly epic showdown between DCI John Luther and villain David Robey, a tech billionaire using surveillance tech to manipulate and kill civilians, played by Andy Serkis.
Luther: The Fallen Sun Trailer
Talk about explosive. Starting with a jail break scene, we see Raine (Cynthia Erivo) approach DSU Martin Schenk (Dermot Crowley) saying, urgently "we need to know where he is." Schenk tells Raine he knows where to find him, to which she replies, criptically: "Except he's not in prison." Standing atop a London building, Luther looks out over the city, saying: "I need to stop this man, I'm still a copper." Serkis's villainous character proves to be quite the match for Luther, finishing on what might be the creepiest line yet: "Johnny, I looked you right in the eye because I was curious. I wanted to know if you'd see it in me. Because that is who you are, isn't it? A man who knows all about people like me." Chilling.
Luther: The Fallen Sun Cast
Starring alongside Elba (who has won two Golden Globes and a Royal Television Society Best Actor Award for his performance in Luther) are the Grammy, Tony, and Emmy-winning actor Cynthia Erivo, who will portray a rival detective, and Lord of the Rings star Andy Serkis, who is set to be the film's villain. Going off of the first trailer, there are major Bond vibes, in more ways than one.
Luther: The Fallen Sun Release Date
The new film comes to select cinemas on Feb. 24, and will be released on Netflix on March 10.
This article was originally published on