34 Years Later, Madonna Celebrates Her Once-Banned Pepsi Commercial
"Thank you Pepsi for finally realizing the genius of our collaboration."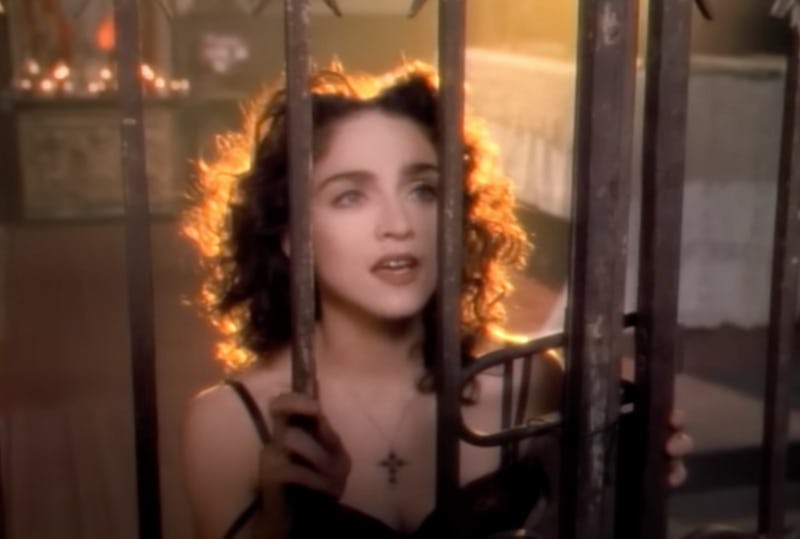 In 1989, Madonna made "Like a Prayer," just the first of her many controversial music videos, which resulted in Pepsi scrapping their commercial. But 34 years later, the company has brought it back from the vault. On Sept. 12, Pepsi aired a shorter version of the banned commercial during the 2023 MTV Video Music Awards to celebrate their 125th anniversary and the singer's storied 40-year career, which she'll commemorate on her Celebration Tour kicking off in October.
Madonna responded to her banned ad's return on social media, explaining how it motivated her to never compromise on her artistry from that point on. "34 years ago I made a commercial with Pepsi to celebrate the release of my song 'Like a Prayer,'" she said. "The commercial was immediately canceled when I refused to change any scenes in the video where I was kissing a black saint or burning crosses. So began my illustrious career as an artist refusing to compromise my artistic integrity." She went on to thank Pepsi "for finally realizing the genius of our collaboration" and reminding everyone that "artists are here to disturb the peace."
However, the Queen of Pop couldn't help but also throw a little light-hearted shade at Pepsi for taking so long to undo their ban. On her Instagram Story, Madge shared a photo of her drinking a can of Coca-Cola, the company's biggest rival, from a straw. "Also good," she wrote in big red letters, with a winky-face emoji in the corner.
The two-minute ad wasn't all that controversial in itself, simply showing Madonna dancing on the streets with nuns and revelers alike to "Like a Prayer," before she lounges on a recliner at home to watch the footage on TV, with a Pepsi in hand. It reached an estimated 250 million viewers in over 40 countries, but despite its success, Pepsi pulled the commercial and ended their sponsorship with her in April 1989 after she released the music video for "Like a Prayer."
The clip received backlash for its scenes of burning crosses and Madge seducing an angelic saint, but it also raised eyebrows for its depictions of a Black saint, biracial couples, and systemic racism in the police system, which would be viewed differently today. Most TV stations refused to show the music video except for MTV, who played it regularly but would go on to ban future videos from Madonna. It was also condemned by the Vatican, but she refused to alter or censor any of the imagery, a decision that's stood the test of time.