Step Up 2 Legitimately Changed Marli Siu's Life
"I spent all summer learning how to do a backflip."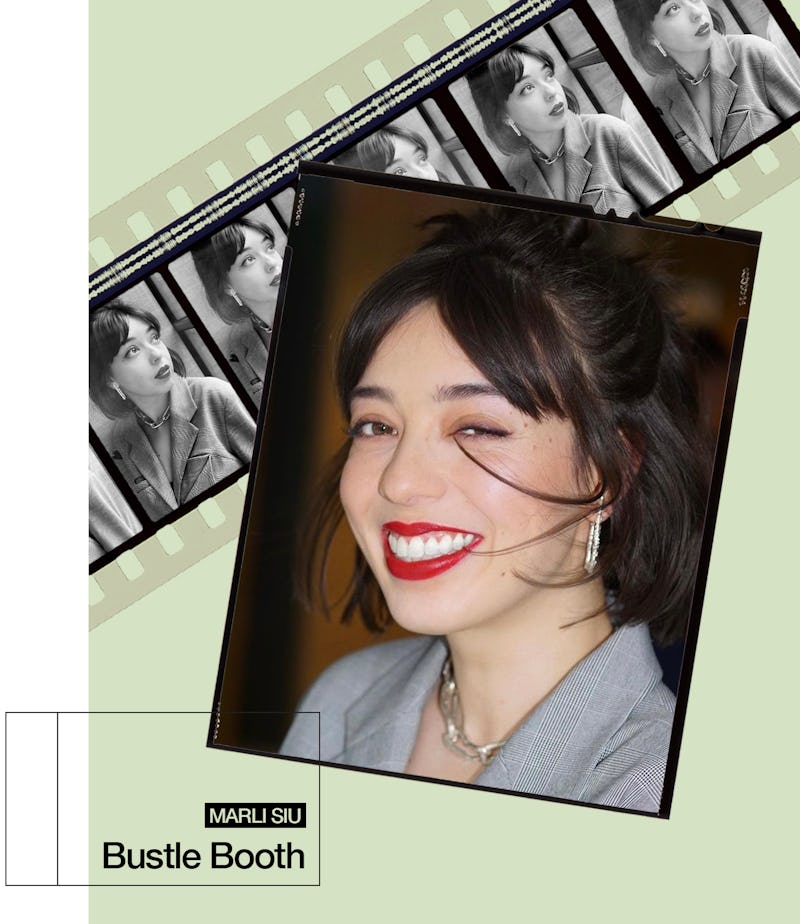 Life in a slightly chaotic flat-share is something Marli Siu, one of the stars of BBC's adaptation of Dolly Alderton's Everything I Know About Love, knows a fair bit about. "It was a mad flat with nine of us living there, no internet, and no furniture," she laughs, recalling her first London flat. "It was almost empty and a bit weird because things would keep going missing: the hoover, the food processor…" The Scottish star has since moved, and landed roles in spy drama Alex Rider, zombie-musical Anna and the Apocalypse, and Scottish comedy Our Ladies under her belt, and scooped a BAFTA Scotland Best Actor nomination for her role in 2019 action film Run.
Siu coincidentally lives around the corner from Alderton's old stomping ground, too. Though that isn't why she landed the role. "Dolly and I went for our first coffee just after I'd been cast," she recalls, "and when we met up we walked around and she showed me where she and the girls actually lived – the actual flat. It's super close to where I live now."
Though the show isn't a strictly faithful adaptation of the memoir, but it has all the heart of Alderton's tale and characters. Siu's Nell draws on a number of friends who appear throughout the original book, for instance. "Dolly said from the get-go that I could shape the character and bring my own ideas and was really open to that all the way through," Siu recalls. "So Nell is very straight-talking. She's not a people-pleaser, and she really has her head screwed on."
Working with Alderton is something of a dream-come-true for Siu, a devoted listener of Caroline O'Donoghue and Alderton's Sentimental And The City podcast which dives deep into Sex & The City. The crucial question, though: which character would Siu be? "Miranda's my gut instinct," she says. "What's good about SATC is that we've all got bits of [every character] in us. We all love Samantha and wish we were as free and fun as her and gave no f**ks, but… the reality is more like Miranda. She's a really good person. If we're all Miranda at our core, that's no bad thing."
The chaos of Camden (or Miranda's New York) couldn't be further from Siu's sleepy hometown of Forres, near the jagged Moray coast of North-East Scotland. "I grew up really wanting to live in the city. [Forres has] got the kind of high street where you just have a chippy and a pub," she says. "I went to Edinburgh for uni and was astounded that I could get a bus from the end of my road…"
As a kid, Siu loved to dance, and would task her siblings and cousins with performing her earliest screenplays. Initially, she admits with amusement, acting entered her life because she harboured dreams of joining a dance troupe. "I saw Step Up 2: The Streets at the cinema and I really wanted to be a street dancer," she laughs. "I was blown away by that film and it changed my life, and I spent all summer learning how to do a backflip. I couldn't do it," she side-notes. "I was like, my dream's over. I entered this Maoam hip-hop talent competition, which is really embarrassing, and I did terribly, and realised that wasn't for me. I think it occurred to me that I could pretend to be a street dancer if I was an actor!"
Get to know Marli Siu – a self-confessed Miranda – better in the Bustle Booth, below.
In The Bustle Booth
What's your coffee order? 
Americano with almond milk, which I've learnt is the way to ask for a coffee with milk without baristas judging you.
What are the saved weather locations on your phone? 
London, Edinburgh, New York, Hong Kong, Prague, Aberlour, Manchester, Bundoran, Sinaia, High Wycombe – lol. I never delete any, I should really start to…
What's your sign? 
Pisces through and through. 90% of my time is spent in a made up scenario inside my head and the other 10% is spent crying and sleeping. Very Piscean.
Favourite overused movie quote? 
"F**k off" but in the style of Brian Cox from Succession.
What was your favourite cartoon as a kid? 
Recess. I'd still say Spinelli is my fashion icon.
What's one movie or TV show you're currently obsessed with?
PEN15 is my absolute favourite TV show. One of my best mates got me into it. Watch it. It's brilliant.
Who is your celeb idol?
Maybe Maya Erskine? She's one of the creators of PEN15, she's genius. She's such a good actor but also a brilliant writer and it's the best portrayal I've seen of growing up mixed race, specifically Asian and White. She nails that experience going through high school in such a clever, heart breaking and funny way.
If you had to be on a reality TV show, what would it be?
Gogglebox. I love it.
Go-to karaoke song?
I actually hate karaoke. I know that's such an un-fun thing to say but I hate it with a passion. The last thing I want to do on a night out is listen to you sing, or make you listen to me sing.
What's something that's inspiring you lately?
Everything Everywhere All At Once! Beautiful, brilliant film. I'm inspired by everyone who made it, the directors, every single one of the actors in it.
What is something you would want people to say about you?
Wow. She's so tall. And powerful. I would like people to fear me.