Every Costume, Theory & Reveal On Masked Singer Season 5 So Far
This season is a little different.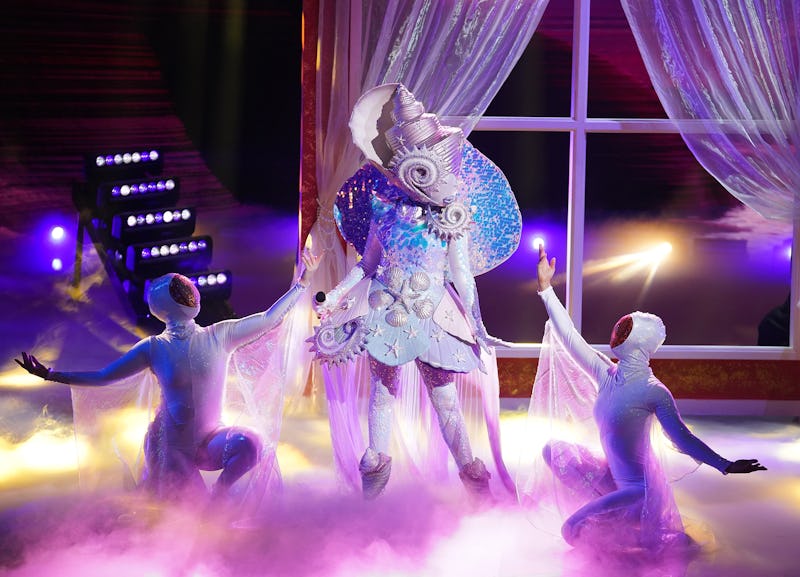 Michael Becker/FOX
Fox's Masked Singer is chugging ahead with yet another season of flamboyant costumes and mysterious performers. Returning on March 10, The Masked Singer Season 5 will be basically the same as past seasons, but with a few key changes.
Due to the pandemic, the show will continue to be audience-less, with select fans voting on each contestant from home. While Ken Jeong, Jenny McCarthy, Nicole Scherzinger, and Robin Thicke will all return as judges, Niecy Nash is stepping in to host while Nick Cannon recovers from COVID-19. The format will also differ slightly, per Entertainment Weekly. Each week there will be an unknown number of "wildcard rounds," during which new celebrities will appear for the chance to unseat another contestant in the competition. That means even more singers to potentially keep track of, so here's everything we know so far.
The Masked Singer Season 5 Contestants
Compared to Season 4 and its 16 contestants, Season 5 will only have 10 non-"wildcard contestants," split into Groups A and B. Group A will consist of Russian Dolls, Seashell, Raccoon, Snail, and Porcupine. Group B has Piglet, Chameleon, Phoenix, Black Swan, and Grandpa Monster. Between them, these contestants' impressive achievements include 26 Grammy nominations, nine multi-platinum singles, four Academy Award nominations, three Super Bowl appearances, six gold medals, and two world records.
To help with guesses, there will be a new character, Cluedle-Doo, also a costumed celebrity, who gives the audience extra clues that the panelists don't see.
The Season 5 Costumes
Fox has already revealed all 10 of the Group A and B contestants. It seems like all of the "wildcard contestants" will be kept a secret until they appear.
The Clues and Theories
Seashell
Decked in a pretty pastel dress, Seashell said in the Episode 1 clue package that when she was young, "I was pulled by the tide all around the world with my family." She was always "adrift" and when her career took off it was "a massive tsunami of success." She also mentioned she "used to sing way back in the day, and I kind of stopped to pursue other careers." Visual clues included a bratwurst, a green chameleon, a cowboy hat, and a witch's broom. Cluedle-Doo's clue said that no two shells are the same.
Judges guessed Kristin Chenoweth, Hilary Duff, and Jennifer Love Hewitt. But fans theorize that Seashell is Tia or Tamera Mowry. The twins both starred in Twitches and were born in Germany because their dad traveled for the military.
Russian Dolls
Featuring two singers, just like Season 4's Snow Owls, the Russian Dolls said in the Episode 1 clue package that they were the "hottest toy" at the beginning of their career. They also mentioned they were "toyed with" like puppets and just "didn't fit into a box." Visual clues included a "Mizfit Toyz Store" sign, a boat wheel, and a Garden State Highway sign. Cluedle-Doo's clue was that a Russian Doll can sometimes have 15 replicas of itself.
Judges guessed Gwen Stefani, Tom Dumont, and Matthew Morrison. But fans have already theorized that the Russian Dolls are the popular '90s boy band Hanson. The Masked Singer YouTube account posted a video of the duo singing "Shallow," and one fan commented, "Hanson....For sure. At least Isaac & Taylor." Another wrote, "That is HANSON!!!! You ain't fooling your true fans."
Raccoon
Raccoon is dressed like a cowboy, and in his Episode 1 clue package, he's shown in jail. He said "sometimes to get a happy ending, you have to go through hell first," and that during his darkest days he stayed "sane" by reciting The Hunchback of Notre Dame. He equates himself to a monster, and said if he got another chance he'd only "do good." Visual clues included a donut, a switchblade, a magnifying glass, and a stained-glass picture of him battling a snake.
Judges guessed Gary Busey, Mike Tyson, and Danny DeVito, while fans on Reddit are pretty sure Raccoon is Danny Trejo.
Snail
Snail is a giant rolling insect with a top hat. His first clue package said he's a TV actor, director, and producer who has "rubbed elbows with everyone from Robert De Niro to Lady Gaga to Michelle Obama." Cluedle-Doo said Snail was a national treasure, and judges guessed Jay Leno and Jimmy Kimmel. But he was unmasked on the premiere episode and it was revealed, quite hilariously, that Snail was Kermit the Frog.
Porcupine/Robopine
Porcupine (also called Robopine in Episode 1) is half-robot and half-animal, and he looks decently tall. He said in his Episode 1 clue package that he had to fend for himself from a young age. After dialing "411 day and night just to make a connection," a "certain angel" picked up and changed everything for him. Visual clues included a lock and key, a George Washington statue, and two DNA helixes. He mentioned he has grandkids and that he's 60 years old.
Judge guesses included Lionel Richie, Ginuwine, and Jamie Foxx. But fans think that Robopine is Damon Wayans, Terry Crews, Steve Harvey, or Tyrese Gibson.
Piglet
Piglet wears a green plaid outfit with suspenders, and his first clue package looked like a Bachelor spoof. He said that he "hasn't always been lucky in love" and he's guilty of "dropping the L-word on a second date." He added that he's "given away a few roses, the world saw my heart break, and I learned that some flowers have very sharp thorns." Visual clues included a bouncing pink question mark, an alarm clock set to 6 o'clock, and a heart tattoo.
Judges guessed Adam Lambert, Charlie Puth, and Liam Hemsworth. But thanks to an early clip where he briefly sang Phil Collins' "Against All Odds," fans are still sticking with their guess that Piglet is Nick Lachey from 98 Degrees.
Chameleon
Chameleon wears a bedazzled disco outfit and is very tall. In his first clue package, he rode a motorcycle and also played an old 8-bit video game of himself on a motorcycle. His pops gave him his love for technology, and when his career "almost tanked," he used those "tech-savvy skills from my childhood to amplify my career and change the game." Visual clues included a fuzzy red dice with the numbers 2 and 3, a book labeled I.T., and "007" on a computer monitor. Cluedle-Doo's clue was that Chameleon has a history with precious gemstones.
Judges guessed it was actually Nick Cannon or basketball player Dwight Howard. But fans are pretty sure Chameleon is Wiz Khalifa based on his voice alone.
Phoenix
Phoenix wears a beautiful red ball gown with feathers coming out the back. She said that she's always been a "winner" in people's eyes, but she's "hidden behind a mask most of my life." Visual clues included a time capsule, a sports car, and a bunch of little phoenixes. Judges guessed Jonathan Van Ness and RuPaul, but Phoenix was unmasked on March 17 and revealed to be Caitlyn Jenner.
Black Swan
Black Swan has pointed gloves and black, thigh-high boots. In her first clue package, she said, "Black swans, like me, are incredibly rare. But I didn't factor in that my talent might make me someone else's prey." She said she was "hypnotized by a Hollywood deal" that she couldn't resist, and "there was a steep price" to pay where she was unsure if she'd ever "see the light of day" again. But her "faithful flock" set her free, and she's now in a princess castle. Visual clues included a wanted poster with a "voucher" reward, a pocket watch with the number five, a red bishop chess piece, and a big red X.
Judges guessed Anya-Taylor Joy and Leona Lewis. But fans think Black Swan is Jojo, who spent a decade fighting her former label.
Grandpa Monster
It wouldn't be The Masked Singer without some variation of the Monster costume. This season it's Grandpa Monster, who has a giant monocle and a walker. His first clue package said that when he was younger, he was a "trouble-making fool" who was "always acting out to get all eyes on me." He eventually became a "star pupil" who is "still working to shake my bad reputation" and hopes that audiences are not afraid "of who I was a long time ago." Visual clues included a classroom with football Xs and Os making a number six, a 97% scantron test, and a kettlebell that reads "6.2 tons."
Judges guessed Scott Disick and footballer Johnny Manziel. Some fans think it's football players Jay Cutler or Baker Mayfield, while others are worried that Grandpa Monster is actually OJ Simpson.
Let the masked fun continue!
This article was originally published on