Matt Hancock's Net Worth Is A Political Minefield
The former Health Secretary's jungle stint is on track to earn him big money.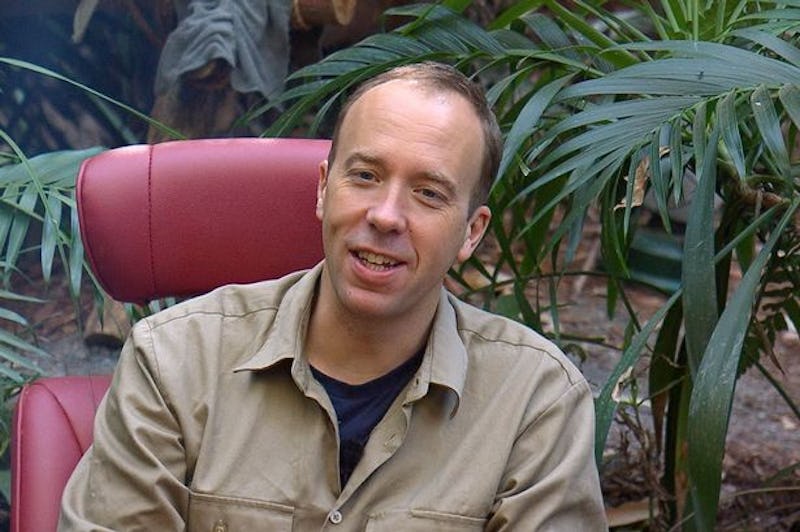 ITV
Whilst Matt Hancock is no stranger to appearing on TV, the former Conservative MP has certainly switched scenarios this year by starring in I'm A Celebrity… Get Me Out Of Here. The announcement that the former Health Secretary would be appearing on the ITV show was met with public backlash. After the revelation that the 44-year-old broke lockdown guidelines in 2021, members of the public were outraged that the MP would choose to go on the reality TV show over representing his constituents in West Suffolk as an MP.
In June 2021, CCTV footage of the former Health Secretary was leaked, revealing that he and Gina Coladangelo were having an affair as the two were seen closely embracing each other in a corridor. The footage was captured in May 2021, at a time where lockdown guidelines — which Hancock was partly responsible for making — were in place and suggested people shouldn't hug each other. This exposure swiftly led to Hancock's resignation as Health Secretary, a public apology for breaking the guidelines, and the MP separating from his wife of 15 years.
It didn't take long for the I'm A Celeb campmates to confront the MP about why he chose to go on the show. To which Hancock said: "What I'm really looking for is a bit of forgiveness." In his first two weeks in the jungle, Hancock was voted by the public to participate in almost every trial. So with an increased spotlight on him, what is Hancock's net worth and how does he make his money?
3 Ways Matt Hancock Makes Money
Member Of Parliament
Through losing the whip as a Conservative MP for taking part in the ITV reality show, Hancock is now considered an independent MP for West Suffolk. But his role as an MP has served him well financially so far, as he makes £84,144 per year, the basic annual salary for MPs. And he will have undoubtedly earned an even higher sum whilst he was working as Health Secretary.
Prior to becoming an MP, he worked as an economist and then took on the role of economic advisor at the Bank of England. It wasn't until 2005 that he entered politics, where he first acted as Chief of Staff to Shadow Chancellor George Osborne at the time.
Television
On I'm A Celeb, Hancock is reportedly being paid a whopping £400,000 for his jungle stint — the second highest fee after Boy George. Although the specific amount is yet to be confirmed, a spokesman for Hancock stated: "Matt will be making a donation to St Nicholas Hospice in Suffolk and causes supporting dyslexia off the back of his appearance."
In addition to I'm A Celeb, Hancock is also rumoured to be making an appearance on the next celebrity version of Channel 4's SAS: Who Dares Wins. If true, the MP would likely be looking at another hefty TV pay check.
Books
Although yet to be released, the 44-year-old has shared he will be releasing a book later this year. With the increased publicity from I'm A Celeb, the sales of this book could add a significant amount to his regular take-home pay. Although, the MP has said that he'll be donating all of the royalties from his book to NHS charities, per The Mirror.
What is Matt Hancock's Net Worth?
Hancock's net worth is estimated to currently stand at £5 million, per The Sun. However, the MP's wealth is set to increase with the large sum he'll be receiving for his stint on I'm A Celeb and other possible TV appearances.