Everything To Know About The Mean Girls: The Musical Movie
On Oct. 3, Paramount Pictures announced the film's release date.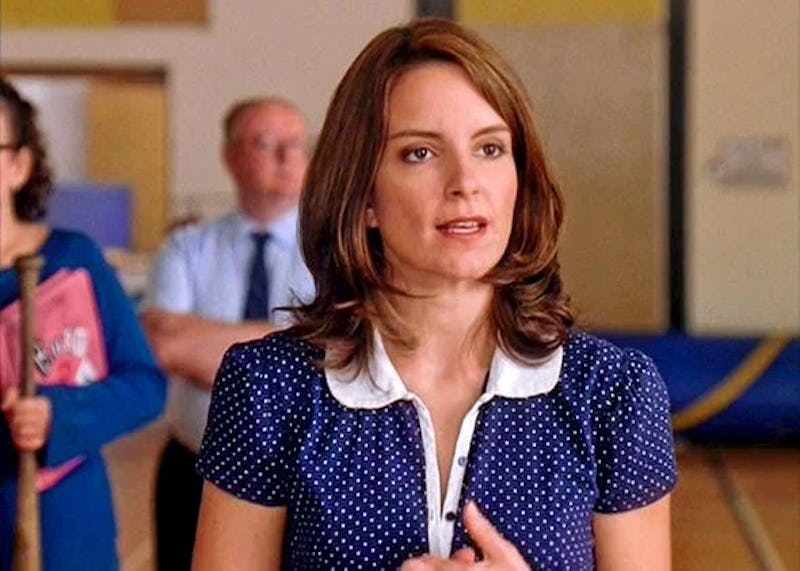 Paramount Pictures
As soon as Mean Girls was released in 2004, the coming-of-age comedy became an instant sensation and has remained a pop-culture landmark in the decades since. In 2017, leading writer Tina Fey and producer Lorne Michaels debuted a musical inspired by the film, and now things are coming full circle as the duo creates a film adaptation of the Tony-nominated Broadway show.
"I'm very excited to bring Mean Girls back to the big screen," Fey said in a statement when the film was announced in January 2020. "It's been incredibly gratifying to see how much the movie and the musical have meant to audiences. I've spent 16 years with these characters now. They are my Marvel Universe and I love them dearly."
Fey will assume writing duties once again. Her husband, Jeff Richmond, who composed the music for the Broadway production, will also join the film, which is being co-directed by Samantha Jayne and Arturo Perez Jr.
The musical version opened on Broadway in April 2018, six months after a trial run in Washington, D.C., and was nominated for 11 Tony Awards.
As for the Mean Girls movie, it made young actors Lindsay Lohan, Rachel McAdams, and Amanda Seyfried even bigger stars, and in the forthcoming adaptation, a new generation will fill the shoes of Cady, Regina, and every memorable North Shore student — and, as McAdams told Bustle earlier this year, the possibility of the OG Plastics returning isn't out of the question.
As for the adult characters, some of your favorite teachers are set to return, and A-list stars are filling some of those roles, with an Office star stepping in as Cady's mom and a Mad Men star playing the school's most problematic teacher. Here's everything to know about Mean Girls: The Musical.
Mean Girls: The Musical Release Date
Mean Girls: The Musical announced its release date on none other than Mean Girls Day: Oct. 3. On Instagram, Paramount Pictures shared that the musical will arrive in theaters on Jan. 12, with a caption calling the premiere day "SO FETCH."
Mean Girls: The Musical Cast
In December 2022, the first Mean Girls: The Musical cast members were announced: Actor and musician Reneé Rapp (The Sex Lives of College Girls) will reprise the role of Regina George after playing the character on Broadway. Spider-Man star Angourie Rice will star as Cady Heron, Moana star Auli'i Cravalho is set to portray Janis Ian, and Broadway star Jaquel Spivey (A Strange Loop) will play Damien Leigh.
In February, it was announced that The Summer I Turned Pretty actor Christopher Briney will appear as Aaron Samuels, Love, Victor star Bebe Wood will play Gretchen Wieners, and Senior Year actor Avantika Vandanap is the new Karen Smith. The role of Mathlete rapper Kevin Gnapoor, who was played by Rajiv Surendra in the original film, is going to newcomer Mahi Alam.
Fortunately for fans, Fey announced she would return to North Shore High, reprising her role as "pushover" teacher Ms. Norbury. Tim Meadows is also returning, as everyone's favorite principal, Mr. Duvall.
During an appearance on Late Night with Seth Meyers, Fey jokingly said that, unlike the students, they're not too old to play their characters again. "We couldn't age out — teachers work forever," she said. "I want it to be like when Gilligan from Gilligan's Island was at a trade show, and you're like, 'Oh, he looks so old in his little hat.' That's my goal."
However, not every North Shore faculty member will be a familiar face, and the same goes for the students' parents. In February, Deadline reported that The Office star Jenna Fischer has been cast to play Cady Heron's mom, a role originally played by Ana Gasteyer. Busy Phillips will play Regina's iconic "cool mom," June, who was famously portrayed by Amy Poehler in the 2004 film.
In March, The Hollywood Reporter announced that Jon Hamm would play Coach Carr, the creepy and sweaty gym teacher who can't teach sex education to save his life, while Search Party actor Connor Ratliff will play Mr. Rapp, another North Shore teacher.
Emily In Paris star Ashley Park, who originated the role of Gretchen on Broadway, will also appear in the movie, according to a March 3 report. Details about her cameo are being kept under wrap, but she won't be reprising her Tony-nominated part.
Jonathan Bennett, who played lovable hunk Aaron Samuels, teased to People that he might be returning, but kept mum on specifics. (If he does appear, it's not known what role he would play, considering his original character has already been cast.)
"There's some talks going on about certain things," he said. "Let's just say that."
The only major role that has yet to be announced is Cady's father, who was played by Neil Flynn.
Will The OG Plastics Return For The Musical?
In a November 2022 article for Interview, Lohan and Seyfried talked about Mean Girls: The Musical. "I heard something about it being a movie musical and I was like, 'Oh no.' We can't do that. It has to be the same tone," Lohan told Seyfried, to which she responded, "Yeah, it would just be completely different."
But in February, Page Six reported that Lohan, McAdams, Seyfried, and Lacey Chabert were all in talks to appear in the new film, but were disputing with the studio over reportedly "disrespectful" salary offers.
"Paramount Pictures doesn't want to pay the girls what they are worth," a "highly placed production source" told the outlet. "All four girls were willing to come back." The outlet added that McAdams was offered a larger role than the other three, but negotiations have "stalled" for that deal as well.
"I'm still hoping for a miracle, but it's not really up to us, is it?" Seyfried told Entertainment Tonight on the red carpet of the 2023 SAG Awards on Feb. 26. "All four of us are 100% into it."
She even has casting ideas: "Well, because Renee is playing Regina, Rachel wouldn't play Regina, she'd play somebody else. Maybe the mothers of our characters?" she speculated. "That's what I was thinking, but listen, I haven't seen a script."
In a Bustle cover story published on April 18, McAdams told Bustle that she'd be up for appearing in the musical if Fey could write parts for her and her fellow Plastics. "I don't see a way to shoehorn us in," she says. "If Tina [Fey] can figure it out, I'm there, for sure."
Mean Girls: The Musical Trailer
While the release date has just been announced, the trailer for Mean Girls: The Musical is still under wraps.
This post will be updated as more details about Mean Girls: The Musical are announced.
This article was originally published on