Meet Your New Favorite Girl Group: Boys World
They've been called the "Gen Z Spice Girls."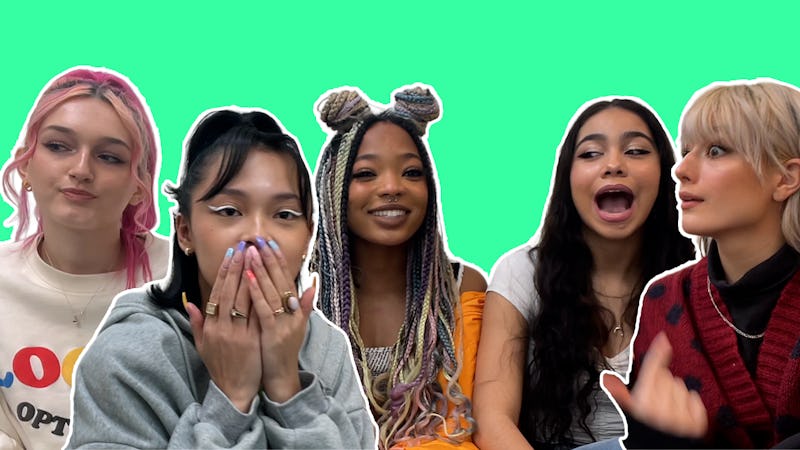 Your clear plastic landline is ringing and it's the new TikTok girl group, Boys World (investigate why the phone is still working later). With singles "Girlfriend" and "Wingman," they've already found their girl group sweet spot, and since it's 2021, you can watch their journey to becoming a girl group (and all the behind-the-scenes antics of their lives) on TikTok.
Meet Olivia, Queenie, Makhyli, Lillian, and Elana. Boys World is the new American girl group, with members from Idaho, Michigan, Queens, Ohio, and San Francisco via Manila. They each have a different aesthetic (butterflies vs. tie-dye) and a different favorite Starbucks drink (black iced coffee vs. caramel frap), but again, thanks to TikTok, you can see that they can all actually sing (cough cough … Posh Spice). Check out one of their biggest TikToks (8 million views) if you don't believe us. They even have the same natal chart, which seems like a good sign for a group of five young girls living in a house together and pursuing a singing career together.
So find your girlfriends, pull out your old boombox covered in stickers (hope it has Bluetooth), and relive your early girl-power days.
Check out their EP While You Were Out now on Spotify, Apple Music, Soundcloud, or wherever you get your tunes.
Credits:
Executive Producer: Whitney Buxton
Executive Creative Director: Lauren Sofair
Supervising Producer: Irina Dvalidze
Producer: Lauren Tegtmeyer
Post Supervisor: Amy Eakin
Editor: Jasmine Velez
Motion Designer: Jeff Donlan