Megan Fox Returned To IG & Addressed Machine Gun Kelly Cheating Speculation
"You need to let this story die."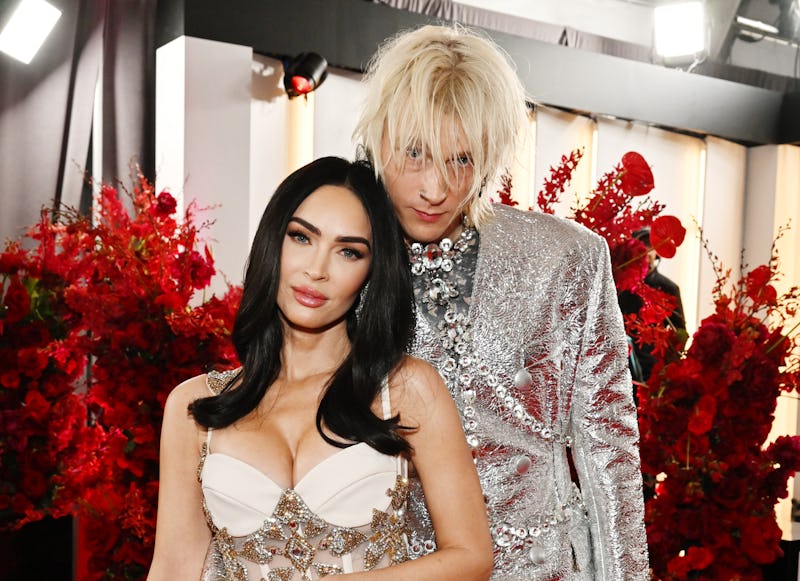 Lester Cohen/Getty Images Entertainment/Getty Images
After a week of speculation and rumors surrounding Megan Fox and Machine Gun Kelly's current relationship status, the Big Gold Brick star decided to step in with a response. Fox returned to Instagram on Sunday, Feb. 19 to issue a statement. She specifically shut down cheating conjecture and slammed "random baseless news stories."
"There has been no third party interference in this relationship of any kind," Fox wrote in her post. "That includes, but is not limited to…actual humans, DMs, AI bots or succubus demons.
"While I do hate to rob you of running random baseless news stories that would have been much more accurately written by ChatGPT, you need to let this story die and leave all of these innocent people alone."
The breakup and cheating theories in question began a week earlier, on Feb. 12, when Fox removed essentially all traces of her fiancé from her grid. She took a couple more steps on the social media platform that fans thought spoke volumes as well, before taking her account down altogether (more on that below). Bustle reached out to Fox and MGK's reps at the time but did not receive a response at the time of publication.
Notably, Fox posted a new set of photos of herself on Feb. 12 with a pointed Beyoncé quote as her caption: "You can taste the dishonesty/ it's all over your breath." The lyrics come from the famed artist's Lemonade track "Pray You Catch Me," a song about catching a partner cheating. Two of Fox's photos showed "When You Can't Walk Away" posters on the wall behind her, perhaps coincidentally. The final slide showed letters and other items burning.
Meanwhile, the actor's "following" list also caught fans' attention. "Did anyone notice she's following Eminem!??" one asked in the comments. Sure enough, Fox started following Eminem (one of MGK's longtime rivals), Harry Styles, and Timothée Chalamet. Another fan who observed this wondered "if Machine Gun Kelly was jealous of these guys or something." Hours later, Fox's entire account disappeared.
Prior to her Instagram changes, it seemed like the couple was still going strong. Fox joined MGK at the Grammy Awards on Sunday, Feb. 5, and when he didn't win, she had a special message for him. "Congratulations on being in the very small percentage of artists who have received a Grammy nomination," she wrote on Instagram on Feb. 8, per NME magazine. "You have handled this process with a grace and maturity that I haven't seen from you before." She added that seeing him "become a better man" was "immeasurably more satisfying" than seeing him accept an award and predicted wins in the future.
In the past, both Fox and MGK have been vocal about their intense relationship. It was in their first joint interview, on the Give Them Lala… With Randall podcast, in July 2020 that Fox called him her "twin flame," and MGK later went on to share on The Drew Barrymore Show in December 2021 that he put himself in her path intentionally, both by taking a role in their first film together, Midnight in the Switchgrass, and by waiting outside her trailer on set because he had a feeling she'd invite him in.
The two got engaged on Jan. 11, 2022 and have spoken publicly about their future together and even their "unborn child." Whether or not any of that is still happening remains to be seen, but in the meantime, Fox has clearly had enough of the speculation.
This article was originally published on