Samantha & Thomas Markle's Response To Meghan's Oprah Interview Is So Typical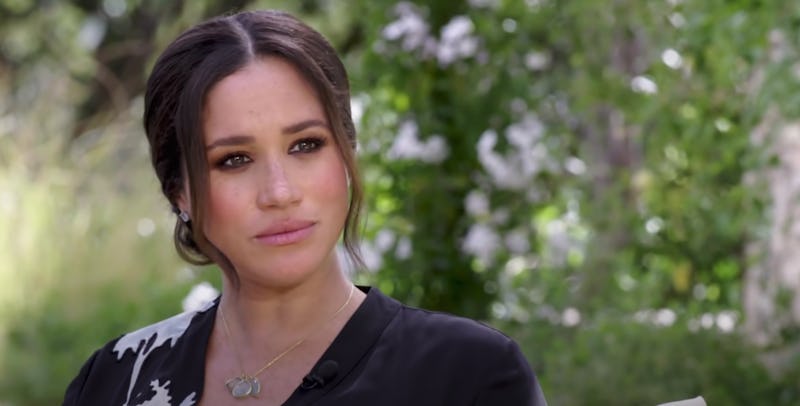 CBS/YouTube
Oprah Winfrey's interview with Meghan Markle and Prince Harry has been a hot topic since it aired on March 7 and drew a whopping 17 million viewers. During the sit-down, the couple delivered their first comments about stepping back from their senior royal roles, battling the British tabloids, and navigating Meghan's strained relationship with members of her family. Buckingham Palace released a terse statement regarding the conversation prior to its airing, but what do Samantha and Thomas Markle Sr. think about Meghan's Oprah interview?
The turbulent dynamic between Meghan and both her half-sister and father is well-documented, largely due to the pair's willingness to openly speak about the Duchess of Sussex. Winfrey let viewers know that "no subject" would be "off-limits" in the interview, so its expected that Meghan's estranged family members aren't too pleased with her comments.
On March 7, the day after the interview aired, Thomas gave his own interview to Good Morning Britain. In his chat with hosts Piers Morgan and Susanna Reid, Thomas described Meghan and Harry's interview as "over the top" and "disappointing." He reiterated his claim from last month that he will talk to the press once a month until Meghan speaks to him, saying that "when they decide to talk to me, I'll stop talking to the press." Regarding the couple's claim that members of the royal family made racist remarks while asking about the color of their son Archie's skin prior to his birth, Thomas said the royals could have been asking a "dumb question, rather than being a total racist." He added that he doesn't "think the British family are racist at all."
When the GMB hosts asked Thomas how he felt watching his daughter open up about her struggles with mental health, he said he "would have been there for her" if he'd "known she was having psychological problems." He also re-upped his claims that Meghan had "pretty much ghosted" him. He added, "She really had no one to reach out to. She would have had us if she kept us." For the record, during the interview, Meghan said the primary reason she decided to cease communication with her father is because he compromised the security of Archie, which is her number one concern.
Meghan's half-sister Samantha, 56, has undoubtedly been the most vocal member of the Markle family. She's regularly spoken out since Meghan began dating Harry in 2016. Last month, she even released a book titled The Diary of Princess Pushy's Sister. As the title suggests, Samantha wrote about Meghan extensively in her book. In it, Samantha revealed that she had hadn't spoken to her half-sister since 2015 and that she found out about her relationship with Prince Harry through Thomas. Meghan revealed to Oprah that she hasn't seen Samantha in "at least 18, 19 years" and "before that, 10 years," adding, "I think it would be very hard to 'tell all' when you don't know me." She noted that it's "a very different situation than [her] dad" and said, "I don't feel comfortable talking about people that I really don't know."
On March 8, Samantha delivered a controversial interview of her own to Australian radio show Fifi, Fev and Nick, throwing out accusations that Meghan has "narcissistic personality disorder" while noting that she is in no position to diagnose anybody. Samantha also spoke about Prince Harry, stating that she "feels sorry for [him]" and that Meghan "pulled him away from his family, all of his friends, the life that he knew." She went on to make several more claims that go against everything Meghan told Oprah during the CBS special. In addition to refuting Meghan's statement that they do not have a meaningful relationship, Samantha also believes Meghan went to "great lengths" to study Diana before entering the royal family. She added, "Don't tell me my sister didn't know who Harry was!"
Regarding the staged paparazzi photos of Thomas, 76, that emerged in the weeks leading up to Meghan and Harry's May 2018 wedding, Samantha wrote in her book that she felt "baited" into setting them up. "I received no money for the deal per my request, and the goal for my father was not money. ... It was just allowing the royals and the world to see him in his proper light, because he was so horribly labeled and photographed," she claimed. While Meghan told Oprah that her father denied having any role in the photographs, he admitted on GMB that he lied to his daughter. "I wish I hadn't done the whole thing," said Thomas, "but here's the other side of this coin. No one took any time to protect any member of our family. We were attacked by the press every day."
As a result of the photo scandal and Thomas's own health problems, he did not attend Meghan's wedding, and she was walked down the aisle by Prince Charles. Thomas opened up about his strained relationship with Meghan during a Channel 5 documentary titled Thomas Markle: My Story, which was released in January 2020. However, Thomas has since told The Sun that he plans to make a new doc about his life and relationship with Meghan, as the first documentary was "not edited in the correct order, dates were wrong, and it had too much generic public domain film added."
The public fallout between Meghan and Thomas has also been the center of her legal battles with the British press. On Feb. 11, Markle won a lawsuit against The Daily Mail and The Mail on Sunday's parent company for publishing a letter she wrote to her father after her wedding. As seen in court documents, Thomas shared his daughter's personal note to him with The Mail on Sunday in order to "set the record straight" about their dynamic.
In an unaired clip from the March 7 interview posted to OprahMag.com, Meghan argued that her and Harry are entitled to some form of privacy, even if it's different from a normal person's view of privacy. "I think everyone has a basic right to privacy," she noted. "We're not talking about anything that anybody else wouldn't expect."
This article was originally published on