Everything To Know About Meghan Markle's Archetypes Podcast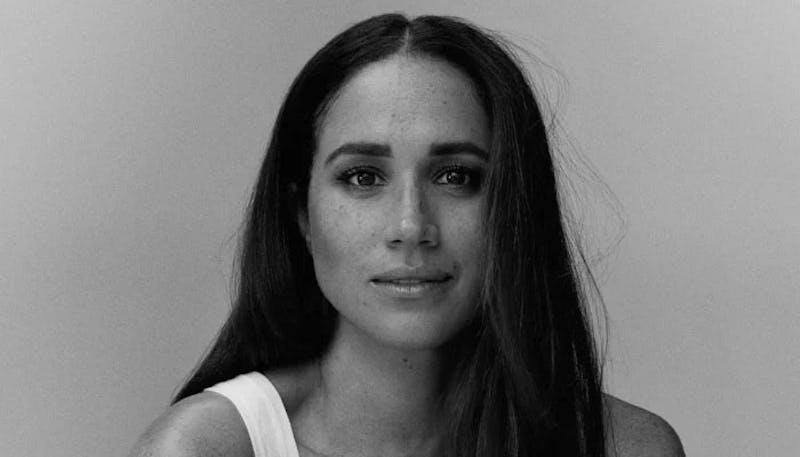 Spotify
After a long wait, the Duchess of Sussex's hotly-anticipated podcast is finally out in the world. Meghan Markle's weekly audio series, titled Archetypes, aims to "investigate, dissect, and subvert the labels that try to hold women back" – and wrapped up its first season on Nov. 29 with an impassioned message from Markle to her listeners. "I feel seen," she said. "I had never considered that in using my voice, that I would feel seen, but I do." On Dec 7 meanwhile, Archetypes took home the gong for Pop Podcast of 2022 at the People's Choice Awards.
The first season of the podcast features a line-up of notable guests to discuss a broad range of topics. Opening up about the empowering series, Markle explained that Archetypes enables her to tell her "own story" after the media has "shaped" the narrative around herself and Prince Harry in recent years. "It's so real," the Duchess of Sussex remarked. "I feel different. I feel clearer. It's like I'm finding — not finding my voice. I've had my voice for a long time, but being able to use it."
Markle temporarily paused new episodes of her podcast following Queen Elizabeth II's death on Sept. 8. In addition to the 10-day national mourning period, King Charles III announced a further week of mourning for the royal family following Her Majesty's funeral. In accordance, a statement on Spotify read: "New episodes of Archetypes will be paused during the official mourning period for Her Majesty The Queen."
On Oct. 4, Markle resumed her Archetypes podcast, and presented the twelfth and final installment on Nov 29. In her closing episode, Markle invited male guests onto the show for the first time, and spoke to comedian Trevor Noah, talk show host Andy Cohen and screenwriter/director Judd Apatow about men's potential role in shaping and influencing a more positive, equal world.
You can find out more about Markle's Archetypes podcast series, below.
What Was Archetypes S1 Like?
In the podcast series, the Duchess of Sussex engages in "uncensored" discussions with historians, celebrities, and experts in their fields, about the harmful stereotypes that can hold women back, while sharing inspiring stories with those who have managed to overcome them.
Speaking in the Archetypes trailer, Markle explained that the audio series will explore "how we talk about women, the words that raise our girls, and how the media reflects women back to us." The Duchess continues, "But where do these stereotypes come from? And how do they keep showing up in defining our lives?"
Fans will also be looking out for revelations and new information about the Duchess and her family. In the first episode, Markle recounted the moment that she found out Archie's nursery caught fire while in South Africa. "The heater in the nursery caught on fire," she told Williams in conversation. "There was no smoke detector. Someone happened to just smell smoke down the hallway went in, fire extinguished. He was meant to be sleeping in there."
Elsewhere, the podcast became home to a particularly entertaining moment – Mariah Carey mischievously suggesting that Meghan Markle is capable of occasional "diva moments". "It stopped me in my tracks when she called me a diva," Markle later said in an appalled voiceover. "My mind was genuinely just spinning with what nonsense she must have read or clicked on to make her say that? I just kept thinking in that moment, was my girl crush coming to a quick demise? Does she actually not see me?"
Archetypes Guests
So far, the Archetypes podcast has welcomed tennis champion, and close friend of Markle, Serena Williams, and UC Berkeley professor, Dr. Laura Cray. For the second instalment, the Duchess brought on Grammy award-winner Mariah Carey, who divulged the complexities surrounding the word "diva." She was accompanied by actor and comedian Amanda Seales and Dr. Mashinka Firunts Hakopian, a scholar of feminist and media studies.
The third episode starred actor and producer Mindy Kaling, who discusses the joys of being a single, unmarried woman. The instalment also features New York Magazine writer Rebecca Traister, who unpacks the stigma that surrounds single women. Whilst the fourth episode saw journalist Lisa Ling and comedian Margaret Cho discuss the label "Dragon Lady."
The star-studded line-up of guests also includes Constance Wu, Issa Rae, Lisa Ling, Margaret Cho, Ziwe, and the former makeup artist and entrepreneur, Victoria Jackson, who is a close friend and neighbour of Markle. As mentioned, the final episode also featured a line-up of male guests for the first time.
Speaking to The Cut, Jackson revealed that she once hosted Markle's birthday party at her Californian ranch. "I just want to genuinely show up for them," Jackson said of her decision to open up her home to the Duke and Duchess — a story she is set to recall further on an upcoming episode of Archetypes. "I hope that people take their foot off the gas a little bit on all the negative spin, because they're really good people," Jackson added.
The Sussexes Spotify Controversy
Earlier this year, the Duke and Duchess of Sussex spoke about their concern over the spread of misinformation on Spotify. They added their support to a list of celebrities which included Joni Mitchell, Roxane Gay, and Neil Young, all of whom were boycotting Spotify to put pressure on the audio platform to take action regarding The Joe Rogan Show.
In a statement released at the time, Prince Harry and Markle said: "As we all continue to tackle the misinformation era, Archewell Audio has found it important to work with our partners at Spotify to ensure that the digital technologies so many of us use every day are rooted in strong principles of trust and safety."
Archetypes Release Date
The Duchess of Sussex's Archetypes podcast was released on Spotify on Aug. 23. The audio series debuted with two brand new instalments — an Introduction special and the Ambition episode with Williams — and the first season finished on Nov 29.
Will There Be A Season 2 Of Archetypes?
It's not yet clear whether Markle will return for a second season, but her sign-off from season one seemed to hint it could come back in the future, albeit quite vaguely. "We're working on other ways to keep the conversation going," she hinted in the final episode, "but just know that as we close out this season of Archetypes, that I thank you. Thank you for listening and learning with me. This has been liberating and healing and it's been fun. I'll see you on the flip side," she said. "As ever, I'm Meghan."
Archetypes is now available to stream on Spotify.
This article was originally published on