Mel B Thinks These Celebs Should Play Them In A Spice Girls Movie
Kate Hudson as Baby Spice? Make it happen.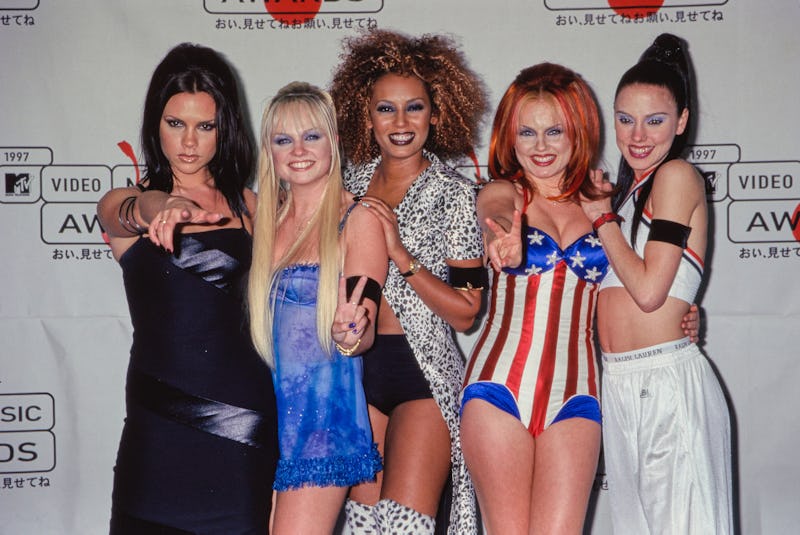 Michael Ochs Archives/Michael Ochs Archives/Getty Images
The Spice Girls are irreplaceable. Victoria Beckham, Emma Bunton, Geri Halliwell, Mel C (Melanie Chisholm), and Mel B's (Melanie Brown) turn as Posh, Baby, Ginger, Sporty, and Scary Spice, respectively, dominated the '90s and will (viva) forever be canon. But should a biopic about the girl group ever be produced, Mel B has thoughts on who could play them in a movie.
In an interview with Entertainment Tonight on Jan. 20, the Masked Singer Australia judge revealed who she thinks could take on her "Scary Spice" persona in a Spice Girls movie. "I did just watch a movie called The Woman King with Viola Davis, and I want to join that tribe," the 47-year-old singer said. Though she said it might be difficult to find someone to play her "cause it's a rollercoaster ride," she threw in another name. "There's so many great actresses out there — Viola Davis, Halle Berry, I mean, the list is endless."
While she didn't have actors in mind just yet for Sporty and Ginger Spice, she also shared which actors she envisions for the rest of the group. For Baby Spice, she offered Kate Hudson or her mom Goldie Hawn. Meanwhile, for Beckham's Posh, she thinks Eternals star Angelina Jolie would be a good fit. Though she later added that her favorite permutation of Spice Girls portrayers would be a group of unknown actors.
When asked about a potential reunion, Mel B instead teased a secret project that the group is working on. "I can't tell you exactly, but there's gonna be something that is gonna be announced pretty soon," she said, adding, "That's gonna be a project that we're very excited about, and [it's] mainly for our fans." She later clarified that even Beckham, who previously didn't join the 2019 reunion tour, is also in on this. "Oh yeah, it's all five of us," she promised.
Back in November, the group released SPICEWORLD25, the special anniversary edition of their second album featuring unreleased tracks as well as demos and remixes. And when Mel B teased the album launch a couple of months prior, she added the hashtag "#spicetour2023" prompting fans to think there may be a tour coming up — though there is no official confirmation.
When asked during the interview if the secret project is a "full-fledged tour," Scary Spice joked, "It'll be a full-on fight." Whether it's a tour or a biopic, fans will just have to wait for the announcement.