Melanie Lynskey Secretly Worked With Her Husband Jason Ritter On The Last Of Us
The frequent collaborators welcomed a daughter in 2018.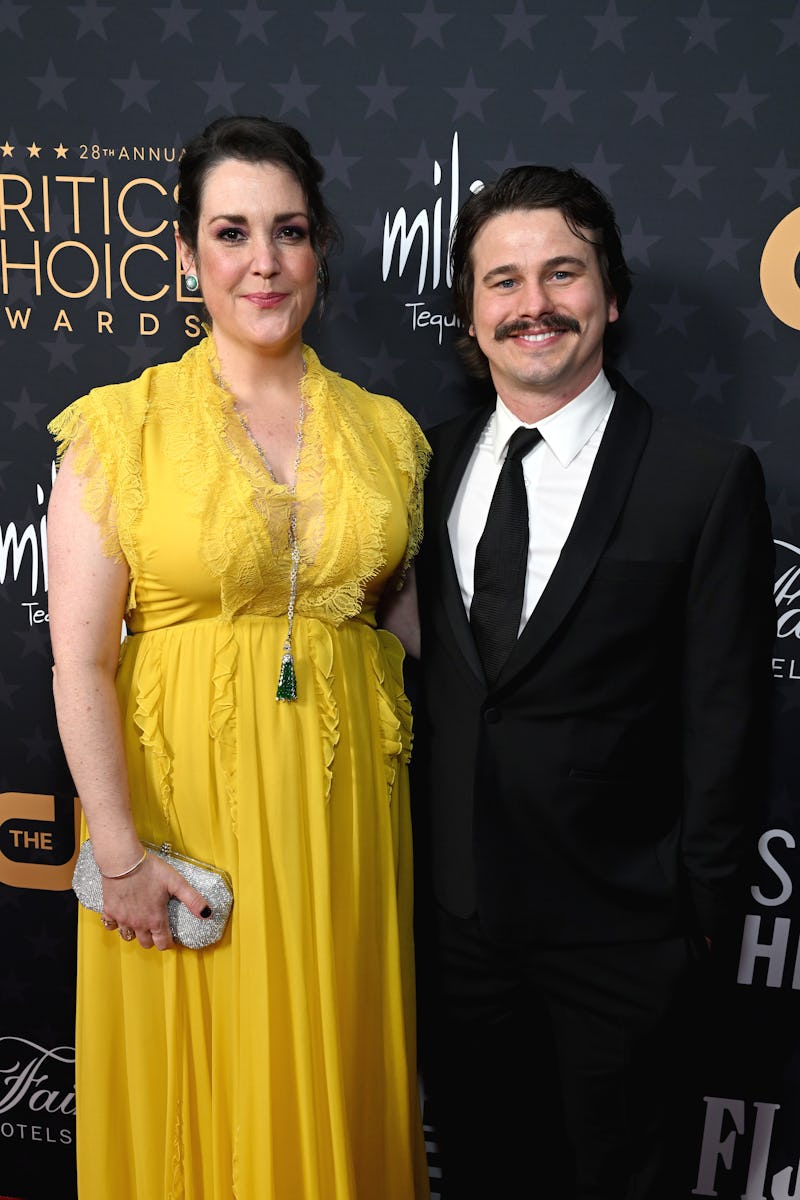 Michael Kovac/Getty Images Entertainment/Getty Images
Melanie Lynskey has had a long career in Hollywood, from Sweet Home Alabama to a guest role in The Last of Us. The 45-year-old star is also reprising her Emmy-nominated turn as Shauna in Yellowjackets Season 2, which comes to Showtime on March 26. Among the new faces gracing the series this season, one of them has a strong personal connection to Lynskey: her husband, Jason Ritter.
If you're a big Lynskey fan, it's likely you've seen her husband in some of her projects, including We'll Never Have Paris (2014), The Intervention (2016), and, more recently, Hulu's true crime series Candy (2022). The couple met on set a decade ago and has been known to work together from time to time. It's one of the qualities that helps their marriage. "Definitely we've helped put each other on tape and things like that, and it is nice if we are having a problem or if we're nervous about a scene or if something's sticking. I really feel like I can ask her," Ritter said in a November 2022 interview with Us Weekly.
Prior to her marriage to Ritter, Lynskey was married to Westworld's Jimmi Simpson from 2007 to 2014. Like Ritter, Lynskey first met Simpson on set in 2001 while filming Rose Red. The pair dated after and tied the knot in 2007. Five years later, the Last of Us star filed for divorce, but it looks as though there's no bad blood between the exes. Lynskey and Ritter even hang out with Simpson in group settings.
Speaking about their secret to a successful marriage, he shared, "I'm so inspired by her. I think she's such a wonderful actress, so I feel lucky that I have such a wonderful actor right in the home ... She really makes me better and helps me. I don't know how much I help her, but for sure she really helps me." Read on to know more about Lynskey and Ritter's relationship including when they met, what they've said about each other on social media, and when they welcomed their daughter.
2013: The Two Meet While Filming The Big Ask
The two met on set while filming The Big Ask in 2013. The dramedy follows three couples who find themselves in a bind after one of their friends has an ask that could ruin all their relationships. Though Lynskey and Ritter don't play a couple, they started dating and co-starring in more projects after that.
Like his wife, Ritter has had a long list of acting credits including Raise Your Voice, Freddy vs. Jason, and Parenthood.
2017: They Get Engaged
On February 2017, the pair announced their engagement. "Now he's my fiancé," the Last of Us star told Hollywood Today Live. About the unexpected moment, she revealed that the low-key proposal happened "on the sofa." "It was cute."
2018: They Welcome A Baby Girl
In January 2019, Lynskey took to Twitter to announce that they welcomed a daughter a month before. "We feel lucky to have been able to have our news just be for friends and family for a while, but I guess the story got out, so! Yes! @JasonRitter and I had a daughter in December. We love her so much; she's perfect," she wrote.
She also added that contrary to reports, it was not a quiet delivery. "I was blasting A$AP Rocky and yelling a lot," she wrote in a follow-up tweet. When a fan asked which album, Lynskey didn't hesitate to share her choice. "Mostly Long. Live. ASAP. And then I just wanted to hear Fuckin Problems a bunch." They have yet to share their now four-year-old daughter's name.
2020: Lynskey & Ritter Tie The Knot
The pair tied the knot in 2020 at an intimate, spontaneous wedding. In an appearance on Sirius XM in May 2022, Lynskey revealed some wedding details — particularly that they got married because she "panicked." Lynskey was filming Yellowjackets in Canada at the time, and a friend had told her that "Jason won't get into Canada unless you're married." Though now she knows it "just wasn't true," still, she "panicked." She recalled thinking, "'We have a child. What? I can't leave for six months.' So I was like, 'We have to get married tomorrow.'"
So the nuptials happened the following day. "We got married on our front porch of our little rental house in Atlanta. A nice lady came and married us. We had two friends there," she recalled. "[Singer] Ali Ahn and William Jackson Harper were the two friends. Those were our two friends at our wedding and they were great, and they brought a cake and flowers and everything we needed."
2022: They Give A Rare Glimpse Of Their Lives
Though the two are private when it comes to their daughter, Lynskey still shares some sweet snippets of their lives, particularly of the close bond Ritter has with his daughter. On Ritter's birthday, Linskey posted an Instagram tribute to her "beautiful husband." She wrote, "Thank you for making me cry with laughter daily. Thank you for giving our little daughter the safest, most joyful, most loving childhood. You are so fun. You are so kind, to everyone, even mean people. You are just the best person." She also added just how handsome she thinks he is. "And you are very very very very handsome and I love you with all my heart."
Ritter, meanwhile, also takes to social media to compliment his wife. "I am sorry to do this and she will be embarrassed that I did this but my GOODNESS what an absolyute beaut my wife is!!!" he wrote on Twitter in March 2022. Sharing a photo of his wife on the Critics' Choice Awards red carpet, he added, "I'm sorry but I mean LOOK at this human being who is also the best person I know."
In July, Entertainment Tonight caught up with the couple on the red carpet and asked if they were aware they were couple goals for so many. "That's so sweet. People are very supportive. We better stay together," Lynskey joked to her husband.
Ritter, for his part, gushed about his newly Emmy-nominated wife. He said, "It's so exciting she's just been putting in incredible work for her whole career. She just started off brilliant and continued to be brilliant. and it's exciting to see people notice that and catch up."
December 2022: Ritter Is Announced As A Yellowjackets Guest Star
Months later, it was announced that Ritter would be a guest star on Season 2 of the cult-favorite Yellowjackets. The two had already worked on several projects together, including in Lynskey's Candy early that year (Ritter was a guest star.)
Lynskey enjoys working with her husband. "He's such a wonderful actor and a really nice person. When I came back to work, everyone was like, 'Your husband is the nicest person!' It makes me look smart, like I chose a great partner," she told Variety while doing press for Candy. She added, "He's so good, and it's really fun to get to work with somebody who is creative and interesting and does something different every take, which is what he does. He's also so good at improv."
March 2023: Ritter Appears On The Last Of Us
Ritter appeared in yet another one of his wife's projects, The Last of Us, and fans didn't even know it. Lynskey appeared in two episodes of HBO's hit series as Kathleen Coghlan, the leader of a resistance group, and apparently brought her husband to be one of the show's creepy Clickers.
Thanks to his disguise, his cameo was easily kept under wraps until a Twitter fan spied him in a behind-the-scenes video slipping into one of the Clickers costumes. Ritter confirmed her theory on March 14, replying that it was "just the best day."
This article was originally published on