Fans Are Trying To Save How I Met Your Father After Its Cancellation By Hulu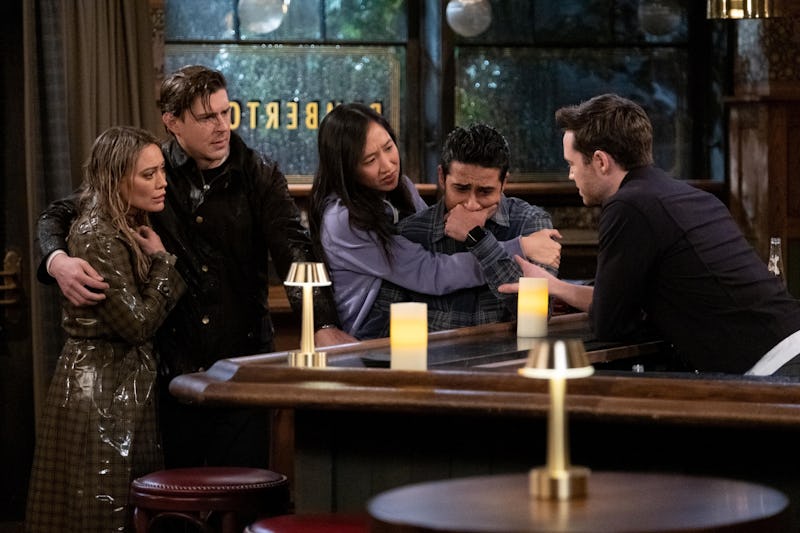 Patrick Wymore/Hulu
When How I Met Your Father debuted on Hulu in 2022, viewers expected to follow along on Sophie Tompkins' adventures in love and eventually learn the identity of her son's father. The streaming service's decision to cancel the Hilary Duff-starring sitcom after two seasons, however, changed that. TVLine reported the cancellation on Friday, Sept. 1, dashing fans' hopes of watching the full story play out. Their tweets showed their disappointment, but some are still hoping to save the sitcom.
Executive producer Craig Thomas, one of the co-creators of HIMYF's inspiration, How I Met Your Mother, shared the TVLine article on X (formerly Twitter) and acknowledged everyone who worked on or supported How I Met Your Father. "Thanks to the wonderful cast and crew who worked so hard on #HIMYF, and to all who checked it out, sometimes this is how it goes in this crazy business…" he wrote.
Many fans, on the other hand, didn't appear to have reached that level of acceptance yet. Numerous viewers shared just how sad they were to see the sitcom go, especially without a proper goodbye. "I'm gonna be sick it wasn't supposed to end this way," one wrote, while another shared that the development "genuinely upsets" them.
Several people argued that Hulu hadn't given the sitcom enough time. "HIMYF truly found their groove in the second season," one viewer tweeted, adding that it "was never given a chance and taken … too soon."
People were truly invested in finding out the answer the show promised: who fathered Sophie's child. The fact that HIMYF wouldn't reveal that information was a definite let-down, and they tweeted as much. "I hate that #himyf was canceled without revealing who was the father," one wrote, noting, "that's the entire point of the series." A like-minded viewer declared that they're "never watching sitcoms like this again."
Many fans were invested in seeing Sophie and Sid (Suraj Sharma) end up together, and they mourned the lost opportunity to see them become a couple and start a family.
Given how disgruntled fans are about the decision to cancel How I Met Your Father, it's no surprise that they either want Hulu to change its mind or for another streaming service to save the show. "imma need 100% more noise to be made," one fan wrote, in part, to rally others so that those in power will take notice.
Amid all the disappointment, there was at least a lining. One viewer pointed out that some of the original How I Met Your Mother stars had cameos on How I Met Your Father before it was canceled and there was more closure with Valentina (Francia Raisa) and Charlie (Tom Ainsley).