Twitter Is Crying Over *NSYNC's Surprise Reunion At The 2023 VMAs
JC Chasez, Lance Bass, Joey Fatone, Chris Kirkpatrick, and Justin Timberlake reunited for the first time in over five years.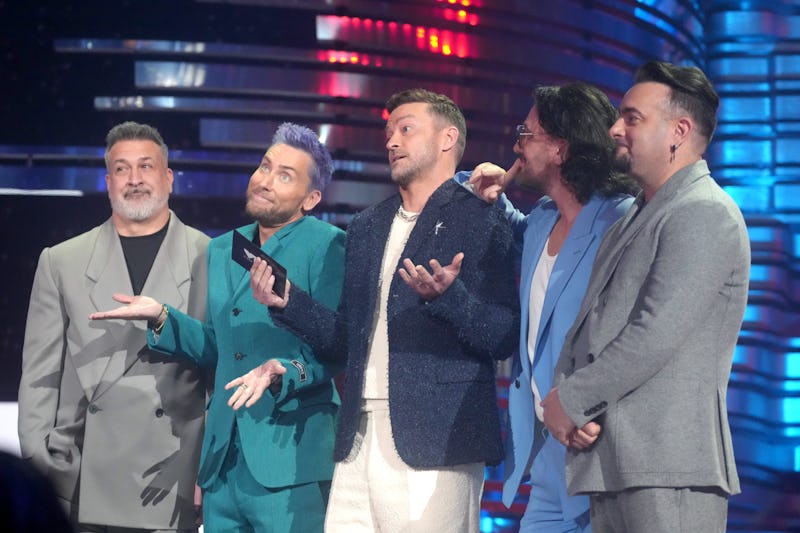 Jeff Kravitz/Getty Images Entertainment/Getty Images
*NSYNC's back, alright — oh wait, wrong boy band. All five original members of *NSYNC made a surprise appearance at the 2023 MTV Video Music Awards on Sept. 12, reuniting for the first time in over five years. JC Chasez, Lance Bass, Joey Fatone, Chris Kirkpatrick, and yes, even Justin Timberlake surprised fans on the VMAs stage to present Best Pop Video to Taylor Swift, and needless to say, Twitter lost their minds.
Rumors of the group's VMAs reunion first started circulating the night before the show, when fans noticed that Timberlake, Bass, and Fatone had all been photographed in the New York City area over the weekend, close to the Prudential Center in New Jersey where the ceremony is taking place. Chasez's manager also posted a photo of him on a private jet. However, there have already been rumors for months that *NSYNC would return for a new song featured in Timberlake's upcoming film Trolls Band Together, which would mark their first new music in over two decades, since 2001 single "Girlfriend."
*NSYNC last reunited sans Timberlake in 2019, when Bass, Chasez, Fatone, and Kirkpatrick joined Ariana Grande onstage at Coachella to perform "It Makes Me Ill" and "Tearin' Up My Heart." All five members came together the year prior to accept their star on the Hollywood Walk of Fame. Their last performance as a five-piece was at the 2013 VMAs, during Timberlake's Video Vanguard Award medley, meaning the 2023 show marks the tenth anniversary of that reunion. While the group didn't perform this time around, Twitter was still ecstatic to see them all on the same stage.
However, nobody was more shook by the NSYNC reunion than Swift, who immediately stood up to applaud and cheer them on when they entered the stage. When she won Best Pop Video, the first thing she did was sing their praises, even telling the boys that she has their dolls. Bass returned the favor by sneakily giving her a friendship bracelet before she took the Moon Person, which Swift also thanked him for.
Naturally, Swift immediately questioned why the boy band was reuniting and asked what they could possibly be doing. Judging by their reactions, NSYNC just may be up to something.
If anyone knows an Easter Egg when they see one, it's Swift.