Twitter Is Saying The Same Thing About Love Island
"Just give Maya Jama the 50k now."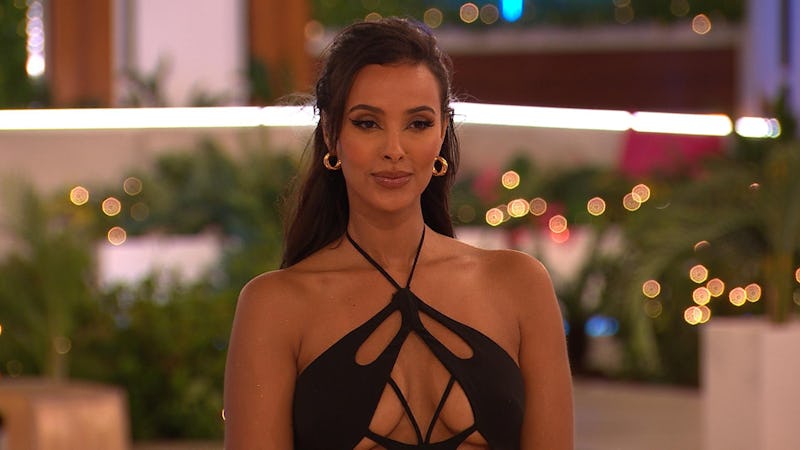 ITV2
It may have had low ratings – 1.4m tuned in to watch live, according to statistics revealed so far – but Love Island is finally back on our screens and true fans are thrilled. And the first series of 2023 certainly got social media talking. It's been three years since the show was in South Africa, and with a new Winter series comes a new villa and a bunch of new Islanders to get to know. But there was one standout feature everyone was loving: Maya Jama.
Of course one of the major talking point of the show was Maya Jama's debut as the new Love Island host, but she turned it out in spades of style. One Twitter user asked if Jama "is allowed to win", while another said she should just be given "the 50k now." Another suggested that the show has been cancelled as Jama has already won it. Jama took to Twitter before the show to say "I hope I do you all proud," and she most definitely did – particularly with those outfit changes, including a flowing green dress that gave total J-Lo vibes.
Turning heads for all the wrong reasons was Will Young (not the singer), thanks to his awkward kiss with Olivia and the discovery of his wild TikTok documenting his life as a farmer. Then there was Haris, claiming he's never been in a relationship when fans argue his social media begs to differ, as well as refusing to date a girl if their shoe size is over a 5. (Now women have to worry about their shoe size, too?) Finally, Kai got Twitter buzzing as Adam reincarnate, having already caused some drama for deciding to dump Olivia for Lana during the first coupling up and wanting to talk to multiple Islanders.
While the first episode of Love Island can often feel lagging in drama, this premiere proved that the memes are already strong. So as we look forward to the weeks ahead in South Africa, here are the best memes and reactions to the start of Winter Love Island 2023.