Kendall Jenner & Bad Bunny's Courtside Body Language Is Now Its Own Viral Meme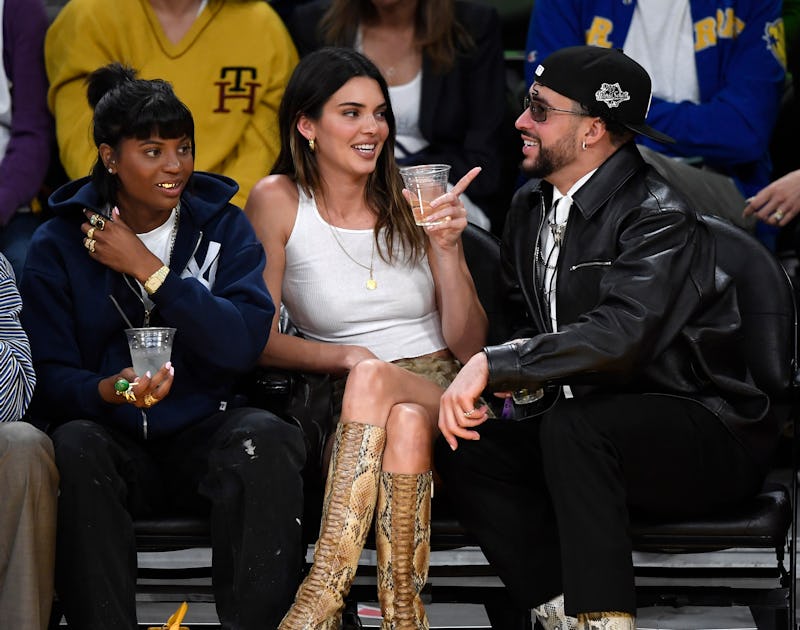 Kevork Djansezian/Getty Images Sport/Getty Images
While attending a Los Angeles Lakers home playoff game on May 12, Kendall Jenner and Bad Bunny's courtside date night quickly went afoul — but in the most hilarious way. Twinning in coordinated snakeskin boots, the rumored couple was enjoying Game 6 of the NBA's Western Conference semifinals between the Lakers and the Golden State Warriors when cameras inside the Crypto.com Arena caught the musician leaning in to tell Jenner something that Twitter could only imagine involved plenty of mansplaining. At least that's what the Kardashians star's body language and facial expression seemed to indicate, anyway.
Several observers couldn't help but point out that the visual mirrored multiple popular mansplaining memes and had officially become the latest entry in the canon. "Lmao Bad Bunny and Kendall Jenner recreating this meme," one user wrote, attaching a side-by-side comparison of another instance of so-called "correctile dysfunction." Someone else simply tweeted, "Bad Bunny noooooo."
Meanwhile, some amateur lip-readers on social media also had a field day hilariously imagining what Bad Bunny was really saying to Jenner. "I'm saying I'm bad at being a bunny. Like, I don't even eat carrots," another tweeter wrote, while other users imagined various sports history and other references he might have been mansplaining at the game.
Armchair body language experts also weighed in, with some speculating that Bad Bunny is more into Jenner that she is into him. One called the vibe "very telling" and added, "She seems very uninterested."
The duo first sparked dating rumors in February when they were spotted leaving a Los Angeles restaurant where TMZ reported they'd been on a double date with Hailey and Justin Bieber. "They were introduced by friends. He moved to L.A. a few weeks ago and bought a house," an insider told People, at the time, adding, "She likes him and is having fun. He is different from guys that she dated in the past. He is very charming."
Months later, another source told the magazine that Jenner was "getting more serious" with the rapper. "He is a fun guy. Very much a gentleman and charming. She likes his vibe. He is very chill," the insider shared. "It was a slow start, but they spend almost every day together now. ... He hangs out with her friends, and she hangs out with his. It's more of a relationship now."
Jenner previously dated NBA star Devin Booker of the Phoenix Suns, something that Bad Bunny is well aware of and hasn't shied away from speaking — or at least rapping — about. In his verse on Eladio Carrión's March 2023 single "Coco Chanel," the three-time Grammy winner seemingly threw major shade at the basketball pro. His verse on the track, which he performed in Spanish, translates to: "I'm not bad, baby that's a gimmick / But the sun in Puerto Rico is hotter than in Phoenix / She knows it." The musician went on to rap that "Scorpio women are dangerous," which tracks with Jenner's zodiac sign.
Though the Suns were eliminated from the playoffs one night earlier, Jenner and Bad Bunny's romance still seems to be burning bright — any potential mansplaining incidents aside, of course.
Get The Bustle Daily Newsletter
With exclusive celebrity interviews, the best new beauty trends, and earth shattering relationship advice, our award-winning daily newsletter has everything you need to sound like a person who's on TikTok, even if you aren't.
This article was originally published on