Twitter Can't Get Kylie Minogue's "Padam Padam" Out Of Their Heads
The pop star's new single has spawned hundreds of unexpected viral memes.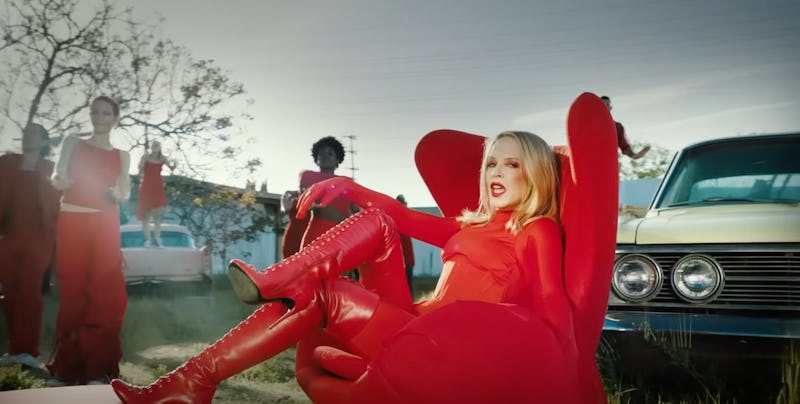 When Kylie Minogue sings "I'll be in your head all weekend," she means it. The Australian pop star's new single "Padam Padam," from her 15th studio album Tension, has taken over social media. The song's unusual yet addictive hook has spawned hundreds of viral memes on Twitter and Instagram. If social media had its way, "Padam Padam" would be the No. 1 in the U.S., a feat that Minogue, albeit considered a legend worldwide, has yet to achieve stateside.
"Padam Padam," romantically named after the sound your heart makes, sees Minogue return to icy electro-pop territory, crooning over tense verses before exploding into a relentless chorus with just one question: "Padam?" The song is already showing signs of becoming a global hit, aiming for Minogue's highest UK chart debut in more than a decade, and she even performed "Padam Padam" on the American Idol finale, showing its hit potential across the pond.
While the song likely wasn't intended to become meme fodder, Minogue approves of the memes. In a radio interview with KTU, the singer encouraged fans to keep making them. "The memes and videos are cracking me up," she said. "When the day's long and I've got no energy... someone showed me a couple on a car ride just yesterday, and it really motivated me. So keep them coming."
In the days after the song's release, "Padam Padam" has made everyone on Twitter... well, padam. The song refuses to leave anyone's heads and instead is being used for innumerous pop culture memes, with everyone from Amy Adams in Arrival to Donkey from Shrek and Lois from Family Guy asking only one question: Padam?
According to Twitter, "Padam Padam" is even the cause of viral car accidents and medical scares, proving its impact has no bounds.
Naturally, Twitter made every famous person on Earth dance to "Padam Padam," from Hilary Duff to the Real Housewives of Beverly Hills.
Truly, there's only one thing left to say: Padam.