Lil Nas X's New Single Is Dedicated To His Closeted Teenage Self
"I know we promised to die with this secret, but this will open doors for many other queer people to simply exist."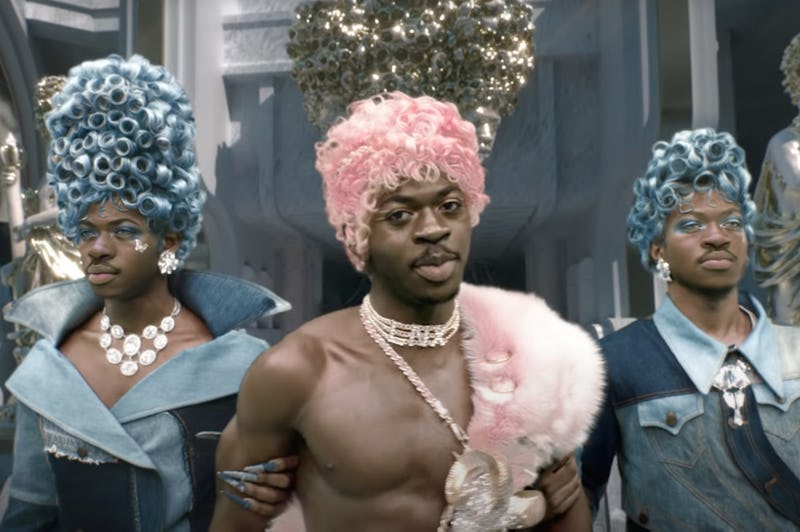 YouTube
Following the monstrous success (and several high-profile remixes) of "Old Town Road," many listeners questioned whether or not Lil Nas X would ever graduate from one-hit-wonder territory. But with two Grammy awards and three multi-platinum follow-up singles under his belt, it seems the musician is here to stay — and for that, we're grateful. On March 26, Lil Nas X dropped his new single "MONTERO (Call Me By Your Name)," and on top of being an absolute banger, it stems from a deeply personal place for the 21-year-old singer. Alongside the song's release and the hyperreal, devilish music video, the artist born Montero Hill penned an open letter to his teenage self about the inspiration behind it.
An upbeat, electronic pop/trap track that references Luca Guadagnino's hit 2017 film in its title, "MONTERO (Call Me By Your Name)" features Lil Nas X singing about the desire to progress to the next stage of a relationship with a significant other who may not be on the same page as him yet. With tongue-in-cheek lyrics like "I wanna sell what you're buying / I wanna feel on your ass in Hawaii," the singer makes explicit references to gay sex, offering a rare instance of high-profile representation to a community whose intimacy is often censored for the consumption of mainstream audiences. According to a statement released by the singer, who came out as gay in 2019, he wrote the song about a true experience he had with a man he "met last summer."
"Dear 14-year-old Montero, I wrote a song with our name in it," Lil Nas X began the open letter, which lives on his Twitter and Instagram accounts. "I know we promised to never come out publicly, I know we promised to never be 'that' type of gay person, I know we promised to die with this secret, but this will open doors for many other queer people to simply exist."
The musician continued, "You see this is very scary for me, people will be angry, they will say I'm pushing an agenda. But the truth is, I am. The agenda to make people stay the f*ck out of other people's lives and stop dictating who they should be. Sending you love from the future."
In the song's otherworldly video, Lil Nas X appears in a pseudo-Garden of Eden as both a glittery mythical creature and a half-serpent half-human attempting to tempt him into a sexual encounter. After engaging in a kiss, the singer is transported to a grand arena where he's chained up in front of angry spectators who appear to throw metal butt plugs at him in an act of public shaming. Once one of them hits him in the head, the sky opens up to reveal a never-ending stripper pole that Lil Nas X slides all the way down to land in hell. There, in bright red braids, thigh-high boots, and Calvin Klein underwear, he meets the devil and proceeds to give him a lap dance. Finally, he takes the devil's horns and places them atop of his own head as he glares into the camera.
After months of teasing the track on social media and even in a Super Bowl commercial for Logitech, Lil Nas X received an outpour of praise online from fans and celebrities alike in response to its release. The singer tweeted a screenshot of a sweet text he received from his father. "Very creative video. I got through it," he joked. "Live life on your terms. Very proud of you." Miley Cyrus, daughter of his "Old Town Road" collaborator Billy Ray, posted a video listening to "MONTERO" in full glam. "Call me by your name is out now! Love u bro," Cyrus captioned the video on Twitter, tagging Lil Nas X. In response to his open letter, actress Jackée Harry tweeted, "You're doing lil Montero (and the world) proud."
As unfortunately expected, Lil Nas X has also received some hate regarding the music video — but he seems to have no problem laughing it off. On Twitter, he posted a screenshot of a Facebook post that called him "demonic" and captioned it, "We made it to Facebook!!! LET'S GOOO!"
Following the release of the track and video, Lil Nas X also announced on Twitter that his debut album MONTERO will arrive this summer — so stay tuned for more bops to come. Below, more fans react to Lil Nas X's "MONTERO (Call Me By Your Name)" single and music video on social media with praise, jokes, and defenses against homophobic criticism.