Michael B. Jordan Tackled His "Public Breakup" With Lori Harvey On SNL
He even shared which dating app you can find him on.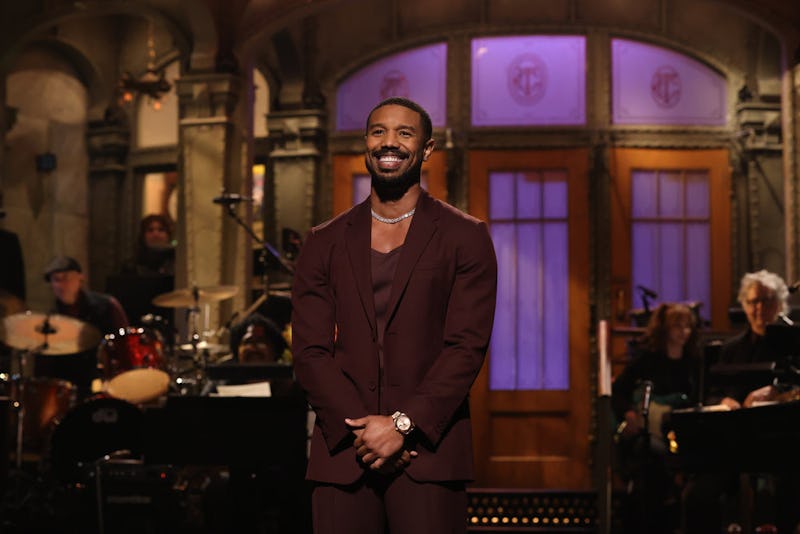 Rosalind O'Connor/NBC
While prepping for his first Saturday Night Live hosting gig, Michael B. Jordan had a "crazy, full-circle moment." Explaining in his SNL monologue that he pre-filmed some content for the Jan. 28 episode in the same studio where he shot All My Children when he was 16, the actor played a clip of himself as teen Reggie Montgomery on the ABC soap opera. Fast-forward 20 years, and he has directed his first movie, Creed III, which hits theaters on March 3. "But right after that, I went through my very first public breakup," Jordan told the audience in NBC's Studio 8H, referencing his June 2022 split from Lori Harvey.
"After the breakup, everyone thought I was so heartbroken because when the news came out, I was at a basketball game, and they caught me looking like this," he said before the photo of him at the June 5 NBA Finals game in San Francisco flashed on the screen. "Look, I was just chillin', but the internet decided that was me being sad. Luckily for me, if you Google 'sad Michael Jordan,' the first 8,000 results are this," of course showing the viral Michael Jordan crying meme featuring the similarly named NBA Hall of Famer.
So how did People's 2020 Sexiest Man Alive handle the split? "Most people after a breakup would be like, 'I'm going get in better shape," the Black Panther actor continued. "But I was already in Creed shape, so I had to be like, 'All right, I guess I'll learn a new language.'" Jokingly showing off his newfound linguistic skills, Jordan announced in Spanish that he's on the dating app Raya, naturally prompting SNL cast members Chloe Fineman, Heidi Gardner, Ego Nwodim, and Punkie Johnson to all hilariously shoot their shot with the single star.
The playful flirting shouldn't have come as much of a surprise to him, though. While promoting his SNL gig on The Tonight Show Starring Jimmy Fallon on Jan. 26, Jordan shared the story of how he discovered that a body pillow emblazoned with a life-sized shirtless photo of him has been "living with" the NBC sketch comedy's cast and crew for the past 10 years. "I said, 'Whose pillow is that?' And, you know, the lady was like, 'Oh, it's mine … Listen, our hours here are so crazy, everybody takes naps, you know, at some point during the day,'" he recounted on the late-night talk show. "I was like, 'Oh, wait. Every lady in here has slept with me at some point over the last 10 years?' And they were like, 'Yes, actually, everybody has, at one point.' That was cool."
After going their separate ways, Harvey moved on with Snowfall star Damson Idris, and Jordan was rumored to be dating Amber Jepson, a British model, according to The Sun. However, Entertainment Tonight reported on Jan. 26 that Jordan and Jepson are not dating, and a source told The Shade Room that "the two have never met before."
If the Creed III star's SNL appearance is any indication, though, he's embracing the single life anyway.