Miley Cyrus Explained What Makes Ariana Grande "A Real Friend"
Everyone could use a friend like Ariana.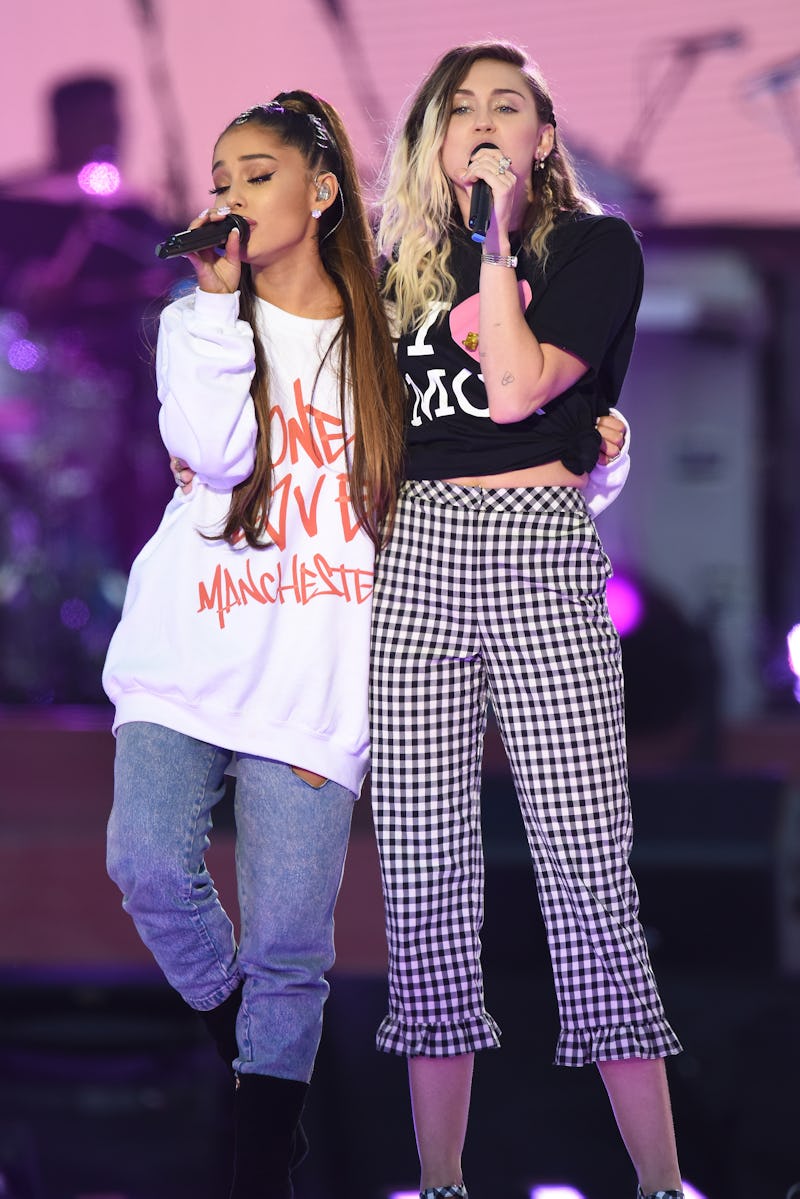 Getty Images/Getty Images Entertainment/Getty Images
A week-and-a-half and 42 videos later, Miley Cyrus has wrapped up her Used to Be Young TikTok series. True to form, the last installments didn't disappoint. Her final videos continued her intimate look back at her first 30 years, including Cyrus' friendship with fellow pop star Ariana Grande.
The "Jaded" singer's Part 34 video centered on the time she and Grande recorded a cover of Crowded House's 1986 hit "Don't Dream It's Over" for her 2015 Backyard Sessions series. At the time, Cyrus was launching The Happy Hippie Foundation, a nonprofit organization aimed at rallying young people to support vulnerable youth populations, including those experiencing homelessness and members of LGBT communities. Grande was one of the guest musicians who joined Cyrus to help promote her cause.
"This is as serious as it can be, me getting Ariana Grande in onesies, performing in the backyard," Cyrus said, as she revisited their performance. "I was flirting with her, and she was a little, she was a little scared. We were having fun!"
Getting more somber, Cyrus reflected on their relationship and what makes Grande special to her. "Ariana's a real friend," she said. "There's never been a time where I've asked her to do something that was important to me that she didn't come through, and same thing for me with her."
Their support of one another does indeed go both ways. When Grande organized the One Love Manchester benefit concert to aid victims of the bombing that took place after her show at Manchester Arena on May 22, 2017, Cyrus showed up. The two performed "Don't Dream It's Over" again, and Cyrus also joined Pharrell Williams for "Happy" and sang her own song "Inspired." The Hannah Montana vet took time to voice her support for her friend, too.
"As humans, we should always be who we say we are," Cyrus said of Grande during the show, per Cosmopolitan. "And Ariana, I think has proved that. She says that she's a good role model for so many of you girls out here. I think she's proved that by putting this together and allowing us to be a part of it."
The "Flowers" singer called One Love Manchester "one of the most amazing moments ever" during a Howard Stern interview in 2018 and shared that she considers Grande a "good friend." "It's not about how many hours spent or how many inside jokes you have, but it's about the real sh*t," she said, before adding, "Anything I've ever asked her to be involved in, whether it's with Happy Hippie or working with young homeless kids or whatever, she's always done it."
Grande's "real friend" status checks out.