Miley Cyrus Changed The Lyrics Of "Flowers" Because It Was "The Saddest Song"
"I wrote it in a really different way."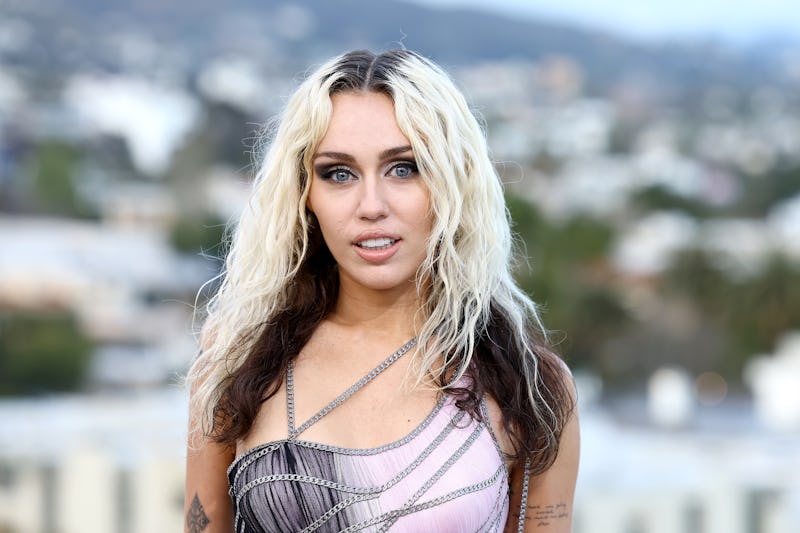 Arturo Holmes/Getty Images Entertainment
Miley Cyrus' "Flowers" topped the Billboard Hot 100 for eight weeks thanks in part to its catchy self-empowerment mantras — but the song initially didn't start off that way. In an interview with British Vogue published on May 18, Miley Cyrus revealed some of the original lyrics of "Flowers," explaining that she rewrote the chorus because it was originally "the saddest song."
In the interview, Cyrus casually waved off questions about the song's many conspiracy theories involving her ex-husband Liam Hemsworth. "I never need to be a master at the craft of tricking an audience," she said. "It will set itself on fire all by itself." She continued to tell the story of "Flowers," detailing how she flipped the chorus on its head and changed its message entirely.
"I wrote it in a really different way," she said. "The chorus was originally: 'I can buy myself flowers, write my name in the sand, but I can't love me better than you can.' It used to be more, like, 1950s. The saddest song, like, 'Sure, I can be my own lover, but you're so much better.'" Cyrus added that the final lyrics weren't reflective of how she was feeling, but it's what she wanted to tell herself. "The song is a little fake it till you make it," she said, "which I'm a big fan of."
Cyrus previously spoke about the evolution of "Flowers" in her Disney+ special Endless Summer Vacation: Backyard Sessions, saying that the song's demo, which she released as a bonus track on her Endless Summer Vacation album, was "pretty different" from the celebratory anthem fans know and brought out the true emotion in the lyrics.
"It really is more melancholy," she said. "Really, when you strip away all the sounds and big harmonies, there's a lot of sadness to it. But I've liked the idea of 'fake it till you make it.' On the first chorus, I'm kind of telling myself and I'm trying to convince myself, and by the third chorus, you can hear that there's a confidence, that I finally believe it." Given how the song remained at No. 1 around the world for months and became the fastest song to reach a billion streams in Spotify history, it's safe to say that many people now believe those lyrics for themselves, too.