Love Is Blind's Milton Reveals When He Made Up His Mind About Lydia
The Season 5 cast member made a major life change after filming wrapped.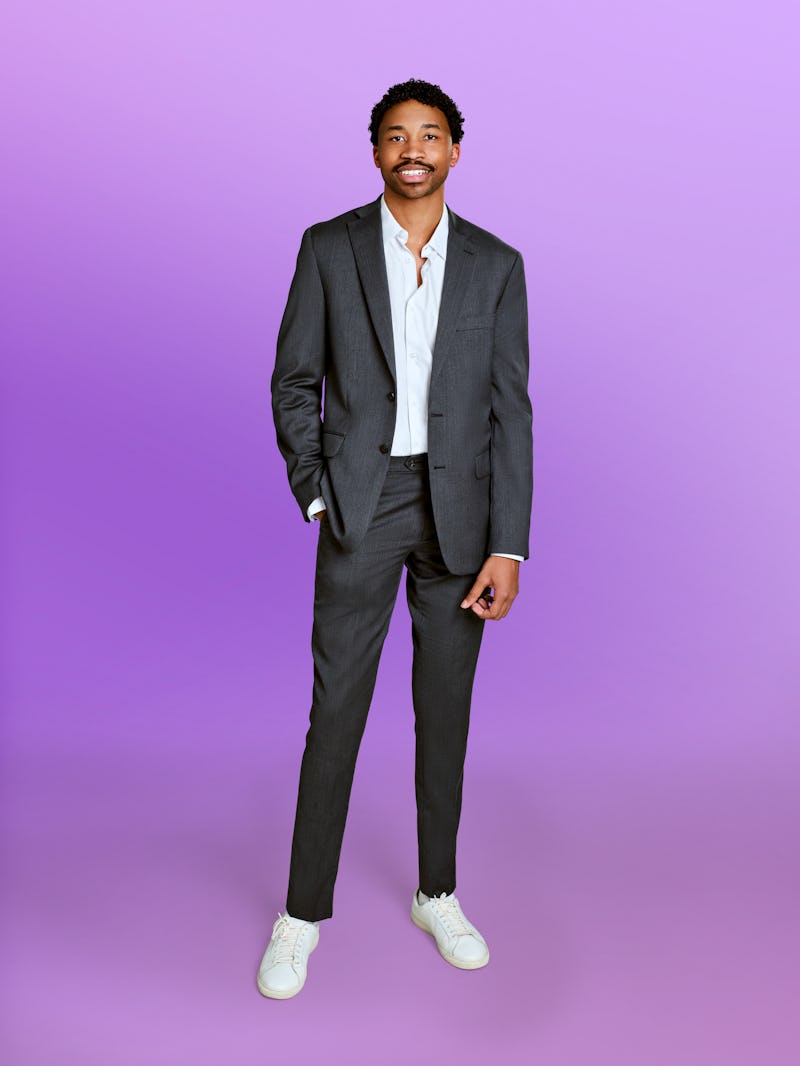 Monty Brinton/Netflix
Love Is Blind Season 5 star James "Milton" Johnson IV entered the Netflix reality dating series, well, blindly, in more ways than one. "Before going to the pods, I had actually never seen more than two episodes of the show," Milton explains to Bustle. "I had heard good things about it. It seemed like kind of an unconventional way to do things, and I was like, that's pretty cool. I consider myself more of an unconventional person, so the experiment just aligned with who I am. And I said, yeah, sure, I'll give it a shot. I'll take a chance."
Though the 25-year-old petroleum engineer was the youngest guy in the pods, he believed he was mature enough to start looking for a wife — and is typically drawn to women who are older than he is, anyway. As someone who had been "laser-focused on his education and career," Milton's biggest turnoff is someone who has "no ambition." After meeting fellow geologist Lydia Velez Gonzalez, 32, the Houston resident believed he'd found his "number one" and aimed to not repeat his past relationship mistakes of "self-sabotage" by putting up walls.
"The biggest thing I got out of the experience is the ability to be vulnerable, and that's not something that comes very easily for me," Milton adds. "Just being able to come out of the pods with that under my belt and feeling optimistic about the future and being willing to open myself up, it's something that you couldn't trade for the world."
Previews suggest that Milton and Lydia at least make it to their wedding, and, without spoiling the outcome, he teases that he's a "game day decision kind of guy." He elaborates, "I think through things really logistically, and then at the end of the day, with something like that, you have to really just trust your heart and trust your gut instinct. And that's what I did."
As you follow his and Lydia's journey to the altar, here's everything to know about Milton.
Milton's Job & Education
On Love Is Blind, Milton explained that he was born in Hawaii but lived in Japan for "a long time" before moving to Houston before high school. Despite making "really bad grades" overseas, things improved stateside, and he'd already earned his associate's degree by the time he graduated high school and entered college as a junior. According to Milton's LinkedIn, he earned his bachelor's degree in petroleum geotechnology from the University of Houston College System in 2019, before earning a master's degree in systems engineering from the University of Texas at El Paso in 2021.
Milton is currently working towards his MBA at Houston's Rice University and expects to graduate in 2025. "Pursuing yet another graduate degree is a testament to my commitment to personal and professional growth," he wrote on LinkedIn about a week before Love Is Blind premiered. "Excited for the challenges and opportunities that lie ahead!"
While filming the Netflix series, Milton was employed at EverLine as a senior pipeline control center operator, but he "made a big career move" recently. As his profile indicates, the oil and energy engineer began working as a management trainee at Vopak in November 2022. "I took a different role to try to get a better work-life balance," he explains to Bustle. "I'm not as much on the technical side. I'm more in a managerial space now, which is amazing."
Milton's Instagram
Admitting that he's at work "way too much," Milton isn't particularly active on Instagram, and his grid only contained about 20 photos, as of publication. The photos he has posted, however, highlight his love of science, museums, and nature — even despite a "near-death experience" at Nevada's Red Rock Canyon in 20. After filming wrapped around May 2022, Milton has only shared three posts to his main page, one of those being a Love Is Blind Season 5 promo. The others include an Etch-a-Sketch "portrait" from September 2022 and a scenic shot from a visit to Nevada's Valley of Fire State Park in May.
Otherwise, Milton hasn't shared any social media clues about his and Lydia's relationship status, though it might be telling that they don't follow each other on Instagram. That could simply be a means to avoid spoilers, though. Summing up his Love Is Blind journey, Milton says, "I wouldn't change anything about my experience. If I could go back, I'd do the same thing all over again [in] the exact same way."