Molly-Mae & Tommy Fury Revealed Their Baby Girl's "Really Unusual" Name
Revisit the Love Island couple's journey to parenthood, here.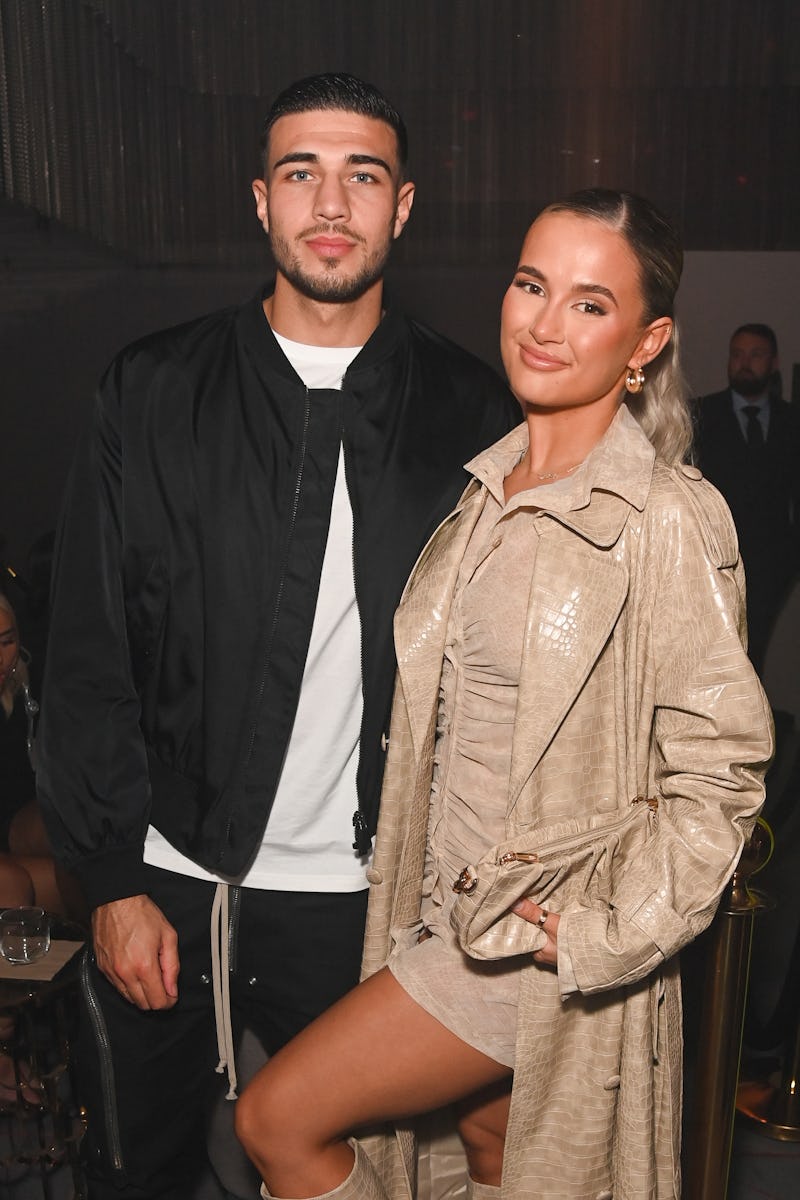 David M. Benett/Getty Images Entertainment/Getty Images
Spending eight weeks together on a reality show at the beginning of a relationship can be a tad unconventional, but it's certainly stuck for Molly-Mae Hague and Tommy Fury. The pair have been pretty inseparable since leaving Love Island back in 2019, and fans have watched the couple's love life blossom from their first dates in the famous Majorcan villa, right up to the surprise announcement of their pregnancy and the birth of their baby daughter. Explore Hague and Fury's full relationship highlights, below.
June 2019: Molly & Tommy couple up on Love Island
As mentioned, Hague and Fury first met on the fifth season of ITV2's Love Island. The pair were coupled up together on day five of the 2019 series and, despite a little drama early on, they quickly fell head-over-heels for one another. With one of the most solid courtships in that year's villa, Hague and Fury sailed through to the all-important finale, finishing in a respectable second place.
September 2019: The pair move in together
Shortly after their Love Island stint, Fury revealed to The Sun that he and Hague were going to live together. "We're both really happy. We've bought an apartment in Manchester and we're going to move in together," he told the outlet at the time.
Speaking to Cosmopolitan soon after their first major relationship milestone, Fury revealed that their experience of living together for the first time was "really good." He added: "The biggest thing about moving in together is trust, and in a relationship, you have to be honest with each other."
In the following months, Hague and Fury kept fans updated on their relationship with sweet social media posts of them celebrating Valentine's Day, anniversaries, and everything in between.
2022: Molly & Tommy purchase their "dream home"
In March 2022, the pair announced that they had found their "dream home" after a three-year search. Hague shared the update through a series of Instagram posts and a YouTube video, during which she gave fans a first glimpse of "Molly Maison."
2022: The happy couple announce their pregnancy
In September 2022, the duo announced that they are expecting their first child together in an adorable Instagram post. The heartwarming video began with a clip of Hague telling Fury in the Love Island villa, "I can't wait for the adventures that we haven't even dreamed of yet," before her present-day baby bump is revealed.
Many were quick to offer their congratulations, including fellow Love Island stars Maura Higgins and Zara McDermott, the latter of whom wrote, "I'm sobbing my eyes out. Congratulations to both of you. What beautiful news."
2022: Molly & Tommy reveal they're having a baby girl
On Oct. 16, 2022, the reality stars shared an adorable gender reveal video on Instagram. During the clip, Molly is shown posing next to a large balloon with the phrase "boy or girl?" printed over it. Tommy proceeds to prick the balloon, revealing a shower of pink confetti to their delight.
Fans and celebrity pals promptly offered their congratulations, with fellow Love Island star Maura Higgins writing, "I just love this so much."
2023: Molly & Tommy announce the birth of their daughter
After Jake Paul leaked the news early, the couple confirmed that their baby daughter was born on Jan. 23, 2022. Sharing the news on Jan. 30 via Instagram, Hague posted a black and white photo of the new family of three with the simple caption: 23/01/23🤍".
In her Instagram Stories, Hague shared a little more about their bundle of joy. Celebrating one week since her birth, Hague wrote: "Becoming your mum has been the best thing to ever happen to me… It doesn't seem possible but my love for you grows with each passing moment. There is no feeling like holding you in my arms little one, my heart literally explodes." Hague went on to thank their daughter for "blessing us with the gift of being your parents. We promise to love and care for you unconditionally forever."
On Fury's Instagram stories, he shared a similar post writing "I'll protect you forever my little girl."
As for the name of their daughter? Hague took to Instagram on Jan. 31 to reveal that she and Tommy have named their little one Bambi. She posted a picture of her baby girl in a crib alongside a Disney Bambi toy, with the name in lights on the wall behind her.
In a previous Youtube Q&A video, Hague revealed they had the name picked out from the start. "I've had the name picked out since I was basically a baby girl myself," she said. "It's always been my dream little girl name and luckily when I met Tommy and I told him the name that I'd always dreamt of using, he absolutely loved it too."
"It's a really really unusual and a different name, I do not know anybody else with the name. I've not seen any other girls with the name before, it's that different. I think you guys are going to either absolutely love it or hate it, but we absolutely love it. It's super unusual, super different, nobody will guess it because it's not really a name. It's not made up, it's totally not made up, I can't explain it," she said. "It's just not a name that has really ever been used before. I've searched on Instagram and I've seen there's a few girls with the name."
This article was originally published on