Mothica Is Turning Her Trauma Into Pop Bangers
The 26-year-old musician's career is on the rise thanks to TikTok.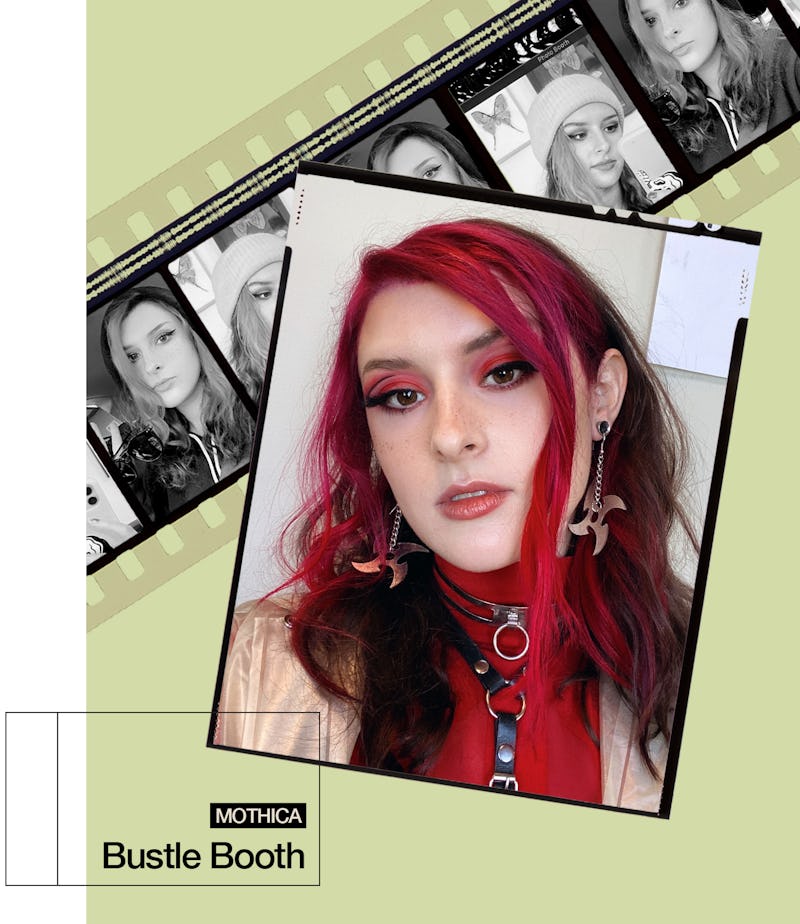 Grainy home footage from the hospital is the first thing you see in Mothica's "forever fifteen" music video. The singer born McKenzie Ellis is covered in scrapes and bruises with an oxygen mask over her face as she recovers from her "unalive" attempt on January 29, 2011. It's a wrenching yet fitting introduction to the song and to the now 26-year-old's rock and emo-infused pop music, which honors Ellis' past self by taking an unflinching approach to understanding her own trauma. The title track to Mothica's new EP of the same name reflects on a teenage Ellis' darkest self-destructive urges, framing her resilience as an ode to recovery and self-acceptance. It also happens to be an absolute bop.
"I always write about my experience, but I hope that people will see themselves in [my music] or hear a line that helps give them a language to understand what they're going through," Ellis tells Bustle. Her radical vulnerability on TikTok — where she's been open about her experiences with depression, sobriety, and alopecia — has helped propel her to a new level of virality. She credits the app, on which she has half a million followers, with saving her music career after a June 2020 TikTok of her listening to a master of her song "VICES" for the first time garnered over 5 million views and nearly a million likes. When the song debuted later that month, it climbed to the No. 2 spot on iTunes' pop charts, just ahead of Harry Styles' "Watermelon Sugar."
"It's like night and day," Ellis says of how her music career has changed since posting on TikTok. Previously, she'd focused her efforts on YouTube, live shows (pre-COVID) and self-releasing albums on Spotify and Apple Music. She takes pride in being self-made, frequently posting about her decision to pursue a music career without a record label, manager, or publicist. It's been just over a year since she first started to promote her work on the app, and it's led to over 26.7 million streams and 3.6 million listeners in 92 countries and counting. "The internet, for that little moment, came together and heard my story and helped my song trend on iTunes."
Growing up in Oklahoma City, Ellis says talking about struggles with depression and self-harm was taboo; she began posting online to find a community that understood her. Through her music as Mothica, she's begun to challenge the notion of victimhood. In the music video for "Buzzkill," a pop song with echoes of nu-metal about feeling like a downer for talking about her assault, she takes this idea to its logical extreme. Clad in a leather harness and brandishing a variety of weapons, she threatens violence for most of the song — it's only at the end that we see she's been exorcising the pain from her abuser by turning it into a literal work of art instead.
She's open about most things — including her assault story, which is linked on her Linktree — and invites her fans to share their own stories in a Google form for catharsis. "Over the years, I've been more open about [my journey] and as I've been to therapy and gone through programs, it's second nature to talk about it," Ellis says. "It feels more comfortable to be super blunt, honestly. I'm not hiding anything."
Get to know more about Mothica — including her love of Hayley Williams (she's still waiting for Paramore to drop their punk album) — in her Bustle Booth questionnaire below.
In The Bustle Booth
What's your coffee order?
Cold brew with way too much oat milk!
What are the saved weather locations on your phone?
Places I've lived: LA, New York, Oklahoma City
Places I want to go: London, Seattle, Tokyo, Berlin.
What's your sign?
I'm an emotional lil pisces with a cancer moon.
Favorite overused movie quote?
"Honey, where's my supersuit?" is the first that came to mind. Don't ask why.
What was your favorite cartoon as a kid?
Powerpuff Girls. "Him" is an icon.
What's one movie or TV show you're currently obsessed with?
I just binged The One on Netflix which is incredible if you like shows like Black Mirror. I'm impatiently waiting for the next season.
Who is your celeb idol?
I try not to idolize anyone but I would not know how to speak words if I met Hayley Williams.
If you had to be on a reality TV show, what would it be?
I joke about wanting to be the first tattooed Bachelorette, but actually I'd rather pitch my bad app ideas to Shark Tank.
Go-to karaoke song?
"Since U Been Gone" by Kelly Clarkson. Classic.
What's something that's inspiring you lately?
Driving around late at night with barely any cars out.
What is something you would want people to say about you?
That I work hard. Because I really do!