16 Feel-Good Movies On Netflix To Watch When You're Home Sick
From Legally Blonde to Wine Country, these films are like soup for the soul.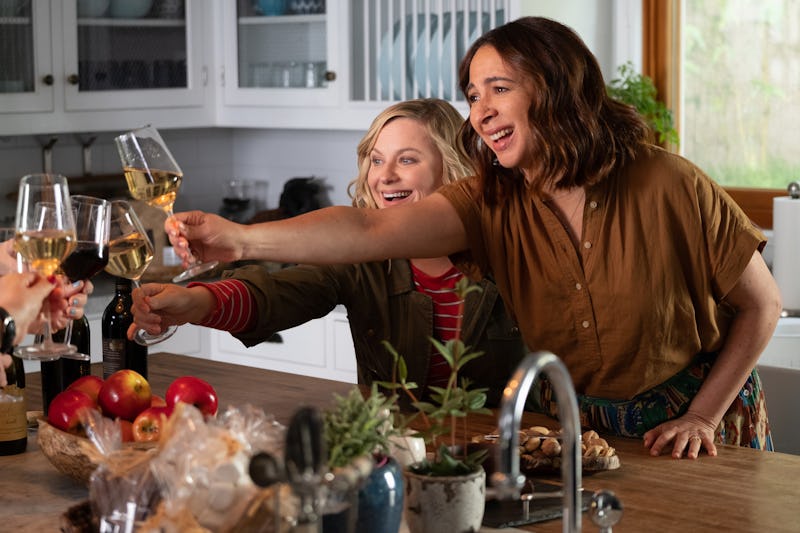 COLLEEN HAYES/NETFLIX 2019
As if this last year of cabin fever wasn't bad enough, here you are: home sick. There are plenty of maladies that'll take you out of commission for a day or two, from flus and colds to regular old allergies, and none of them are enjoyable. Luckily, 16 feel-good movies to watch when you're ill will help nurse you back to health.
Even if you've been washing your hands every five minutes, slamming Vitamin C supplements, and regularly slathering your space in antibacterial gel, one crowded commute or wrong cough in your direction and you'll find yourself laid out for a few days. If the worst has come to pass and you're feeling (or are already home) sick, at least you have one small consolation — now you'll have some time to catch up on your streaming queue.
When you're under the weather, there are only two ways to go with movie viewing: leaning into the feverish delirium, or distracting yourself with some feel-good vibes. In either case, you're probably not feeling up for anything too heavy or complicated. Among the films recommended below are surreal romps (Wine Country), hilarious comedy specials (Not Normal and Annihilation), and even some nostalgic throwbacks that'll take you back to your youth (Legally Blonde and The Mirror Has Two Faces). At the very least, these films won't make you feel worse.
This article was originally published on