Bling Empire: New York's Nam Laks Is The "Blair Waldorf Of Thailand"
Get to know the Thai socialite.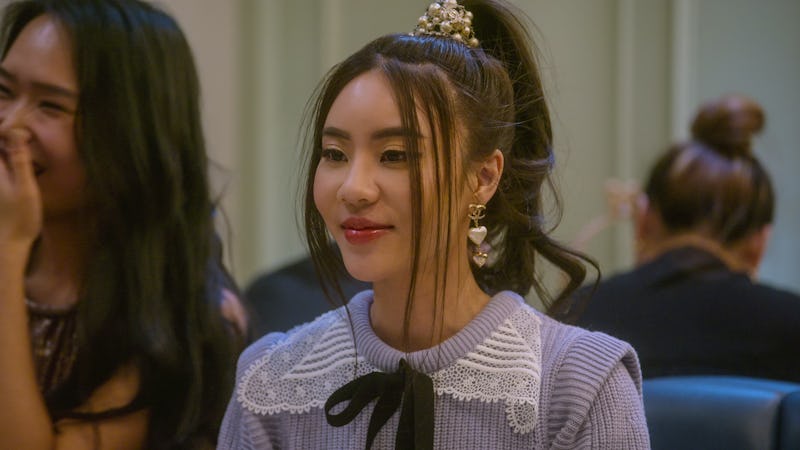 Courtesy of Netflix
If you've been keeping up with Bling Empire: New York, you know there's a new crew of wealthy Asian socialites to follow including Dorothy Wang, Tina Leung, and The Hungs. And like Wang, whose move from LA to New York is one of the Netflix spinoff's biggest narrative arcs, another fresh NYC transplant is featured: Nam Laks.
Viewers first meet Laks when she has lunch with Richard Chang and Vika Abbyaeva, where Chang introduces Laks to the audience as "the Blair Waldorf of Thailand." Aside from the obvious parallels like her fashion — those chunky headbands à la Blair's early Constance Billard style — and attending Columbia University, she is also "daddy's little girl." Though she insists "there's a whole list of how to get Daddy to say yes," she definitely knows how to get what she wants from her business mogul father. Very Blair.
Throughout the season, fans get to know a little bit more about Laks' life and struggles. The 28-year-old was getting her Master's degree from Columbia University's Spirituality Mind Body Institute at the time of filming but on the show, her Bangkok-based father grows unhappy with her spending habits. He threatens to cut her off after she dropped $10,000 on a casual shopping spree in between classes. Laks also opens up about loving New York and wanting to stay despite her father insisting that she return to Thailand after graduation unless she finds a suitable job.
Here's everything to know about the new Bling Empire: New York star including her net worth and whether she goes back to Bangkok after the show.
What Is Nam Laks' Net Worth?
It's difficult to come up with an estimated figure of Laks' individual net worth, as it's unclear if she currently has any source of income of her own. However, it's certainly likely she'll gain new opportunities as a result of appearing on the Netflix show. Prior to filming Bling Empire: New York, the Thai socialite already appeared to have partnerships on Instagram with brands like Shiseido; her Instagram following has increased from 9,000 before the show aired to over 18,000 at the time of publishing, meaning she'll likely be able to command a higher fee for any future partnerships.
It also seems she still has access to her father's resources. On Jan. 23, she posted an Instagram Story from Aspen and thanked "Daddy" for her hotel.
Who Is Nam Laks' Family?
The self-proclaimed daddy's girl is the daughter of Thai businessman Nakorn Laksanakarn, 62, who served as the CEO of Bangkok's Natural Park PCL (NPARK), a real estate and development company, with diverse holdings including oil and energy. In 2015, the company changed its name to U City Public Company after an acquisition deal. A year later, Laks' father resigned from the company. It's unclear what her father does now, though according to reports, he is still likely a stakeholder at the company. Reports on Laks' family's estimated net worth vary, with sources suggesting figures anywhere from $100 million to upwards of $400 million.
Laks is the youngest of three children, and she has two brothers, Nick and Nino. One of them even called her on the show from Bangkok after being alarmed by her shopping spree.
Laks talks about her father on the show, particularly about their close relationship and also how she knows how to ask for what she wants from him. She also mentions that one of her "dad's biggest things" is "when his children graduate" and that she was only going to grad school at his behest.
What Is Nam Laks' Job?
Details are scant on what Laks has been up to since filming work-wise and it doesn't appear as though she has a job. But her Instagram posts since September 2022 show that she has been spending time back in Bangkok. Perhaps she did move back to Asia as her dad wanted for the time being.
True to her Blair Waldorf tag, she's still living a lavish lifestyle — even more so than in New York. When she's not posing with giant bouquets, she's sharing photos of her food from fine dining establishments all over Southeast Asia. She even spent a bit of time in Singapore this January before jet-setting off to New York for the show's premiere.
Ed note: This post has been updated to more accurately reflect the information available about Nam Laks' net worth.
This article was originally published on