Chad Star Nasim Pedrad Is Tapping Into Her Unhinged Inner Teenager
"I don't know why I feel most seen in the spirit of an awkward 14-year-old boy, but I certainly do."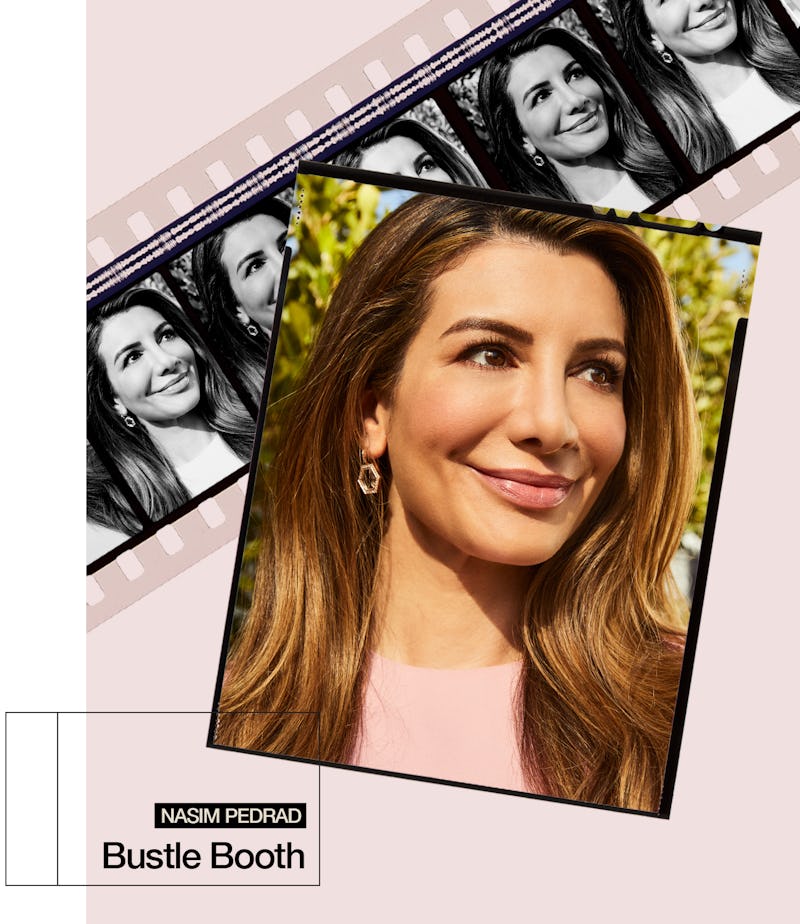 Sami Drasin
Watching the first episode of Chad, a new TBS comedy about an awkward 14-year-old who's willing to become popular at all costs, feels like dipping a toe back into adolescence. It's cringey, it's unpredictable, and it will leave you rethinking all of your fashion choices from freshman year. Chad leans in to the chaos of straddling childhood and adulthood by having 39-year-old Nasim Pedrad play the titular teen. It's a jarring transformation, one that Pedrad insists is all in the eyebrows.
"Without the eyebrows and the wig, Chad just looks like Kris Jenner," Pedrad tells Bustle over the phone with a laugh. The wigs, plus Pedrad's ability to "move the way a boy that's getting hammered by puberty would," are the ingredients to her most memorable performance to date, seven years after exiting a five-season stint on Saturday Night Live.
It's been a long journey to Chad, in which Pedrad serves as creator, producer, and star. COVID-related delays aside, she wrote the script five years ago; it was set to debut on FOX before shifting to TBS in 2019. While the conceit of playing a teenage boy as an adult woman may feel surreal to some, Pedrad says she felt right at home in Chad's oversized polo shirts. "I don't know why I feel most seen in the spirit of an awkward 14-year-old boy, but I certainly do," she admits. "I was much like Chad when I was growing up. There's part of him that is sort of caught between these two cultures as an immigrant kid. His parents are Persian but he wants to be American and to assimilate and be accepted by his peers."
Pedrad's own late bloomer status, coupled with her experience of being an immigrant kid, informed Chad's quest to find his place in the world. "You and your parents are assimilating into a new culture at the same time," she explains. "It's a little nerve-wracking for a 14-year-old to have to, at times, feel like they're guiding their parents. But that was certainly something that resonated with me."
The twisty endeavor to bring Chad and its puberty-stricken title character to life has Pedrad thinking back to her younger self. "More than anything, I'm so grateful to be at an age where I can genuinely embrace my Persian heritage and feel so proud of it. I found that to be a really challenging part of my adolescence, not because I didn't love my culture. I absolutely did," Pedrad says. "But at the same time, it felt like this thing I also needed to, at times, distance myself from in an effort to feel accepted by my American peers." She continues, "The stakes felt so life or death. I'm just happy to have survived it."
Get to know more about Pedrad, including her penchant for murder podcasts, in her Bustle Booth questionnaire below.
In The Bustle Booth
What's your coffee order?
Almond milk latte
What are the saved weather locations on your phone?
Currently LA, New York, Vegas, Cabo, Atlanta and London
What's your sign?
Scorpio
Favorite overused movie quote?
"So you're saying there's a chance" (Dumb and Dumber)
What was your favorite cartoon as a kid?
Animaniacs
What's one movie or TV show you're currently obsessed with?
I haven't seen it yet but the trailer for the documentary "The Painter and The Thief" looks wild
Who is your celeb idol?
Lucille Ball
If you had to be on a reality TV show, what would it be?
Is there a reality show about listening to too many murder podcasts and wondering if something is wrong with you?
Go-to karaoke song?
No Doubt, "Just a Girl"
What's something that's inspiring you lately?
I find my parents to be incredibly inspiring. They worked so hard and risked so much to come to this country with the hope of giving me and my sister more opportunities.
What is something you would want people to say about you?
She doesn't take herself too seriously!