Everything To Know About Heartstopper Season 2
Production on the new series is officially underway.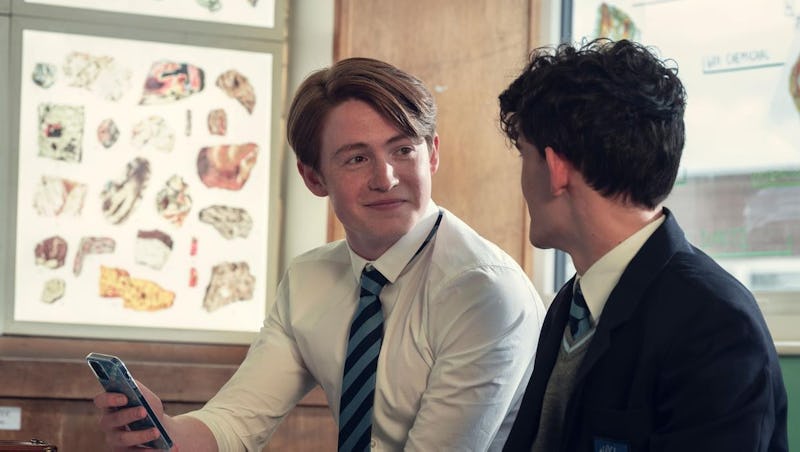 Netflix
After landing a rare perfect 100% score on Rotten Tomatoes, it's safe to say that Netflix's Heartstopper captured the hearts of viewers and critics alike. The heartwarming coming-of-age drama is based on Alice Oseman's graphic novel series, and follows the adorable friendship-turned-romance between teen boys Charlie Spring (Joe Locke) and Nick Nelson (Kit Connor) during their complicated high school years. Unsurprisingly, fans of the hit series are desperate for the queer romance to return. Find out everything there is to know about Heartstopper Season 2, below.
Heartstopper Season 2 Cast
To the delight of fans, Netflix has confirmed that all leading cast members will be reprising their roles in Heartstopper's second run. This includes Kit Connor, Joe Locke, Yasmin Finney, William Gao, Corinna Brown, Kizzy Edgell, Sebastian Croft, Tobie Donovan, Rhea Norwood, and Jenny Walser.
The returning cast will also be joined by a string of new faces in Season 2, including Leila Khan as Higgs student Sahar Zahid, Jack Barton as Nick's older brother David Nelson, Nima Taleghani as teacher Mr. Farouk, and Bradley Riches as Truham student James McEwan.
Heartstopper Season 2 Plot
As mentioned, the series is adapted from a webcomic created by Alice Oseman in 2016, which ended up selling over a million print copies, leading to the release of six more volumes. As of publication, the exact plot details for Season 2 are yet to be revealed. However, Oseman has dropped teasers about what could come next for our favourite group of teens.
In a conversation with Digital Spy, Oseman explained that the series could start exploring themes of mental health as "that's something that's really important in the books" as Charlie and Nick's relationship develops. "The challenge of writing Heartstopper is exploring those darker issues while keeping the tone so optimistic and hopeful," she stated. "That has been, like, the struggle of writing it for me the whole way through."
Speaking on the Radio Times podcast, Connor, who plays Nick in the teen drama, revealed that he has "absolutely no clue" about any potential plot details of the forthcoming new seasons, adding that he puts "all my trust" into Oseman's vision for the series.
As for his own hopes for the second season, Connor also shared that he would like to see the "strengthening of Nick and Charlie's relationship." He continued, "In Season 1, we very much see the young love and the beginnings of their relationship. I think that it would be lovely, you know - not just to act - also just to see, as well, their relationship just, sort of, get stronger and blossom."
Indeed, the plot of the first season of Heartstopper only covers the first two volumes of graphic novels by Oseman, so there's definitely plenty of content to work with for several more seasons. In another interview with Radio Times, Oseman stated there would "probably be four seasons" to cover the full story. "I haven't done any in-detail planning or anything, but it's quite easy to divide up the books into seasons, so four I think would do it," she shared.
Heartstopper Season 2 Release Date
The show's Season 2 release date is yet to be confirmed. However, in May 2022, Netflix made the announcement fans had been waiting for, by revealing that Heartstopper will return for not one, but two more seasons. In Sept. 2022, the streaming giant also announced that production on the second season is officially underway.
In Oct. 2022, fans got their first look at Season 2 after behind-the-scenes footage of the Heartstopper cast filming in Paris surfaced online. As per PinkNews, filming in the French capital will come as no surprise to fans of the original novels, as the second volume sees the central two characters, Nick and Charlie, head off on a Parisian adventure together.
With production now in progress, a 2023 release date could be on the cards. But, for now, at least, fans will just have to wait and see.
This article was originally published on