Everything To Know About Bachelorette Host Jesse Palmer
If he looks familiar, it's because he was the Bachelor over a decade ago.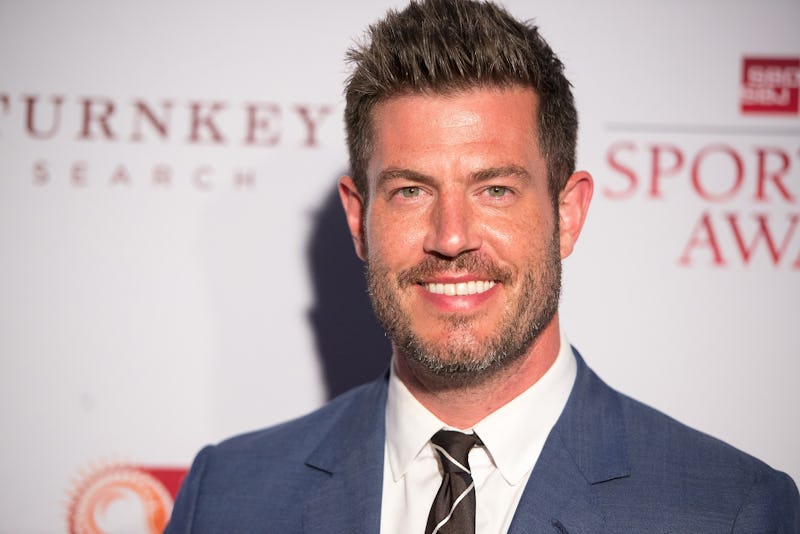 Mike Pont/WireImage/Getty Images
After several months of scrambling to fill Chris Harrison's role with a random assortment of hosts, The Bachelor finally selected a new face to helm the franchise in September 2021: former Bachelor Jesse Palmer. Palmer led Season 5 of The Bachelor, which aired in 2004. Since then, he's built a career as a sports commentator and television personality, making the Bachelor hosting gig a natural progression.
Following the announcement last fall, he has hosted Season 26 of The Bachelor and Season 8 of Bachelor in Paradise, and is now poised to take over Season 19 of The Bachelorette, premiering July 11, 2022. "Falling in love is one of life's greatest gifts, and I am humbled by the opportunity to return to the show as host this season to offer the newest Bachelor advice gained from firsthand experience and I am grateful to play a small part in his journey," Palmer said in a statement after he was first announced as host. He confirmed he'll be hosting the next season of The Bachelorette during the Season 26 Bachelor: After the Final Rose special that aired in spring 2022, surprising fans that he'd be replacing fan favorites and former Bachelorettes themselves Tayshia Adams and Kaitlyn Bristowe.
At first, Palmer was only confirmed to host Clayton Echard's season of The Bachelor, but insiders claimed that the plan is for Palmer to continue serving as the host for the entire franchise following his first Bachelor season. While the producers haven't officially named him the permanent Chris Harrison replacement, things are certainly trending in that direction. Here's what to know about him ahead of his hosting turn on The Bachelorette.
Jesse Palmer's Job Before The Bachelor
When Palmer was selected as the Bachelor in 2004, he was towards the end of what would be a five-year stint as a quarterback for the New York Giants. "The [Bachelor] put me in front of a completely different audience and demographic," he told Resident Magazine in March 2020. "I was 24 years old at the time and thought it was this cool life experience. I did it in the off-season in Los Angeles. I was very naïve to the doors that it would open down the road."
After leaving the Giants, Palmer spent a season playing for the San Francisco 49ers and a brief time in the Canadian Football League before pivoting his career to television. He's since worked as an analyst and commentator on ESPN as well as a special contributor on Good Morning America. Palmer has hosted the Food Network reality shows Spring Baking Championship and Holiday Baking Championship and has a longtime relationship with The Walt Disney Company. He hosted ABC's reality show The Proposal in 2018 and began hosting the network's summer series The Ultimate Surfer in 2021.
Jesse Palmer's Bachelor Season
Palmer chose Jessica Bowlin as the winner of his Bachelor season, but did not propose to the then-22-year-old student. The two split just a month after the finale aired. "Jessica and I shared an incredible romantic journey on the show that began with a friendship that remains strong today," the former football player said in a statement to Extra at the time. "We simply realized that, individually, our next steps take us in different directions."
Jesse Palmer's Personal Life
Palmer currently lives in New York City, but was born in Toronto and grew up in Ottawa, Canada. His mom, Susan, was a model who later co-founded her own modeling agency, and his father Bill was also a professional football player in the Canadian Football League. Palmer has two brothers, Christian and Billy.
In June 2020, Palmer married his longtime girlfriend, model Emely Fardo. The couple had a wedding in France planned for the summer, but once they realized the ceremony would likely have to be pushed back a year due to the lockdown, they decided not to wait. "So, we had a small, private and intimate ceremony with close friends who lived in New York City," Palmer told Us Weekly.
Palmer and his wife also have a pet dog: an Aussiedoodle named Loulou, who naturally has her own Instagram page and celebrated her first birthday in August.
Palmer also is fluent in French and can speak it well! During the 19th season of The Bachelorette when the remaining contestants travel to France, he speaks to the contestants in French. These language skills came in handy during his career with CFL's Montreal Alouettes as well, according to TV Guide.
Jesse Palmer's Instagram
Palmer currently has 166,000 followers on Instagram and is active in posting about both his personal life and work endeavors. Many of his posts feature his wife and/or their puppy, and he regularly shares throwback pictures from his football days, behind-the-scenes content from his various television hosting gigs, and photos from his travels.
Based on his Instagram page, Palmer appears to be very close with his family. He regularly shares photos with his mother, father, and two brothers, as well as with his entire extended family. They celebrated Christmas together before Palmer dove into promoting Clayton's Bachelor season.
Jesse Palmer's Net Worth
Palmer's salary from hosting the Bachelor franchises isn't publicly available, but fans have been making educated guesses based on how much Chris Harrison used to make. Using Harrison as a proxy, Palmer likely makes an estimated $7-8 million per year from all three Bachelor hosting gigs, which shakes out to about $2-3 million per show. Of course none of this is set in stone and since fans seemed to love the celebrity guest hosts of Bachelor in Paradise, it's possible Palmer may not return for future seasons of the spin-off show. Still, even without it, Palmer is likely looking at a good amount of cash from The Bachelor and The Bachelorette if he moves forward as the face of the franchise.
Celebrity Net Worth estimates that Palmer's overall net worth is $8 million, stemming from his time in the NFL, as the former Bachelor, and from various other hosting gigs.
This article was originally published on