Here's Everything Coming To & Leaving Netflix In April 2023
Rihanna made her acting debut over a decade ago in Battleship, which is finally arriving on Netflix.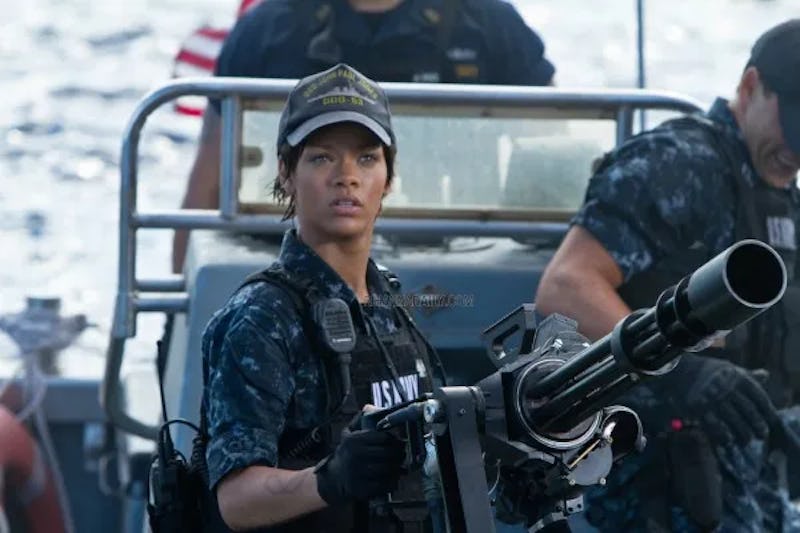 Universal Studios
April showers bring May flowers, so if you're not in the mood to get rained on like Lady Gaga and Ariana Grande, Netflix has you covered. On March 22, the streaming service released its monthly list of movies and TV shows coming to and leaving Netflix in April 2023, and subscribers are in for a whole lot of nostalgia.
At the start of the month, a huge slew of films will arrive on Netflix that will please viewers no matter what genre they're in the mood for. If you want to reminisce on your childhood, new Shrek movies and the first three Spider-Man films are all being added, or if you never watched Rihanna make her film debut in Battleship over a decade ago, now's your chance. The classic rom-com How to Lose a Guy in 10 Days will also arrive on the streamer. Some new Netflix originals will also premiere, including John Mulaney's new comedy special Baby J and the third season of Indian Matchmaking.
Of course, a boatload of titles coming to Netflix means a few fan favorites will also be departing, but the amount leaving the platform is not too much compared to previous months. All seven seasons of New Girl are gone only a week into April, while cult classic films like Leap Year and Scott Pilgrim vs. the World will no longer be available on Netflix by the end of the month.
Here's the full list of everything coming to and leaving Netflix in April 2023.
What's Coming To Netflix In April 2023
April 1
28 Days
A League of Their Own
American Hustle
Battleship
The Birds
Born on the Fourth of July
The Bourne Identity
The Bourne Supremacy
The Bourne Ultimatum
Charlie Wilson's War
Conan the Destroyer
Dr. Seuss' The Cat in the Hat
Dr. Seuss' The Lorax
Friday Night Lights
Hatfields & McCoys: Season 1
Hoarders: Season 12
Hotel Transylvania
How to Lose a Guy in 10 Days
How to Train Your Dragon
I, Frankenstein
Inception
Inside Man
The Land Before Time
Marnie
Matilda (1996)
The Negotiator
Not Another Teen Movie
Psycho
Puss in Boots
Shark Tale
Shrek Forever After
Smokey and the Bandit
Smokey and the Bandit II
Spider-Man
Spider-Man 2
Spider-Man 3
Thomas & Friends: The Mystery of Lookout Mountain
Zombieland
Weathering
April 2
War Sailor: Limited Series
April 3
Magic Mixies: Season 1
Surviving R. Kelly Part III: The Final Chapter: Season 1
April 4
My Name Is Mo'Nique
The Signing
April 5
Lewis Capaldi: How I'm Feeling Now
April 6
April 7
Chupa
Holy Spider
Kings of Mulberry Street: Let Love Reign
Oh Belinda
Thicker Than Water
Transatlantic
April 8
April 10
April 11
All American: Homecoming Season 2
Leanne Morgan: I'm Every Woman
April 12
American Manhunt: The Boston Marathon Bombing
CELESTE BARBER: Fine, thanks
Operation: Nation
Smother-in-Law: Season 2
April 13
The Boss Baby: Back in the Crib: Season 2
Florida Man
Obsession
April 14
Phenomena
Queenmaker
Queens on the Run
Seven Kings Must Die
April 15
April 16
The Best Man Holiday
The Mustang
The Nutty Boy Part 2
April 17
April 18
Better Call Saul: Season 6
How to Get Rich
Longest Third Date
April 19
Chimp Empire
Mighty Morphin Power Rangers: Once & Always
April 20
The Diplomat
Tooth Pari: When Love Bites
April 21
A Tourist's Guide to Love
Chokehold
Indian Matchmaking: Season 3
One More Time
Rough Diamonds
April 22
Ada Twist, Scientist: Season 4
April 25
The Hateful Eight
The Hateful Eight: Extended Version: Season 1
John Mulaney: Baby J
April 26
The Good Bad Mother
Kiss, Kiss!
Love After Music
Workin' Moms
April 27
Firefly Lane: Season 2 Part 2
The Matchmaker
The Nurse
Sharkdog: Season 3
Sweet Tooth: Season 2
April 28
AKA
InuYasha: Season 6
King of Collectibles: The Goldin Touch
What's Leaving Netflix In April 2023
April 1
April 3
April 7
April 9
April 11
Married at First Sight: Season 10
April 12
The Baker and the Beauty: Season 1
April 18
April 20
The Mr. Peabody and Sherman Show: Seasons 1-4
April 23
We Steal Secrets: The Story of WikiLeaks
April 24
April 25
April 27
Señora Acero: Seasons 1-5
April 28
Ash vs. Evil Dead: Seasons 1-3
April 30
Den of Thieves
Empire State
Leap Year
Road to Perdition
Scott Pilgrim vs. the World