Here's Everything Coming To & Leaving Netflix In February
Spend Valentine's Day with Timothée Chalamet — or everyone's favorite stalker Joe Goldberg.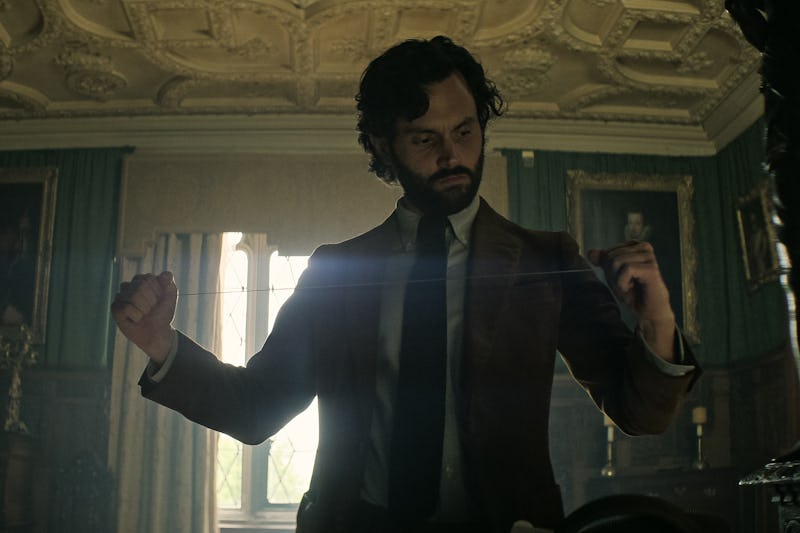 Netflix
Whether you're celebrating Valentine's Day with a lover, throwing a party with friends, or spending it solo, Netflix has your watchlist covered. On Jan. 25, Netflix revealed the list of everything leaving and coming to the streaming service in February 2023, which is full of anticipated season premieres, nostalgic rom-coms, former Oscar winners, and one of the biggest film franchises ever.
Many classic films will be arriving on Netflix at the beginning of the month, from the entire Lord of the Rings series to the first two Bad Boys movies. If you're feeling more romantic for V-Day, then Eat Pray Love and Call Me By Your Name should be on your watchlist, or if you need a good cry, then watch La La Land and The Pursuit of Happyness. Some fan favorite Netflix series will also be debuting new seasons this month, with Joe Goldberg making his return in Part One of You Season 4 on Feb. 9 and Outer Banks Season 3 premiering on Feb. 23.
Of course, with so many new titles arriving on Netflix comes some titles that will be departing the streaming service. The nostalgic Nickelodeon series H20: Just Add Water will leave Netflix in the middle of February, while you only have February to watch movies like Scream 4 and Cake (which should have earned Jennifer Aniston an Oscar nomination).
What's Coming To Netflix In February 2023
Feb. 1
The Great British Baking Show: The Professionals: Season 6
Gunther's Millions
Bad Boys
Bad Boys II
Call Me by Your Name
Daddy's Little Girls
Eat Pray Love
Enough
It (2017)
Julie & Julia
La La Land
The Lord of the Rings: The Fellowship of the Ring
The Lord of the Rings: The Return of the King
The Lord of the Rings: The Two Towers
New Amsterdam: Seasons 3 & 4
The Pursuit of Happyness
Spanglish
Spy Kids: All the Time in the World
Stepmom
Survivor: Season 32
Tyler Perry's I Can Do Bad All by Myself
Underworld
Feb. 2
Feb. 3
Class
Infiesto
Stromboli
Thomas & Friends: All Engines Go: Season 2
True Spirit
Viking Wolf
Feb. 4
Feb. 6
Feb. 8
Bill Russell: Legend
The Exchange
MTV Floribama Shore: Season 1
Feb. 9
Dear David
My Dad the Bounty Hunter
You: Season 4: Part 1
Feb. 10
10 Days of a Good Man
Love is Blind: After the Altar Season 3
Love to Hate You
Your Place or Mine
Feb. 13
Squared Love All Over Again
VINLAND SAGA: Season 2
Feb. 14
All the Places
A Sunday Affair
In Love All Over Again
Jim Jefferies: High n' Dry
Pasión de Gavilanes: Seasons 1-2
Perfect Match
Re/Member
Feb. 15
#NoFilter
African Queens: Njinga
CoComelon: Season 7
Eva Lasting
Full Swing
The Law According to Lidia Poët
Red Rose
Feb. 16
47 Meters Down: Uncaged
Ouija
The Upshaws: Part 3
Feb. 17
A Girl and an Astronaut
Community Squad
Ganglands: Season 2
Unlocked
Feb. 19
Whindersson Nunes: Preaching to the Choir
Feb. 20
Operation Finale
VINLAND SAGA: Season 2 (new episodes)
Feb. 21
Feb. 22
Murdaugh Murders: A Southern Scandal
The Strays
Triptych
Feb. 23
Call Me Chihiro
Outer Banks: Season 3
Feb. 24
Formula 1: Drive to Survive: Season 5
Oddballs: Season 2
Married at First Sight: Season 12
Pokémon Ultimate Journeys: The Series: Part 2
The Real World: Season 12
We Have a Ghost
Who Were We Running From
Feb. 27
VINLAND SAGA: Season 2 (new episodes)
Feb. 28
A Whole Lifetime with Jamie Demetriou
American Pickers: Season 15
Perfect Match (new episodes)
Too Hot to Handle: Germany
What's Leaving Netflix In February 2023
Feb. 3
Feb. 4
Feb. 7
H2O: Just Add Water: Seasons 2-3
Feb. 9
Feb. 11
ONE PIECE: Alabasta
ONE PIECE: East Blue
ONE PIECE: Enter Chopper at the Winter Island
ONE PIECE: Entering into the Grand Line
Feb. 14
Monster High: Electrified
Feb. 15
The Forest
Mr. Right
Term Life
Feb. 17
Feb. 21
Bert Kreischer: The Machine
Feb. 24
Sin senos sí hay paraíso: Seasons 1-3
Feb. 25
Zach Galifianakis: Live at the Purple Onion
Feb. 28
Air Force One
Cake
Coach Carter
Margin Call
Scream 4
Shutter Island
Sorry to Bother You
Walking Tall