Here's Everything Coming To & Leaving Netflix In June 2023
Prepare for a nostalgic summer at home with Mean Girls and Tobey Maguire's Spider-Man movies.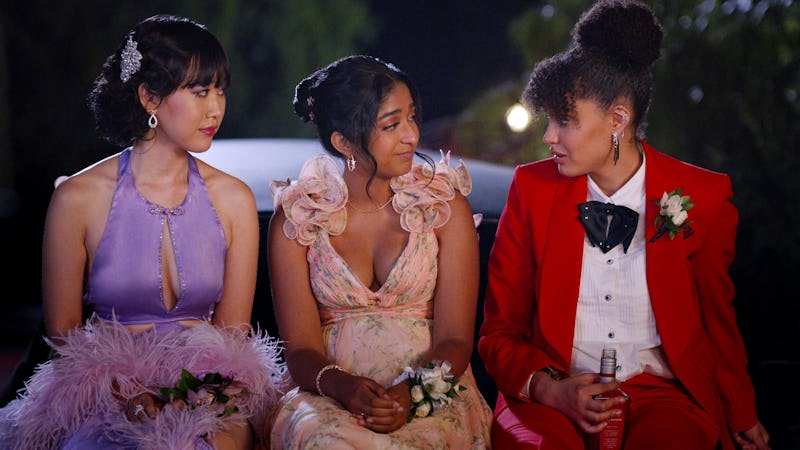 Netflix
Netflix will not be giving subscribers a cruel summer if their new arrivals are any indication. On May 24, the streaming service released its monthly list of movies and TV shows coming to and leaving Netflix in June 2023, and viewers will have the most nostalgic summer without even leaving the comfort of their couch.
Mean Girls will make its grand return to Netflix at the beginning of June, joining classic comedies like Bruce Almighty, Nanny McPhee, and The Breakfast Club. If you're preparing for Marvel's big summer releases, Tobey Maguire's three Spider-Man films will be arriving on the platform. Or if you're looking for Oscar fare, Andrea Riseborough's film To Leslie is coming to Netflix, meaning you can finally see what that Oscar nomination controversy was all about. The service isn't skimping on original content either, with new seasons of Never Have I Ever and Black Mirror premiering this month, though an exact release date has yet to be revealed for the latter.
The amount of titles leaving Netflix in June are minimal, but the cuts still may sting for some fans. Miley Cyrus' classic coming-of-age film LOL will be departing the streaming service, alongside beloved rom-coms like How to Lose a Guy in 10 Days and thrillers like the Resident Evil films.
Here's everything coming to and leaving Netflix in June 2023.
What's Coming To Netflix In June 2023
June 1
THE DAYS
A Beautiful Life
LEGO Ninjago: Dragons Rising
The Angry Birds Movie
The Breakfast Club
Bruce Almighty
The Choice
Dear John
Death at a Funeral
Dune (1984)
End of Days
Forever My Girl
Funny People
Groundhog Day
Hook
How High
The Italian Job
Jarhead
Jimmy Neutron: Boy Genius
Kicking & Screaming
The Kingdom
Magic Mike
Mean Girls
The Mick: Seasons 1-2
Mr. Peabody & Sherman
Muster Dogs
Nanny McPhee
Nanny McPhee and the Big Bang
The Ring
Spider-Man
Spider-Man 2
Spider-Man 3
Stuart Little
Stuart Little 2
Surf's Up
Terminator 2: Judgment Day
To Leslie
We're the Millers
June 2
Manifest: Season 4 Part 2
Missed Connections
Rich in Love 2
Scoop
Valeria: Season 3
June 5
Barracuda Queens
Ben 10: Seasons 1-4
Living
June 6
My Little Pony: Make Your Mark: Chapter 4
June 7
Arnold
Love Is Blind: Brazil: Season 3
June 8
Never Have I Ever: Season 4
Tour de France: Unchained
June 9
A Lot Like Love
Bloodhounds
Human Resources: Season 2
The Playing Card Killer
Tex Mex Motors
This World Can't Tear Me Down
The Wonder Weeks
You Do You
June 12
Dunkirk
Tom and Jerry Tales: Seasons 1-2
June 13
Amy Schumer: Emergency Contact
June 14
Forged in Fire: Season 8
Married at First Sight: Season 13
Our Planet II
The Surrogacy
June 15
Cold Case Files: Season 2
June 16
Black Clover: Sword of the Wizard King
Extraction 2
June 17
Grey's Anatomy: Season 19
King the Land
See You in My 19th Life
Suits: Seasons 1-8
June 19
My Little Pony: The Movie
Not Quite Narwhal
Take Care of Maya
June 20
June 21
June 22
Devil's Advocate
Glamorous
Let's Get Divorced
Skull Island
Sleeping Dog
June 23
Catching Killers: Season 3
iNumber Number: Jozi Gold
King of Clones
Make Me Believe
On the Line: The Richard Williams Story
The Perfect Find
Pokémon Ultimate Journeys: The Series Part 3
Through My Window: Across the Sea
June 26
June 28
Eldorado: Everything the Nazis Hate
Hoarders: Season 13
Muscles & Mayhem: An Unauthorized Story of American Gladiators
Run Rabbit Run
June 29
Ōoku: The Inner Chambers
The Witcher: Season 3 Volume 1
June 30
Alone: Season 9
Is It Cake, Too?!
Nimona
Tayo The Little Bus: Season 5
What's Leaving Netflix In June 2023
June 1
Garth Brooks: The Road I'm On: Season 1
The DUFF
June 8
June 13
Marlon: Seasons 1-2
The Mole: Seasons 3-4
June 14
Cold Case Files: Season 1
June 15
June 19
June 20
June 21
June 29
Mandela: Long Walk to Freedom
June 30
Chappelle's Show: Seasons 1-2
The Garfield Show: Seasons 1-2
How to Lose a Guy in 10 Days
Jerry Maguire
LOL
Puss in Boots
Resident Evil: Afterlife
Resident Evil: Apocalypse
The Stepfather
The Taking of Pelham 123
World War Z
This article was originally published on