What Next In Fashion Taught Me About The Creative Life
When novelist Rachel Heng threw on the Netflix reality show, she never expected to have an epiphany.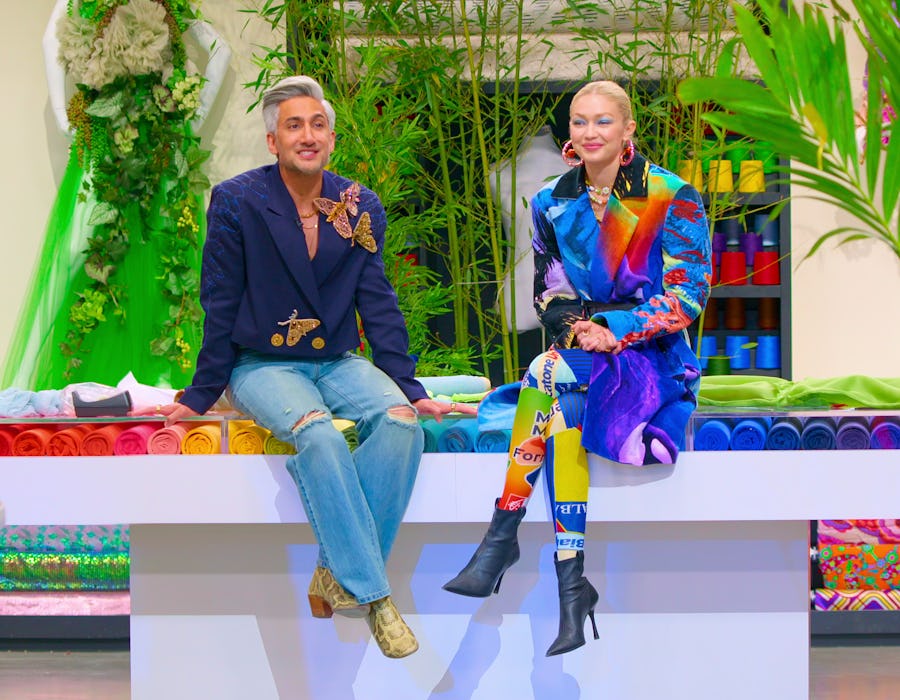 Courtesy of Netflix
We may receive a portion of sales if you purchase a product through a link in this article.
I am not a fashionable person. My wardrobe consists of basics I buy in multiple colors, I re-wear my favorite sweaters till they have holes in them, I remain firmly wedded to skinny jeans, which took me long enough to get on board with in the 2010s. In Instagram reels featuring "millennial makeovers," "how not to wear jeans," "why your outfit makes your legs look short"; inevitably, I am the 'before' video. All this to say, the last thing I'd have expected myself to be watching was Next in Fashion, a reality TV show about fashion designers.
But it was early 2021, and I was in a 14-day solo quarantine in a hotel room in Singapore. As a writer accustomed to solitude, I'd valiantly (foolishly?) attempted to make a start on a new novel during my confinement, but a few days in, I felt the walls closing in. Reality TV had always been my outlet for writer's block. It feels about as far as I can get from my own work — most recently historical fiction — taking the pressure off while still being rich with story, drama, and messy humanity.
Likely due to my faithful viewing of Queer Eye, the Tan France-hosted Next in Fashion popped up on my Netflix feed, and I took the bait. The show, I learned, gives designers a theme each week — ranging from "military" to "streetwear" — and two days to produce runway-ready outfits. The contestants were already professionals, many of them having designed outfits for the likes of Beyonce, graduated from prestigious art schools, and run their own labels. None, however, were household names, and this was what the show promised to do for the winner.
I expected catfights, big egos, friendship feuds, heightened drama. The usual stuff of reality TV, so overblown and obviously produced as to be utterly gripping and yet of reassuringly little consequence. What I didn't expect was to be tearing up in front of my screen after the first challenge.
The winners were Charles and Angelo — on first glance, a surprising duo. Unlike several teams where the designers were longtime creative collaborators, or even best friends, Charles and Angelo met for the first time on the show. Charles, the son of Vietnamese immigrants to Canada, put together his first fashion show at 13 with designs sewn from innovative, recycled materials found in his father's appliance store. He was the only contestant who did not yet have his own brand, and was accustomed to single-handedly designing and executing entire collections for the designers he worked for. Angelo, hailing from a small village in Italy, was a free-wheeling creative director with seemingly few technical skills and an infectious joy, who described himself as a "tireless idea-machine." "Like a drug," his website says, "his addiction is beauty."
I immediately identified with workhorse Charles, who jumps into action right away, pulling bolts of fabric, sketching designs, all too aware of the ticking clock. My anxiety mounted alongside his as I watched Angelo wander from table to table, picking up shiny scraps, throwing out seemingly random ideas. "Angelo. Focus. Okay, stop, you have to focus. Look at me," Charles repeats over and over. In a cutaway later, Angelo explains himself: "I am from a very tiny village. Life is very simple. There is not a lot of rush." (That Angelo was impossibly cheerful and exuded a childlike innocence made it more infuriating rather than less.)
I immediately suffered flashbacks from terrible high school projects. And after five days of pushing myself to meet my desired word count, this hit even closer to home. Years ago, I had written my first novel five hundred words at a time, getting up in the wee hours to write before going to my corporate job for the day. Writing my second novel in graduate school, I continued to impose structure and word count goals on myself. I believed in Charles' approach to creating: butt in chair, get it done. I wasn't precious about creativity or muses, didn't believe in "flow." I trusted that inspiration came through work, as a series of small choices made one at a time, while in motion. I had little patience for the Angelos of the world, charming and free as they may be. I associated their methods with the privilege of time and space, possible only for those without demanding day jobs or financial worries, a family to support, who had to make the most out of every sliver of possible time.
Yet, just as Charles' frantic sketching and Angelo's idea-suggesting reaches a peak, the two streams of consciousness converge in one vision: the black dress will have a train lined in fuchsia that attaches to the model's wrists, to be released dramatically at the end of the runway like brilliantly-colored wings. "Sky is not only for the birds," Angelo pronounces dramatically, in the way perhaps only an Italian designer dressed head-to-toe in leopard print can. "Yes! That's it! The wing, the architecture, we got our concept," Charles shouts. And they're off. Now, the two are united in purpose. Though Angelo's technical skills still lag Charles', he pitches in as much as he can, good-naturedly re-cutting patterns and attempting to operate a sewing machine under the latter's direction. In the end, it all comes together, and Charles and Angelo come out on top.
In the following challenges, they turn out to be a formidable pair, perfectly complementary: Angelo's wild ruminating and prolific idea generation, Charles' outstanding technical skill and time management. It occurs to me, watching them nail design after design, that though I identified with Charles more immediately, a part of me recognizes Angelo as well. As much as I used to believe my writing flowed predictably, within the reliable bounds of word count goals, I had learned over time that this very structure often stymied my work. Only stepping away, allowing myself time to rest, play — to watch reality TV about fashion designers! — brought the spark back. Within every artist, after all, is that push-pull of the execution and vision, intentional purpose and unconscious association, clarity and chaos. Like the voice of good and evil, on the shoulders of every creative person is perhaps a tiny Angelo and a tiny Charles. (I use the word "creative" loosely here, as it applies to parenting, running a business, doing scientific research, cooking a meal, building a house, making a life of any kind.)
Within every artist, after all, is that push-pull of the execution and vision, intentional purpose and unconscious association, clarity and chaos.
Notably, once the teams are split up and the designers compete individually, Angelo is eliminated right away for his badly fitting, unimaginative swimsuit. Limited by technical prowess, his vision lacks the room to not only manifest, but also develop. Charles, too, lasts only one challenge without Angelo, before being eliminated in the military challenge, for a white jumpsuit and kimono jacket in a similar style that he's made before. Too focused on getting the job done — he finishes the challenge with plenty of time to spare, while every other designer is scrambling till the last minute — he doesn't push himself sufficiently out of his comfort zone.
"I'm just feeling very blessed to be in this competition at all," he says when he is eliminated. ("I feel happy," Angelo says when he is eliminated one episode earlier. "I feel I [am] the winner, for me to be here with them, with you.")
It's a genuine sentiment that is repeated over and over, as each contestant is eliminated. It speaks to the sheer fun they have during the challenges, the pleasure they take in being able to immerse themselves in intensive days of simply making stuff. Even amidst the tension, disagreement or disappointment, there is a current of bright joy that runs through it all. It was this joy that made me binge watch the entire season in a day and a half. How wonderful, how mind-expanding it is to find oneself persuaded by the sheer joy of another. And how especially potent to see kindness and generosity in the competitive set up of a reality TV show, which so often mirrors the capitalist world within which creative people have to operate, competing for limited funding, publicity, opportunities. The way the contestants support one another's work and help others achieve their visions is a breath of fresh air.
When I finished watching the season, the rest of my quarantine still stretched out ahead of me. My novel draft was still very much unwritten. But something inside me had eased. I remembered, again, what it was to play, to make, but also to practice, to execute, not as a means to an end product, but as a means of unfolding. It was Angelo's words about the sky that stuck with me, in the end, and I was reminded of something a professor in graduate school had once said about writing: we are not building bird cages, we are making birds.
Rachel Heng's latest novel, The Great Reclamation, hits bookstores on March 28 and is available for pre-order.