Who Is Nick Cannon Dating & How Many Kids Does He Have?
One of Cannon's baby mothers, Bre Tiesi, spoke about their "open" relationship on Selling Sunset.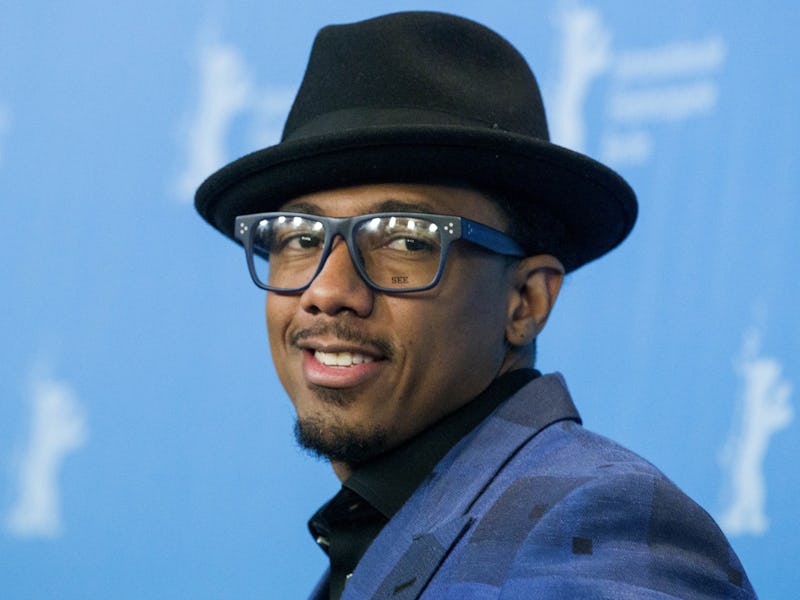 Anadolu Agency/Getty Images
2022 ended with yet another child for Nick Cannon. His baby count has continued to steadily tick up, with newborns arriving in June, September (times two), November, and now December. Last year, the Masked Singer host officially crossed into double digits of fatherhood and welcomed the last of his expected children thus far before the year ended. He has yet to announce that he's expecting children in 2023.
Cannon welcomed his newest offspring, Halo Cannon, on Dec. 14 with Alyssa Scott, about a year after losing their first son Zen to brain cancer. Scott shared her pregnancy update in October and later confirmed that the Wild 'N Out vet is the father in a follow-up post on Nov. 3. "I will hold onto this memory forever," Scott wrote in an Instagram birth announcement. "I will remember the sound of Nicks voice saying 'it's a girl' and the look of everything we've been through flash across his face."
Only a month prior, Cannon welcomed another child, Beautiful Zeppelin Cannon, born to Abby De La Rosa on Nov. 11. "BZC" was Baby No. 11 for the entertainer, so the 11/11 birth date is pretty perfect. Cannon celebrated with an Instagram tribute to both Beautiful and De La Rosa, writing in part, "BEAUTIFUL ZEPPELIN aka BZC aka BIZZY B! Get ready because the world is yours! Daddy loves you!!" He also thanked De La Rosa for her "care, words of affirmation, kindness and inspiration."
If you haven't caught on by now, Cannon has mastered juggling multiple relationships and reproducing. But understanding his complicated family tree requires an even firmer grasp of his equally complicated love life. Let's break it down.
Who Is Nick Cannon Dating?
If you're scratching your head, wondering how all of Cannon's family puzzle pieces fit together, we're here to help you sort it out. Cannon is linked to both De La Rosa and Scott, plus Brittany Bell, LaNisha Cole, and Bre Tiesi, all of whom have or will give birth to one of his kids in 2022. He and De La Rosa have three little ones together, as do he and Bell; he and Scott just welcomed their second child after the tragic loss of their first son, Zen, to cancer in December 2021.
On the sixth season of Selling Sunset, Tiesi, one of the show's newest cast members, said she was in a relationship with Cannon but admitted that it was not traditional. "I don't know if I would say I'm single," she said. "I've been in a — I don't know if I want to call it open, but open relationship, I guess. We just had a baby, we're really happy. So I'm happy in my relationship now. He films for three weeks, OK, but then when he's home, you're seeing him every morning, every night."
Cannon may no longer be linked to Cole, after she seemingly called him out for showing "fake IG photo op love" to his many children on Instagram. However, Tiesi quickly came to his defense by stating that he's "always [a] present, happy, consistent, loving parent and an even better person," proving how strong they're still going.
In 2019, Cannon appeared on the ExpediTIously podcast, where he revealed that monogamous relationships aren't quite his thing. "I think I'll never be able to be with just one woman again," he said. "I did it in marriage, I was very faithful in my marriage," referring to his marriage to music icon Mariah Carey, who he wed in 2008 before filing for divorce in 2014.
Last year, he doubled down on his radio show during a conversation with Basketball Wives star Evelyn Lozada. "Men don't subscribe to monogamy because they feel like it's not natural in their makeup, in their DNA," he said when the reality star spoke about wanting to be in a relationship with one man. "It's that hunting mentality, but it's also like, 'Yo if we suppose to be fruitful and multiply if we here to do this…' There's not many creatures on earth that are monogamous."
Who Are Nick Cannon's Exes?
It seems that Bell's 2020 pregnancy may have come in the way of Cannon's relationship with his previous girlfriend, model Jessica White. The 36-year-old said on Fox Soul's Hollywood Unlocked with Jason Lee that she found out Bell was expecting "on Instagram along with the rest of the world" shortly after she suffered a miscarriage, per Us Weekly. "She was aware that I just had a miscarriage two weeks prior to her news coming out because he told me that he told her," White said. "I was living at his house, and she knew that as well."
Cannon has been linked to several other women as well, including even TLC's Rozonda "Chilli" Thomas and supermodel Heidi Klum, among others. But his most famous relationship was with Mariah Carey. "I gave it my all," the host said on T.I.'s podcast in 2019. "Because even before that, I was like, 'I don't believe in marriage.' But, sh*t, it was Mariah Carey. Whatever she say, I'm with it. If she wanted to say we was going to the moon, I'm like, 'Let's go.' If Imma marry somebody, Imma marry her."
Once their eight-year marriage ended, Cannon knew he would never tie the knot again (or be in a monogamous relationship, for that matter). "I know I'll never be in a relationship again," he said. "I know I'll never be married again … [I don't] want to have to answer to anybody."
How Many Kids Does Nick Cannon Have?
Cannon is believed to have 12 children (including the late Zen), with Halo joining the world in mid-December. Cannon had his first two children — twins Monroe and Moroccan — in 2011 with Carey. In 2017, he and Bell welcomed their first son together, Golden; their daughter, Powerful Queen, arrived in late 2020, and their third child, Rise, in September 2022. Twins Zion and Zillion, whom he shares with De La Rosa, were the next to join Cannon's ever-growing family. Scott's late baby Zen was his eighth child, and his baby boy Legendary with Tiesi is his ninth child. His first child with Cole, Onyx, marked his 10th child overall. His third baby with De La Rosa, Beautiful Zeppelin, is his 11th child, while Halo's birth via mom Scott gave Cannon his 12th child.
A Timeline Of Cannon's Baby Boom
Pre-2020: Monroe and Moroccan, Golden
It wasn't until late 2020 that Cannon's babymaking really took off. Prior to that, he and Carey welcomed twins Monroe and Moroccan Cannon in April 2011, and then he and Bell had their son Golden nine years later, in March 2017. Three-and-a-half years after that, he went on to have eight kids (so far) in a roughly two-year period.
2020: Powerful Queen
Pageant queen Brittany Bell announced that she gave birth to their daughter, Powerful Queen Cannon, in December 2020. "The best gift ever," she wrote on Instagram on Christmas Day. "We have been surprised with... A GIRL!!!!!" She went on to call Cannon her "rock" through an "intense yet empowering" water birth. This was the former couple's second child together after Golden in 2017.
2021: Zion and Zillion, Zen
June 2021 was a busy month for Cannon. First, he welcomed twin boys — Zion Mixolydian and Zillion Heir Cannon — with Abby De La Rosa on June 14. "Welcome to the world," she captioned an Instagram post introducing the Mask Singer host's fifth and sixth kids.
On Father's Day, less than one week later, Alyssa Scott announced that she was expecting a child with Cannon. "Celebrating you today," the model wrote alongside a photo of Cannon holding her pregnant belly. Scott didn't tag him in the photo, nor did he confirm the development on his own Instagram. She gave birth to Zen on June 23 and announced the birth in a post on July 4. "I will love you for eternity," she wrote next to a black heart emoji and the baby's birth date. Cannon confirmed he was the father on July 19 by sharing photos of Zen on his Instagram story.
Sadly, Zen died just five months later. The Masked Singer host revealed that Zen was diagnosed with Hydrocephalus on the Dec. 7, 2021, episode of his show. It happened during what was supposed to be a routine visit to check on sinuses and allergies. The baby had surgery and a shunt to drain fluids in his brain, but his condition worsened over Thanksgiving. "Ultimately, it was cancer in the brain and the tumor began to grow a lot faster, and so we knew that time was," he explained while getting choked up. He also said that he got to spend quality time with Zen before his death. Cannon paid tribute to his late son a year after his death, saying "physically I'm definitely on the mend but Mentally and Spiritually I'm broken."
2022: Legendary, Onyx, Rise, Beautiful, & Halo
Despite a period of celibacy for part of 2021 and 2022, Cannon was soon back to reproducing. He revealed that he and model Bre Tiesi were having a baby on the Jan. 30 episode of The Nick Cannon Show, and Tiesi posted photos from her "unmedicated home birth" to her personal Instagram on July 25, calling Cannon an "amazing and supportive partner" who "showed the f up for us." On July 26, she shared their son's full name. Soon thereafter, Cannon confirmed that he was due to have yet another child with Abby De La Rosa and another with Brittany Bell.
In the interim, Onyx Ice Cole Cannon was born to former Price Is Right model LaNisha Cole on Sept. 14. Cannon announced her birth on Instagram, sharing a photo of him cuddling with mom and daughter in the delivery room. "Once again, today I am in awe of the Devine Feminine!" he wrote. "God has given me and @MissLanishaCole the privilege of hosting an Angel here on earth. I vow to protect, provide, guide and love this child to the best of my abilities."
Weeks later, on Sept. 30, the Masked Singer host and Bell announced the birth of their son, Rise Messiah Cannon. "Another Blessing!!! As my journey on this planet becomes more and more remarkable and unfathomable, all I can do is thank God and continue to ask the Most High to order my steps," Cannon wrote on Instagram. "He has given me stewardship and dominion over a family dynamic that to some is unimaginable."
November brought Beautiful Zeppelin Cannon, his third child with De La Rosa. "You are the definition of steadfast and virtuous and it is my continued duty to make you and our children feel valued and protected every single day!" he wrote to his partner as he announced the birth on Instagram. To Zeppelin, he added, "Get ready because the world is yours! Daddy loves you!!"
The little one was the youngest for approximately a month before Baby No. 12, Halo, joined the ever-expanding family in December. As of now, Cannon and his partners have not announced any expected 2023 pregnancies.
Additional reporting by Jordyn Tilchen, Radhika Menon, and Stephanie Topacio Long.
This article was originally published on