Nick Jonas Smoothly Handles Fans Throwing Objects At Him During Concert
The onstage incident is going viral on TikTok.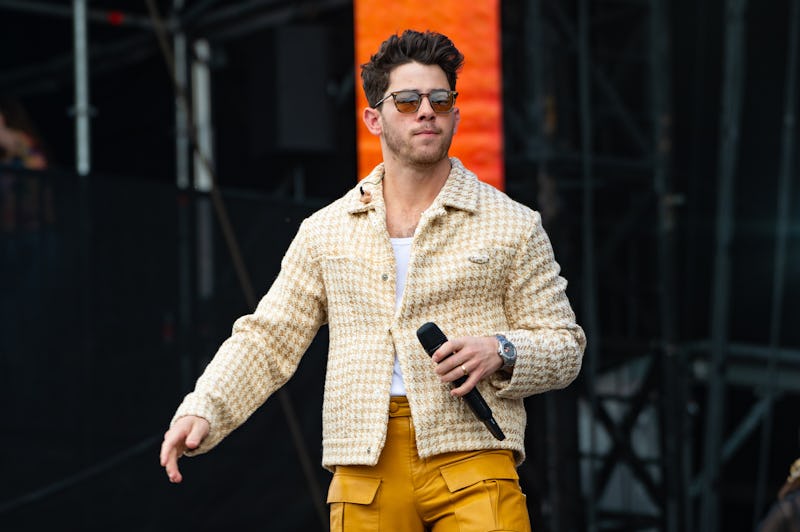 Joseph Okpako/WireImage/Getty Images
Amid a worrying spate of concertgoers throwing objects at artists while performing onstage, Nick Jonas was forced to call out fans during a recent show. In a now-viral TikTok, Jonas is shown performing "Rollercoaster" with the Jonas Brothers during a Sept. 11 concert in Sacramento, California. During the widely-circulated clip, the "Jealous" hitmaker is shown quickly dodging several unidentified items, prompting him to shake his head at onlooking fans. Jonas then repeatedly tells concertgoers to "stop" and resumes performing.
Many TikTokers were quick to share their thoughts on the viral video, with one user fuming: "These fans are getting out of control! The artists get hit in the face with the hope they'll get noticed." Meanwhile, another fan commented: "It's that first head shake… you know he's mad," and one user also noted: "He's still smiling but is so mad at the same time."
As mentioned, this latest onstage incident follows a recent string of fans throwing objects on stage. In June 2023, Bebe Rexha was hit in the face by a phone during her New York City concert, after which a fan was charged with assault. A mere 24 hours later, "Sweet But Psycho" hitmaker Ava Max was slapped across the face by a concertgoer in Los Angeles. "He slapped me so hard that he scratched the inside of my eye. He's never coming to a show again," Max wrote of the incident.
More recently, "So What" performer P!nk was handed multiple unexpected fan gifts from the crowd while performing in London, including a large wheel of cheese and a bag of ashes.
Speaking at her Las Vegas residency in July 2023, singer-songwriter Adele addressed the recent trend of throwing objects onstage, asking the crowd: "Have you noticed how people are forgetting f****** show etiquette at the moment? People are throwing s*** on stage." The Grammy winner continued: "I f****** dare you — I dare you to throw something at me. I'll f****** kill you."