Nick Jonas Recalls "Tragic" Performance That Landed Him In Therapy
"It was a really traumatic moment."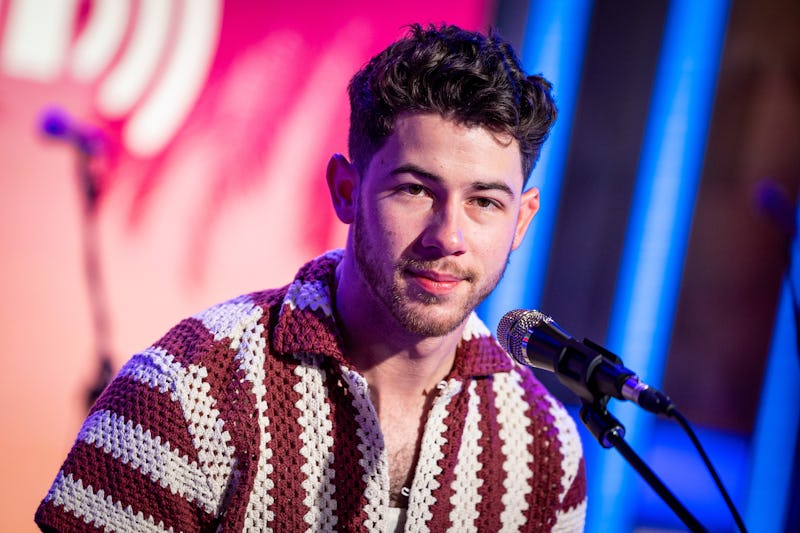 Emma McIntyre/Getty Images Entertainment/Getty Images
As one-third of the Jonas Brothers, who recently dropped their sixth studio release The Album, Nick Jonas is no stranger to carrying out electrifying live performances to thousands of adoring fans. However, during a recent podcast appearance, the actor and musician recalled one "tragic" onstage incident that left him in therapy.
At the 2016 Academy of Country Music Awards, he joined Kelsea Ballerini onstage for a live rendition of her 2015 song "Peter Pan." But things didn't go according to plan when Jonas began an off-key guitar solo.
"A really tragic guitar solo debacle happened on live TV," Jonas recalled on the Armchair Expert with Dax Shepard podcast. "I come out for my thing. I rehearsed it a million times. I'm feeling really confident about it — not even really thinking about it like it's a thing that's going to be problematic." Jonas added that, although the performance started off "fine," he went "completely blank" as he walked toward Ballerini onstage. "I hit a wrong note and blacked out basically and clocked that it was wrong and I couldn't stop."
Addressing the incident on Twitter at the time, Jonas made light of the situation, writing: "Yes, I screwed up the solo thanks to a huge brain fart. We're all human and s*** happens sometimes." However, speaking to podcast host Dax Shepherd in 2023, Jonas revealed that the onstage mishap caused him "to go to therapy."
"Until this day and hours after unpacking it, I can't really figure out exactly what happened, but I was rushed to a car and rushed to a plane right after it," Jonas said. "I looked at my manager and said, 'I think that was bad.' I was like in shock kinda. Like it was a really traumatic moment that shaped the pressure I put on myself to be perfect and to always be on."
In spite of Jonas' onstage blunder, Ballerina subsequently said she is a "huge fan" of the "Jealous" hitmaker. "His solo stuff is just incredible and it was really cool to collaborate with him on the awards. I'd totally do more with him if I could," she told The Hollywood Reporter.