Nicola Coughlan's Hilarious Uber Eats Ad Spoofs Period Romances Like Bridgerton
Her new Regency-era hero is no Colin Bridgerton.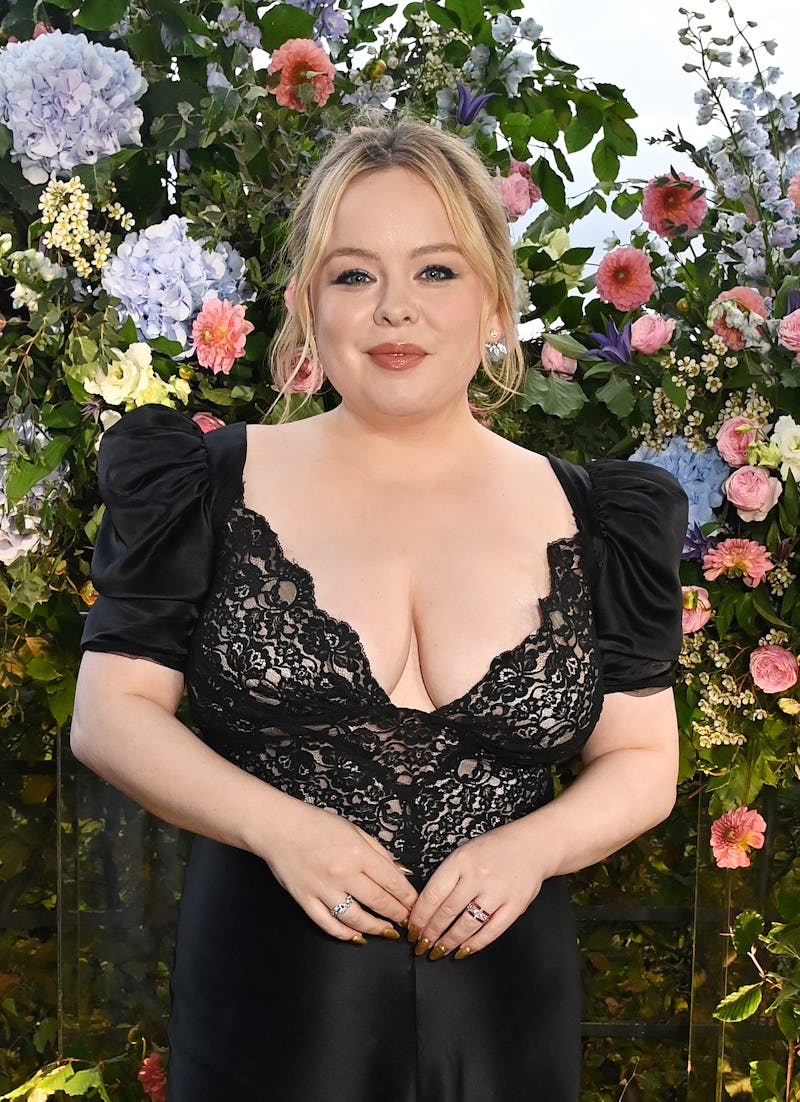 David M. Benett/Getty Images Entertainment/Getty Images
Ever since Bridgerton premiered in December 2020, the Netflix period romance's heroes have been setting fans' hearts aflame. Viewers dream of finding their very own Simon, Anthony, Benedict, or Colin. However, the reality of actually dating a Regency-era man would probably not be the stuff of fantasies. That's the case a hilarious ad from Uber Eats Australia makes, and it stars none other than Nicola Coughlan (Penelope Featherington).
The ad cleverly makes the point that the app can be used to "get almost almost anything," and it does so by showing certain things it can't really deliver. Coughlan finds that out when she decides to order a "period romance" while watching Pride and Prejudice. A romance hero soon shows up on her doorstep, hat and flowers in hand, as it pours down rain. Their initial meeting seems to have all the makings of a beautiful relationship, but it goes downhill from there.
Coughlan's hero doesn't transition seamlessly into the 2020s. He's easily distracted by ankles, amused to see "a woman — with a job?!," and still accustomed to using a chamber pot. It's clear that her patience is wearing thin when he lays out his hopes for her dowry. Then there's his continued lust for ankles and his outdated hygiene habits. Ultimately, we learn Uber Eats isn't the place to get a period romance. Period relief, on the other hand? That, it can deliver.
Numerous Bridgerton fans gave the commercial their seal of approval in Uber Eats Australia's Instagram comments. "I wouldn't mind if this was how Luke and Nicola introduce season 3 of Bridgerton," one fan quipped. Another added, "I literally thought it was going to be Colin at the doorstep." Others called both the ad and Coughlan "amazing."
Though the commercial's hero was no Colin Bridgerton (Luke Newton), the spoof may have helped tide over viewers who are eagerly awaiting Bridgerton Season 3. The upcoming chapter centers on Penelope and Colin, an already beloved pairing known together as Polin, and fans have been hoping to see it premiere before the end of 2023. So far, Netflix has not revealed its release date.
When Season 3 does arrive, it sounds like it might be a rocky road for Polin. Netflix's official synopsis teases that Penelope will have "finally given up on her long-held crush on Colin" and start looking for a husband. As she tries to find someone who will "provide her with enough independence to continue her double life as Lady Whistledown," she'll turn to Colin for help with her confidence, and he'll start to reevaluate his feelings for his longtime friend.
Luckily, in the world of Bridgerton, we can count on remaining blissfully unaware of our heroes' use of chamber pot usage. Also, it's safe to say we'll be seeing a lot more than just ankles on screen.