Fans Can't Believe They're Listening To A New *NSYNC Song In 2023
The boy band released a new single, "Better Place," on Sept. 29.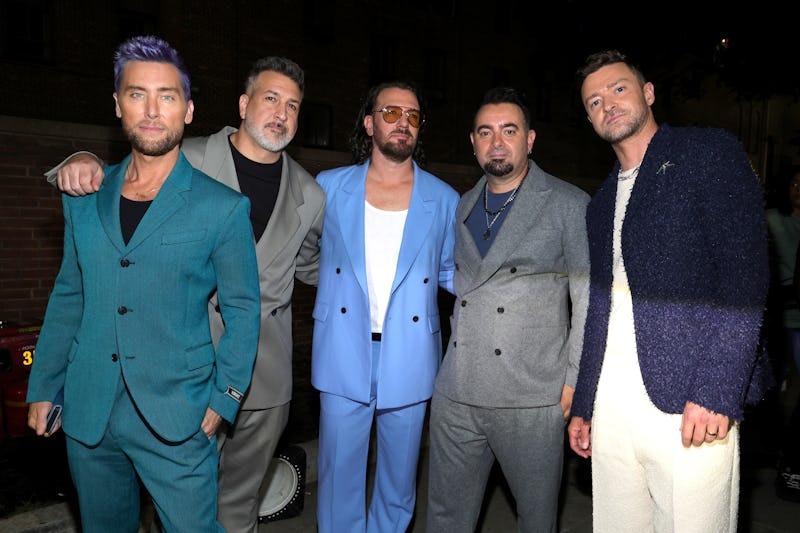 Kevin Mazur/Getty Images Entertainment/Getty Images
With One Direction on perpetual hiatus and BTS serving in the South Korean military, the time is ripe for another boy band to reclaim the throne. Fortunately, *NSYNC is accepting the anointment. On Sept. 29, the band released its comeback song, "Better Place," from Justin Timberlake's upcoming animated film, Trolls Band Together — and fans are in full-on nostalgia mode.
While Lance Bass, JC Chasez, Joey Fatone, Chris Kirkpatrick, and Timberlake have reunited before on special occasions, "Better Place" marks the band's first new music in over two decades, since the 2001 single "Girlfriend." The new song harkens back to the group's bombastic pop sound, paired with its signature uplifting lyrics and mesmerizing harmonies.
*NSYNC first teased the track at the 2023 MTV Video Music Awards with a surprise reunion. They presented Best Pop Video to Taylor Swift, who seemed more excited about the band than her award. "What's going to happen now?" she asked onstage. "They're going to do something, and I need to know what it is." Days later, they announced the single.
Immediately after hearing the song, fans turned to X, formerly Twitter, to share their thoughts, agreeing that it felt so good to hear all five members' voices together again, with one user writing that "*NSYNC did what had to be done."
Many listeners were stunned by how good their voices still sound together, praising the vocal prowess of the group's lead singers, Timberlake and Chasez. One user said how they are "going in for the combo attack."
Other fans noted that the song's "harmonies are quintessential *NSYNC," and someone lovingly credited the rest of the band members, pointing out, "them harmonies ain't gonna harmonize without Chris, Joey, and Lance."
"Better Place" topped the iTunes Sales chart hours following its release. One fan asked, "Did I wake up in 2001? @NSYNC has the #1 charting song?!" Even Glee star Kevin McHale couldn't comprehend that he was talking about a new *NSYNC track.
While all five men have done extensive promo and Instagram videos to promote "Better Place," including a recent Hot Ones appearance, it's likely that the track is the last surprise from the group. Timberlake is reportedly slated to release his next album and hit the road in 2024.
But Mr. SexyBack, it's never too late to turn that solo act into a reunion tour.