Olivia Rodrigo Sets The Record Straight About Taylor Swift "Conspiracy Theories"
Rumors of their feud were squashed after Swift subtly supported Rodrigo at the 2023 VMAs.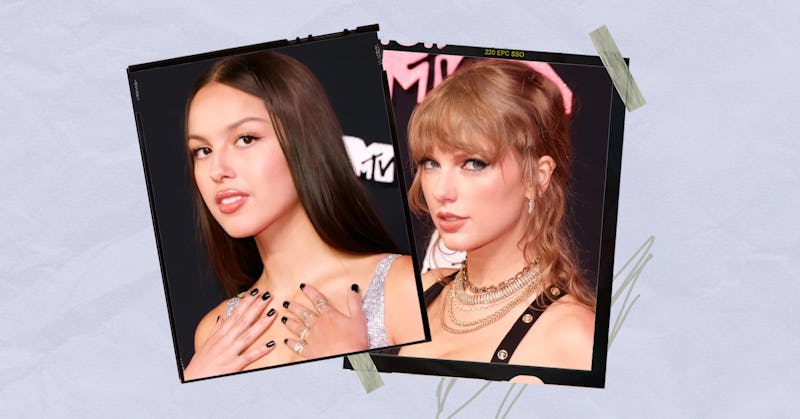 Taylor Hill / Getty Images
Olivia Rodrigo isn't interested in your "conspiracy theories," especially if it involves Taylor Swift. The "get him back!" singer set the record straight about rumors of her feuding with the fellow Grammy winner in a new interview with Rolling Stone published on Sept. 12, just hours before Swift showed support to Rodrigo in a subtle way.
After her debut single "drivers license" took off in January 2021, Rodrigo publicly professed herself to be a major Swiftie, and Swift showed her support in return. But months later, fans speculated that the two were no longer friendly after Rodrigo gave writing credits to Swift on her debut album SOUR and they stopped communicating publicly.
However, Rodrigo told RS that she has no issues with Swift — or anyone else for that matter. "I don't have beef with anyone," she said. "I'm very chill. I keep to myself. I have my four friends and my mom, and that's really the only people I talk to, ever. There's nothing to say. There's so many Twitter conspiracy theories. I only look at alien conspiracy theories." Swift seems to be on the same page. As seen in viral footage from the 2023 VMAs, she raised her hands to cheer and applaud when Rodrigo's name was called out on the speakers.
Rodrigo sang a slightly different tune when it came to the writing credits situation, admitting she "was a little caught off guard" but it wasn't all her doing. "At the time it was very confusing, and I was green and bright-eyed and bushy-tailed. Is that the phrase?" she asked. "It's not something that I was super involved in. It was more team-on-team. So, I wouldn't be the best person to ask."
On SOUR, Rodrigo interpolated the piano melody of Swift's Reputation track "New Year's Day" on "1 step forward, 3 steps back," for which Swift and Jack Antonoff were given credit prior to the album's release. Swift later received a writing credit on "deja vú," after fans noticed the bridge had similarities to her Lover hit "Cruel Summer." Hayley Williams was also credited on "good 4 u" after comparisons were made to Paramore's "Misery Business." But Rodrigo doesn't foresee herself requesting credits if songs are inspired by her. "I don't think I would ever personally do that," she said. "But who's to say where I'll be in 20, 30 years. All that I can do is write my songs and focus on what I can control."