50 Best Lyrics From Olivia Rodrigo's GUTS For Those Angsty Instagram Captions
The Grammy winner makes teenage angst sound cool again.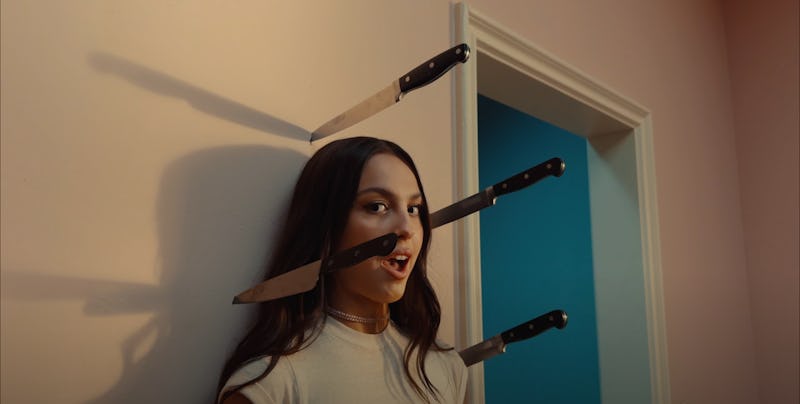 YouTube / Olivia Rodrigo
When Olivia Rodrigo's "drivers license" dominated headlines and airwaves in 2021, it also took over another important metric: Instagram captions. Her Grammy-winning debut album SOUR didn't help matters, giving fans cutting and relatable lyrics that captured everything from relationship launches to breakup posts. And Rodrigo's new album GUTS only extends that reign, filled with unapologetically angry and vulnerable pop-rock anthems that make teenage angst sound cool again and will have you writing MySpace-era captions once again.
Like SOUR, Rodrigo's highly awaited sophomore album has plenty of fodder from past heartbreak and complicated relationships that would make perfect Instagram captions, from the playfulness of "get him back!" ("I wanna meet his mom, and tell her her son sucks") to the brutal memories of "vampire" ("How's the castle built off people you pretend to care about?"). She also somehow makes songs about the pitfalls of fame sound relatable, with songs like "making the bed" and "teenage dream" containing perfect lyrics for those midlife crisis posts.
But most importantly, no matter what the most embarrassing teenage phase you went through or how long ago you went through it, Rodrigo was able to capture it perfectly. Yes, it's ok to use the lyrics of "ballad of a homeschooled girl" on Instagram even if you're long past high school, because lines like "everything I do is tragic" are evergreen. Read on for the 50 best lyrics from 12 songs on GUTS that would make the best Instagram captions.
"all-american b*tch"
I pay attention to things that most people ignore
I've got sun in my motherf*ckin' pocket, best believe
I got class and integrity, just like a goddamn Kennedy, I swear
I'm a perfect all-American b*tch, with perfect all-American lips, and perfect all-American hips
I'm sexy and I'm kind
"bad idea right?"
Can't hear my thoughts, like blah blah blah
I should probably, probably not
It's a bad idea, right?
F*ck it, it's fine
"vampire"
How's the castle built off people you pretend to care about?
Bloodsucker, fame f*cker
Bleedin' me dry like a goddamn vampire
What a mesmerizing, paralyzing, f*cked up little thrill
"lacy"
Aren't you the sweetest thing on this side of Hell?
The sweetest torture one could bear
Dazzling starlet, Bardot reincarnatе
I despise my jealous eyes and how hard they fell for you
"ballad of a homeschooled girl"
I'm on the outside of the greatest inside joke
Each time I step outside, it's social suicide
Everything I do is tragic
Every guy I like is gay
"making the bed"
Another day pretendin' I'm older than I am
I can't stop at the red light, I can't swerve off the road
Pull the sheets over my head
Countin' all of the beautiful things I regret
"logical"
I'd put myself through hell for you
I fell for you like water falls from the February sky
Now you got me thinkin' two plus two equals five
No, love is never logical
"get him back!"
I met a guy in the summer, and I left him in the spring
He said he's 6'2, and I'm like, "Dude, nice try"
Another song, another club, another bar, another dance
I am my father's daughter, so maybe I could fix him
I wanna meet his mom, and tell her her son sucks
"love is embarrassing"
It don't mean a thing
God, love's f*cking embarrassing
I damn near started World War III
I'm plannin' out my wedding with some guy I'm never marrying
"the grudge"
Took everything I loved and crushed it in between your fingers
I hold onto every detail like my life depends on it
I try to be tough, I try to be mean
It takes strength to forgive, but I don't feel strong
"pretty isn't pretty"
Bought a bunch of makeup, tryna cover up my face
Pretty isn't pretty enough anyway
I could try every lipstick in every shade
You can win the battle, but you'll never win the war
"teenage dream"
When am I gonna stop being wise beyond my years and just start being wise?
When will it stop being cool to be quietly misunderstood?
I'll blow out the candles, happy birthday to me
I'm sorry that I couldn't always be your teenage dream