This One Tree Hill Wardrobe Error Is Going Viral On TikTok
"Just wait 'til the end."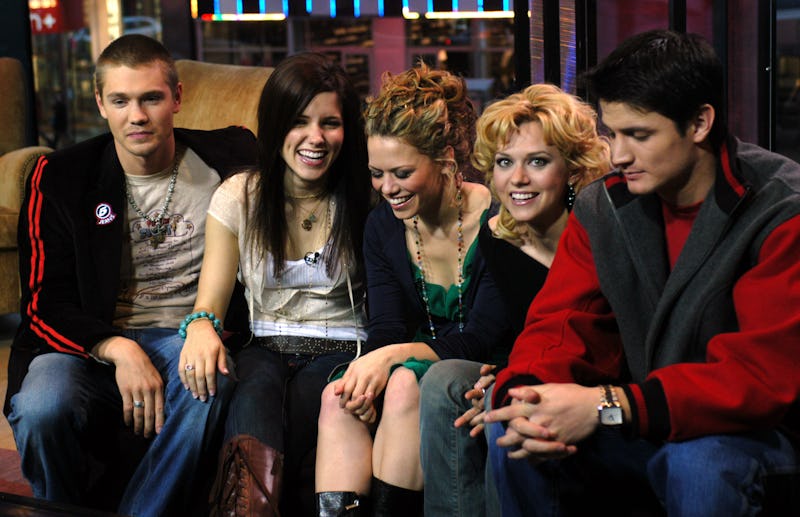 Carley Margolis/FilmMagic/Getty Images
The ladies of One Tree Hill valued "clothes over bros," but fashion was apparently the last thing on one of their minds by the time graduation rolled around. In an unforgettable scene from the teen drama's Season 4 finale, which aired on The CW in June 2007, Brooke (Sophia Bush), Peyton (Hilarie Burton), and Haley (Bethany Joy Lenz) cap off their graduation party by performing an impromptu group dance to the Spice Girls' 1996 hit, "Wannabe." Fast-forward a decade and a half, and the clip re-emerged on TikTok, but less for nostalgia and more so because a fan noticed a wardrobe error that you won't be able to unsee.
If you watch the clip closely, Lenz's Haley is either wearing sneakers or heels, depending on the camera angle. "Haley's shoes change in like every clip in this scene," an observant TikTok user explained in the 22-second video, which racked up nearly 2 million views within 48 hours. "Just wait 'til the end. They change again." The post's caption noted that the series, which ran for nine seasons from 2003 to 2012, was "notorious for these inconsistencies," but many commenters admitted they'd still somehow never spotted this particular mistake before now.
"I've watched this show and this specific episode probably 50x maybe more and I have never noticed this," one fan wrote, while another added, "I always think I'm observant until I see people can pick up on these things I never noticed." Meanwhile, the clip reminded several others of more One Tree Hill editing and continuity errors. One person recalled a scene during Haley's pregnancy where "you can tell it's a pillow under her shirt," and another pointed out a different time "tutor girl's" hair and scarf kept changing in the same scene. After someone else commented that it "has ALWAYS bothered" them that flashbacks from Haley and Nathan's (James Lafferty) nighttime wedding "are clearly during the day," another chimed in that their son's birthday had been celebrated at inconsistent times of the year.
Days later, the viewer who found Haley's footwear error uploaded another One Tree Hill clip, though this one didn't involve any magical wardrobe changes. When the scene, which featured Lucas (Chad Michael Murray) and Keith (Craig Sheffer), began, there was a visible microphone at the bottom of the screen. Then, as the guys walked through the school hallway moments later, the camera also tilted too far upward, exposing that there was no ceiling on the set.
This wasn't the first time observations of this sort went viral either. In July 2021, for example, another eagle-eyed fan "noticed something was off" during their One Tree Hill rewatch. So they paused the scene in which Felix (Michael Copon) challenges Lucas and Dan (Paul Johansson) to a car race, and in a blink-and-you'll-miss-it moment, you can clearly see that the actors have been replaced by stunt doubles. "Lucas & Dan caught red handed," the viewer captioned the video, which has been viewed more than 3.5 million times.
Regardless, it's all in good fun for fans, and One Tree Hill remains one of the most beloved teen dramas of the 2000s.