Ophelia Lovibond Is Ready For More Minx
The star of the HBO Max series talks feminism and the one plotline she doesn't want to see in season 2.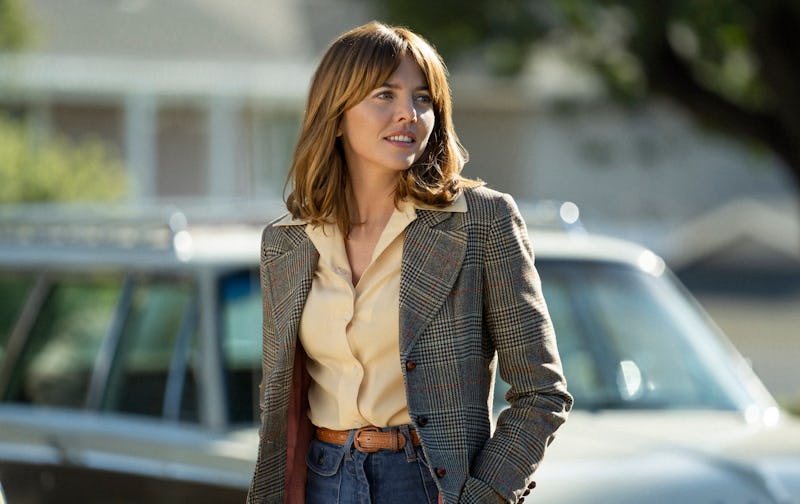 Katrina Marcinowski/HBO Max
Thousands of miles away from her native London on a honeymoon in Italy, Minx star Ophelia Lovibond is still feeling the impact of the series' success. "I was in Venice at the Peggy Guggenheim museum. A young woman came up to me and said how much she loved the show," Lovibond explains to Bustle, phoning in during the final leg of her trip with husband Henry Pettigrew. The woman told Lovibond tentatively at first, perhaps because of the subject matter — the HBO Max series follows Lovibond's Joyce Prigger, a fiery young feminist who creates the first women's erotic magazine. "She [was] quite shy with it," Lovibond recalls. "She's like, 'You know, I'm also a feminist? So I guess the show's about that?' ... She [was] quite young, and I just thought, we're really reaching the right people in the right way."
The interaction is a neat reflection of Lovibond's character's journey on the show's first season. At the start, Joyce dreams of seeing her more radical pitch for The Matriarchy Awakens on newsstands, but porn publisher Doug Renetti (Jake Johnson) is the only one willing to take a chance on her. Together they create the magazine Minx, and Joyce learns to compromise on the male nudes, make her screeds more accessible to casual readers, and deal with the criticism that comes with being a "feminist in the public eye." Just like the blowback that the real women's erotica magazines faced, activists accuse Joyce of undermining the whole movement, while men proclaim she's a misandrist. It all culminates in a book burning, several community protests, and a group of men trashing their studio space. It's enough to break Joyce just two issues in, but finding a bag full of Minx fan letters from women reminds her why her work matters.
The show itself is also a full circle moment for Lovibond, who once joked during a 2016 BAFTA interview that if she could change her industry, she'd like to see more roles where "the men get naked and the women get dressed." Women have gone so far as to DM her on Instagram gushing about their favorite scenes, like when Joyce goes on a national radio show and berates the chauvinistic hosts on air. Others have even admitted to Lovibond that before watching the show, they had a feeling that they were being harassed or mistreated at work. "They couldn't put their finger on whether they were imagining it or not," Lovibond says. "They were like, 'Since watching the show, I understand I absolutely am not imagining it, and [Minx] has really helped me understand how subtle sexism could be and how everyday sexism is just as damaging.' And I was like, yesss!"
Though Joyce's story takes place in the early 1970s, her struggles to be heard and be taken seriously continue to resonate today. We shouldn't have to be explaining what feminism is 50 years later, for example, and yet our interview takes place exactly three weeks after the leaked Roe v. Wade decision, which we both allude to but avoid bringing up. "I feel like Minx is definitely a show we need right now, let's put it that way," Lovibond says. "Ultimately, [Minx is a] workplace comedy, but I do think what the creator Ellen Rapoport has done is that she's kind of couched these very big, important issues in a way that's accessible, and people aren't frightened off by it. [Sexism] is so insidious, and I think this show exposes that in a quite subtle way. And it has added to the conversation which, obviously, it was incredibly fun to shoot, but to see that that's been a byproduct of it is enormously pleasing."
Given all this, it was "the cherry on the cake" for Lovibond when she found out that Minx was renewed for Season 2. "There's so much to be explored. I think this has got good legs," she says. In the final moments of Season 1, Doug gives up ownership of Minx to Joyce, but it's unclear if she has the experience to carry the magazine without him. "I kind of want to see her just continue to learn by making mistakes. I don't think it would be interesting or that realistic to see her ace being able to produce her own magazine. If she was able to do that, she would have done it already," she says. "She wouldn't have had to go to someone who she feels isn't the perfect match for her. So I'd like to see her getting a few wins, but continue having to encounter people from totally different backgrounds, and hilarity ensues."
She also hopes to see Joyce continue to grow from these experiences. "She can be quite patronizing inadvertently, but that's not coming from a place of malice. She frustrates herself; she kind of irritates people, but she doesn't really understand why, and I think that's where the humor comes from," Lovibond says.
The only thing that Lovibond for sure doesn't want to ever see on Minx? A romance between Joyce and Doug. "It definitely doesn't need to be romantic. I think we've seen that idea done to death," she says. "But I think that's so much more interesting, because it leaves space to explore other ways in which men and women are friends." Finally, someone strong enough to resist Jake Johnson's charms.