What Is Pamela Anderson's Net Worth? She Was Never Paid For Her Stolen Sex Tape
She reportedly earned only $1,500 an episode during the first season of Baywatch.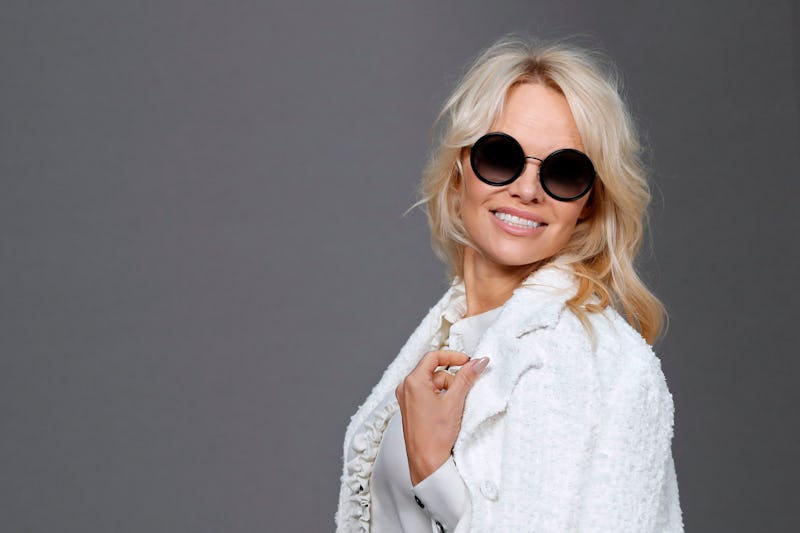 FRANCOIS GUILLOT/AFP/Getty Images
Few people in history have rocked the title of sex symbol like Pamela Anderson. The actor, author, model, and activist has been one of the most admired and lusted-after stars in Hollywood for decades. Her image helped lead her to high-profile roles on both the small and big screen, various product lines, and even several bestselling books.
While Anderson did earn the bulk of her millions from TV, she hasn't starred in any high-profile films or series in some time, but interest in her was renewed in 2022 when the Hulu miniseries Pam & Tommy aired. In the program, Anderson is portrayed by Lily James, while her off-again-on-again love, controversial rocker Tommy Lee, is played by Sebastian Stan. The series was well-received and earned Emmy nominations, but Anderson publicly disavowed the series, saying it did not receive her blessing.
Now Anderson is taking her story back with a Netflix documentary and new memoir, which may have people wondering where the Playboy centerfold is these days and how she's doing financially. In the documentary titled Pamela, a love story, she addresses the infamous sex tape with Tommy Lee, which was illegally stolen and sold for a profit. Anderson and Lee took Internet Entertainment Group, the company that distributed the tape, to court and won their case. In 2002, a judge ordered IEG to pay Anderson and Lee $740,000 each, but by then the company had ceased to exist and Anderson and Lee never saw a dime. (This later became the premise of Pam & Tommy.)
According to Anderson, the founder of Penthouse Bob Guccione offered to buy the sex tape for $5 million in cash. Anderson refused and instead asked for the tapes back as she did not want them released. "You can't put a monetary number on the amount of pain and suffering that it caused," she says in the documentary. "If anyone watches it, if anyone buys it, if anyone sells it, it's just pathetic."
All of Anderson's various projects throughout the years have made her a wealthy woman, though, like far too many names in the entertainment field who enjoy superstardom, the Baywatch favorite has been richer and poorer, depending on the year. Here's how she's filled her bank account throughout her time in the spotlight.
4 Ways Pamela Anderson Makes Her Money
1. Acting
Anderson got her start as a model and a sex symbol, but she became a proper star after she began appearing on TV, reaching millions of Americans in their homes. She landed her first important role opposite Tim Allen on Home Improvement, which became one of the most successful programs on the small screen. For several seasons, the blonde bombshell starred as Lisa, the "tool girl" on Tool Time, the fictitious TV series featured on the show.
She left Home Improvement to star in Baywatch, which catapulted her to real fame all around the world. For years, she portrayed Casey Jean "C.J." Parker, running up and down the beach saving people's lives, and falling in and out of love. Baywatch was by far Anderson's most popular series, and it likely also made her more money than anything else she acted in throughout her career. In her first season, she earned $1,500 per episode — a number that reportedly jumped to $300,000 per episode, earning her $12 million per season. Still, she allegedly earned much less than her co-star David Hasselhoff and the producers of the show.
As her TV career continued, Anderson also starred in or scored recurring roles in programs like Days of Our Lives, What's Up Doc?, Sin City Spectacular, Stripperella, Stacked, and V.I.P., which also ran for several seasons before being canceled.
More recently, Anderson has focused her attention on reality TV, and she has appeared on several international iterations of two of the most successful franchises ever. She appeared on Big Brother-type programs in the U.K., Germany, Bulgaria, and India. She was paid a whopping $550,000 for just three days of work on the latter series, and it was quickly deemed inappropriate for younger audiences. She performed on Dancing With the Stars shows in the U.S. (as well as an "All Stars" spin-off), Argentina, France, and a U.K. version set on ice. Anderson even had her own short-lived reality series on E!, but critics called it "pointless," and it wasn't very popular.
Anderson has also appeared in dozens of movies, though not many have been financial successes, and few have been well-reviewed. The star has landed roles in productions like Scooby-Doo, Scary Movie 3, Borat, Superhero Movie, and various Baywatch-related films.
In 2022, she made her Broadway debut as Roxie Hart in Chicago. She starred in the musical from April until June of that year. It remains unclear how much the star made during her limited engagement.
2. Modeling
Anderson was discovered at a BC Lions Canadian Football League game at the BC Place Stadium in Vancouver, Canada when she appeared on the JumboTron. She happened to be wearing a t-shirt with the Labatt beer company's logo on it, which was a lucky choice that day. Shortly after her quick moment of fame, the brewer hired her as a spokesperson, and that turned out to be the beginning of a career in the spotlight. Throughout the years, she has also starred in ads for companies like DirecTV, Pizza Hut, and Crazy Domains, with the latter clip actually being banned in several countries for being offensive.
Her most well-known modeling shots were featured in Playboy, which put her on the map. The adult-only magazine featured Anderson on the cover at least 13 times, more than anyone else. Including international editions, she has reportedly graced the front page of more than 100 publications of the title. She has also starred in spreads and covered countless other magazines, though whether she was paid for these pictures or they were simply promotions for other ventures isn't entirely clear, and it likely varies.
3. Writing
She may be primarily known as an actor and a model, but Anderson is also an accomplished author, with several published books to her credit. As a novelist, she has penned (or co-penned) Star and Star Struck, both fictitious stories. She also published non-fiction books Raw and Lust for Love: Rekindling Intimacy and Passion in Your Relationship, written with celebrated rabbi Shmuley Boteach.
Her newest memoir Love, Pamela released on Jan. 31, gives a closer look at the star's life, including her challenging childhood and adulthood in the spotlight.
4. Clothing & Fragrance
Like many other celebrities, Anderson has cashed in on her famous face and name by launching branded products. While few if any appear to still be widely available for purchase, she may have made some cash while the businesses were running. Chances are she was able to partner with other firms to lend her brand to these items, as opposed to funding their production and marketing herself (as is sometimes the case in these instances).
She launched clothing lines or capsule collections of accessories and one-off items with Coco De Mer, Wardements, and Ashoka, as well as her own apparel and jewelry selections under her own name that appear to have been backed by other companies. She debuted a short-lived and unfortunately-named line of vegan-friendly shoes and boots called Pammies, and despite some social media promotion, it doesn't seem like things went very well.
Anderson once also lent her name to a cosmetics collection powered by artist and longtime collaborator Alexis Vogel. She found the time to launch at least two perfumes, Malibu and its follow-up Malibu Night. How much money she earned from these endeavors wasn't made public, but if there was more than one scent with her name attached, clearly at least some fans were buying.
How Pamela Anderson Spent Her Money: Real Estate
Throughout her decades as a centerfold and a TV star, Anderson earned millions of dollars, but that doesn't mean she's always been living in luxury. In fact, for many years, she's faced serious financial strife, and a lot of it seems to have to do with her excessive spending and one real estate investment that ended up costing the actor a lot of money.
In 2000, Anderson purchased a home in Malibu for $1.8 million, and at the time, she was still working steadily. Throughout the next several years, she had the property knocked down, and she reportedly spent $8 million rebuilding the house. At times, she ran out of funds to pay the builders, and she also owed quite a bit in back taxes to the IRS.
Anderson apparently owed more than $1 million to both the construction company and the U.S. government at once. Thankfully, it seems like she's now settled all of her debts, perhaps thanks to her now ex-husband. She sold her longtime home in 2021 for $11.8 million, so while it seems like she made a few million in profit on the project, it's possible she actually lost cash in the end after all was said and done.
What Is Pamela Anderson's Net Worth?
Despite some fluctuations in her bank account over the years, as of 2023, Anderson has a healthy net worth of $20 million, as per Celebrity Net Worth. With her life story firmly in her hands and two big releases coming on Jan. 31, her net worth will likely only grow.