The Breakout Star Of Broadway's Spring Season
Micaela Diamond stars opposite Ben Platt in a stunning revival of Parade.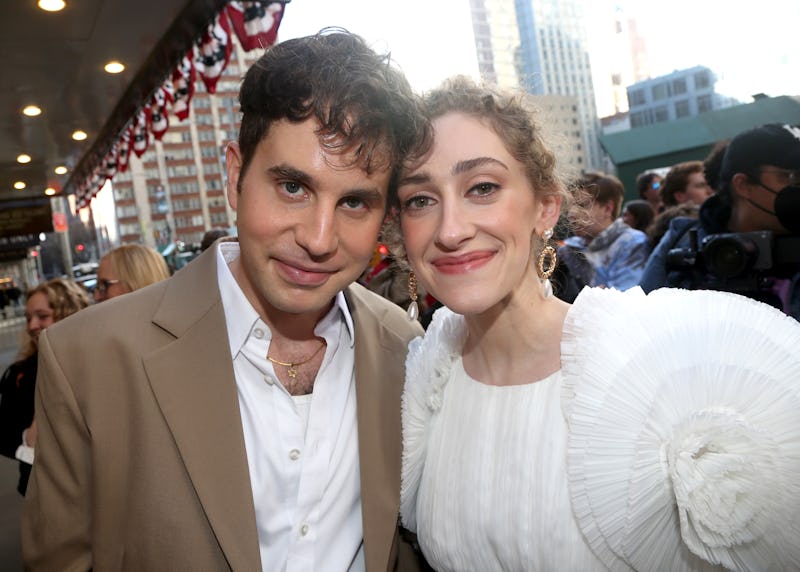 Bruce Glikas/WireImage/Getty Images
Micaela Diamond loves a dinner party. The Broadway actor hosts a regular supper club to bring people together and feed them, a tradition born of 2020 theater shutdowns, during which time she went to culinary school. "There's always a smear of tahini or yogurt at the bottom of my plate, [and] I love a braised meat," Diamond, who's 23, tells Bustle. (She keeps an Instagram dedicated to her efforts, which heavily features Mediterranean cuisine.) "There's a theme, and everybody makes a toast to the theme. It's a big part of my life now."
On stage, she's providing a similar type of collective nourishment these days, starring alongside Ben Platt in the stunning Broadway revival of Parade, which runs through Aug. 6. The musical, which premiered in 1998 from composer Jason Robert Brown and playwright Alfred Uhry, is based on the life of Leo Frank (Platt), a Jewish man in 1913 Atlanta who was accused of murdering a 13-year-old girl who worked at a factory he managed. Diamond plays his wife and fiercest advocate, Lucille, who seeks justice for her husband amid a barrage of antisemitism.
Diamond and Platt are the first pair of Jewish actors to play Leo and Lucille in a major New York City production. "That means something. If it didn't, they wouldn't be picketing our show," she says, referring to the group of neo-Nazis who protested outside the theater on the first night of Broadway previews, Feb. 21.
"So much of Lucille feels like me," says the actor, who made her Broadway debut in 2018's The Cher Show as the youngest of three versions of the titular star. "I love being able to learn from her and put so much of myself in her. It just feels like such a beautiful, worthy story to tell."
Below, Diamond talks about working with Platt, her pre-show ritual, and Parade's lasting resonance.
How familiar were you with Parade before signing on for this production?
I was in love with the score and cast album in high school. Jason Robert Brown has a gift for writing these complex and nuanced Jewish voices. There are a handful of Jewish women roles in the musical theater world, and this is obviously top of that list. The day after The Cher Show opened, I got a call from my agent about a reading [for Parade]. I remember loving being in the room and feeling chemistry between me and Ben. We both just loved the material so much.
Nothing happened for three years, and then all of a sudden, we got a call saying it was going to New York City Center [for a brief run in 2022]. I'm so thrilled about the timing of it all; we are literally Lucille and Leo's ages now. It feels like everything worked out the way it should have.
The dynamic you and Ben have on stage is so beautiful. Did you know each other before this?
We did the same community theater program when I was little, [but] never the same show. The first time we officially met was [at] the workshop. We're cut from the same cloth. We're both Jewish musical theater nerds and loved the piece. I was asked the other day if, because we're Jewish, we feel a certain pressure to tell this story, and I was like, "No, I actually think we both feel less pressure. There's no performing of our Judaism. This is who we are."
Diamond and Platt in Parade.Bruce Glikas/WireImage/Getty Images
Diamond with fellow Cher actors Stephanie J. Block and Teal Wicks in The Cher Show.Jenny Anderson/Getty Images Entertainment/Getty Images
Can you talk a bit about what being Jewish means to you?
There are four of us in the company who are Jewish and who say the [Mourner's] Kaddish before every show. It's brought up this connection to our ancestors and the honoring of Leo and Lucille.
I grew up in a conservative temple. I celebrated the high holidays with my family, and I assume that part of my love for singing came from temple and listening to those beautiful cantors. To me, [congregating over food] is a big part of Judaism, and I've tried to do that in my own life.
As you mentioned, there were protests outside Parade's first Broadway preview. I'm curious how you felt that night, if you were aware it was happening?
It was our first preview, which meant that we were celebrating 18 Broadway debuts. We found out at half-hour to places [while celebrating those] Broadway debuts. I think we all felt a lot of disappointment, and also a deep fire in our bellies to tell this story.
It really reaffirms why this story is still so relevant.
So many conspiracy theories that are tied to neo-Nazis have never taken hold of my life because they feel so outlandish, but now they're outside our window. You're like, "I can't believe we're still there." Also, it makes me think that these two Jews, me and Ben, leading this story about prejudice and racism — it really counts.
You still have months of performances to go. Do you have a sense of what you'll take away from this experience?
My hope is that I have more trust in myself as a performer, and to find a balance between being vulnerable enough to keep hearing beautiful stories at the stage door, and to take them in without letting them crumble me. I'm on my way to figuring out that balance.
This interview has been edited and condensed for clarity.