Parminder Nagra Definitely Relates To Her Maternal Character
The actor is currently playing Maryam in the new ITV drama.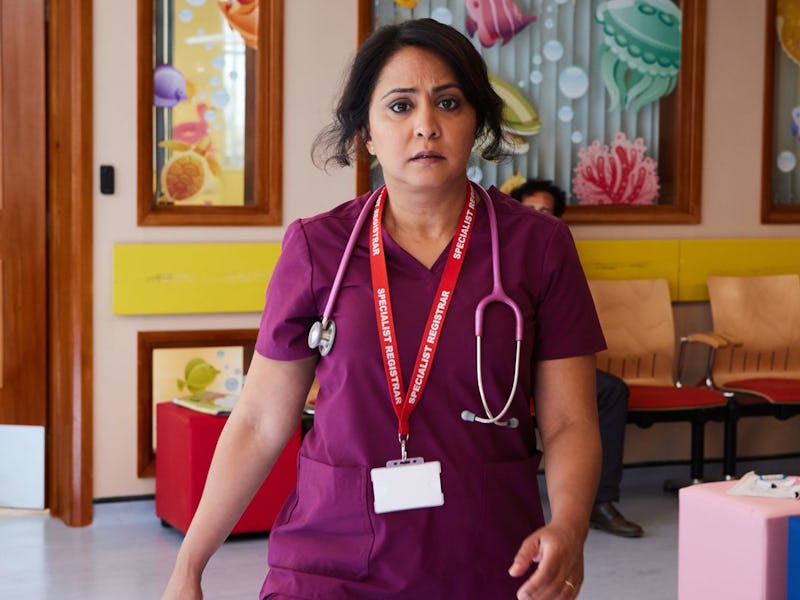 ITV
Parminder Nagra is back on our screens in the new ITV drama Maternal as Dr. Maryam Afridi. A six-part series that looks at the relationship between work and motherhood, the show is packed with wit. It also touches on an overstretched NHS system. In 2022, Nagra played a leading role in ITV crime drama D.I Ray, but she got her big break some years ago in medical drama ER and the hit UK film Bend it Like Beckham. But what is there to know about the actor's life away from the screen? Find out below.
Well, there hasn't been much revealed to the public about the 47-year-old's love life, so it can't be known for sure whether the actor is single or in a relationship. Bustle has reached out to Nagra's representatives for comment. In 2009, Nagra married photographer James Stenson after a seven-year courtship. In May of that year, the pair welcomed their son, Kai David Singh Stenson, now 13. Nagra's friend and former ER co-star Maura Tierney officiated the wedding, per The Mirror. In fact, they had two weddings — a Sikh ceremony and a civil one. In 2017, Nagra and Stenson divorced, citing "irreconcilable differences" as the reason for the split.
Of Indian heritage, Nagra has previously shared that her parents once expected her to go through an arranged marriage. "When I was 18, my mother gave me a photo of a man and said I'd marry him. I told her then that I was never going to have an arranged marriage."
More recently, when asked if she related to her character on Maternal, Nagra said, "A hundred percent, and we were all doing it in real time on that show. We were making sure our kids were taken care of and making sure that we were still able to do our work, and then feeling guilty if we weren't there."