Paul Mescal & Phoebe Bridgers Have Reportedly Ended Their Engagement
"You said all of my friends are on my payroll / You're not wrong, you're an a**hole."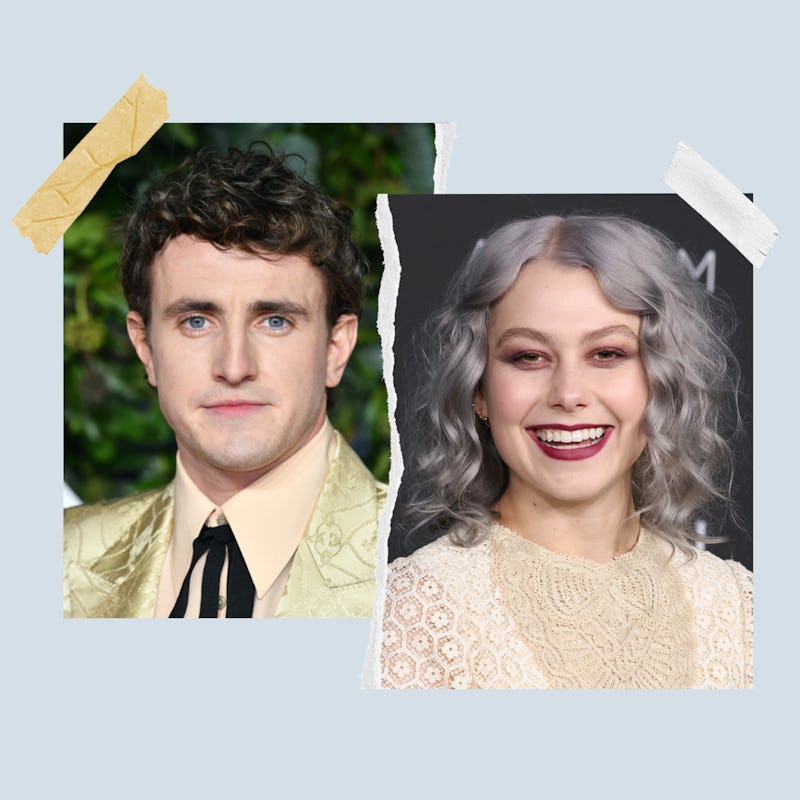 (Gareth Cattermole/BFC/Getty Images Entertainment/Getty Images)/(Taylor Hill/WireImage/Getty Images)
Fan-favorite couple Paul Mescal and Phoebe Bridgers kept their reported relationship and engagement pretty low-key, and hearts are breaking now that their relationship seems to have ended. A year before, in December 2021, Bridgers confirmed that she and Mescal were dating after months of speculation with a snapshot of the couple cozying up to each other by the water. (Bridgers didn't caption the photo, but the post is proof that a picture says a thousand words.) Months later, they appeared together at Coachella — not in the audience, but literally jamming out together on stage. After a swift engagement, it seems the internet's favorite couple has now officially called it quits.
Like so many other celebrity romances, Mescal and Bridgers' relationship began with them gushing over each other's work on social media. It turns out the "Motion Sickness" singer loved Mescal's performance in Normal People. Mescal, for his part, hasn't exactly been shy about how much he loves Bridgers' music. The two kept things fairly low-key as rumors continued to mount, but now that they've ended things, here's a look at the ups and downs of their romance.
May 2020: Rumors Start Swirling
After watching Normal People in 2020, Bridgers made her feelings about the hit Hulu drama very clear. "Finished Normal People and now I'm sad and horny oh wait," she tweeted on May 12. Mescal was flattered by the comment. "I'm officially dead," he wrote. But Bridgers didn't want that at all. "Nooo don't die your so talented aha," she responded.
The pair met for the first time later that month when they did an Instagram live for Wonderland magazine. "I think it's well-documented that I love your music," Mescal said. In response, Bridgers confessed, "Aw, well that makes me blush." Elsewhere in the conversation, the duo laid the groundwork for their relationship by chatting about their favorite musicians, their favorite actors, their worst fashion choices, and more. Things went so well that they stayed online to drink together, according to The Mirror.
June 2020: Bridgers Admits Her Crush
A few weeks after their Instagram live, Bridgers gushed over the 25-year-old actor on several occasions. In an interview with NME, she called Mescal a "cute boy" and admitted to feeling "a little pitter-patter in my heart" when she saw that he followed her on Instagram. In an interview with Vulture, she called him her "internet crush."
August 2020: They Hang Out IRL
It wasn't long before Bridgers met her "internet crush" in real life. Mescal invited the 27-year-old singer to meet him in Ireland, where they continued their online drinking session in person, per The Mirror. They were also reportedly spotted having breakfast together at a café in Kinsale, County Cork.
November 2020: Mescal Calls Her A "Lifesaver"
Without revealing his girlfriend's identity, Mescal gushed over their relationship and called her a "lifesaver" in a November 2020 interview with GQ. "To have someone to lean on through such a mad, mad time has been invaluable," he told the magazine. "Really, I don't know where I'd be without her."
December 2020: Mescal Stars In Bridgers' Music Video
Fans should've known that things were serious when Mescal appeared in Bridgers' "Savior Complex" music video. "I am once again asking you to watch savior complex starring paul & charlotte directed by phoebe waller-bridge out now everywhere," Bridgers wrote alongside two photos of the actor on set. In one photo, Mescal walks out of the trailer with a bloodied face; in another, he pets a puppy.
February 2021: Bridgers Wishes Mescal A Happy Birthday
Earlier this year, Bridgers wished her rumored boyfriend a happy birthday next to a photo of him carrying a stack of pizza boxes. "Happy birthday pizza boy @paulmescal," she wrote on her Instagram stories. Mescal re-shared the post, writing, "Mmmmmm," with a single red heart emoji.
October 2021: They Win Halloween
Mescal and Bridgers kept their relationship under the radar for nearly a year until actor Ziwe included photos of their couple's Halloween costume in a carousel on Instagram. The images of the then-unconfirmed couple dressed as A-list celebrity couple Megan Fox and Machine Gun Kelly seemingly proved what everyone had already suspected: They were more than just friends.
November 2021: They Make Their Red Carpet Debut
If their coordinated Halloween costumes didn't give it away, Mescal and Bridgers dropped a major hint that they were an item when they walked the red carpet together at the LACMA Art + Film Gala in November. The couple never formally addressed their relationship, but the way they looked at each other as they posed for photos said more than either of them ever could.
December 2021: They're Instagram Official
Although they still hadn't confirmed their relationship with words, Bridgers gave fans the next best thing when she made their relationship Instagram official on Dec. 10. In a photo shared on her Instagram feed, the singer is smiling wide as Mescal kisses the side of her face. Bridgers didn't caption the picture, but the message was clear: These two were so into each other.
April 2022: They Performed At Coachella Together (Kind Of)
From Shania Twain to Lizzo, Coachella 2022 was full of surprise performers — and on April 22, Bridgers brought out an especially personal guest for her final weekend in the Valley. That's right: Mescal joined Bridgers on stage for her performance of "I Know the End," per Coup De Main.
It wasn't necessarily a duet, but the Normal People star was very into the gig anyway — jumping during the climactic final verse of the song from Bridgers' Grammy-nominated Punisher. Of course, Mescal has never shied away from supporting Bridgers (from starring in the "Savior Complex" video to gushing over her music on Instagram live), so it makes perfect sense that he'd be an active participant there, too.
April 2022: Engagement Rumors Swirl
In late April, rumors that Bridgers and Mescal had gotten engaged emerged. The UK's Daily Mail reported that Bridgers was calling the actor her fiancé over Coachella weekend and that someone who partied with them said the singer was open about their intent to get married. Their reps didn't confirm anything, but it looked like another big milestone for the couple.
November 2022: Their Engagement Is Confirmed
Months after the buzz began, the couple's engagement was confirmed. The couple went the low-key route rather than making a big announcement; confirmation came in a single line in a Guardian profile on Mescal. A paragraph about his decision to quit social media added in parentheses that he stayed on the platforms "long enough to exchange charged messages ... with the musician Phoebe Bridgers; the pair are now engaged."
December 2022: They Reportedly Break Up
A month after going public with their engagement, the pair have reportedly broken up. Bustle reached out to Bridgers' and Mescal's reps for comment, but did not hear back in time for publication.
Bridgers has now been linked to comedian Bo Burnham after they both appeared in a compromising post on The 1975 frontman Matt Healy's Instagram (Bridgers is seen kissing Healy while Burnham looks on). Bridgers and Burnham were reportedly seen together at the Kate Berlant comedy show, further fueling the rumors. Celebrity gossip site Deux Moi confirmed via an unverified source that the images weren't a look at a different type of a relationship, claiming, "Can confirm the engagement is off between Paul Mescal and Phoebe Bridgers. It's not an open relationship in the slightest." To make things even messier, Burnham is believed to be in a long-term relationship with director Lorene Scafaria, who directed the Jennifer Lopez vehicle Hustlers.
Fans also think a new lyric from Bridgers' feature on the recently released SZA album hints at her breakup with Mescal. Bridgers has a verse on "Ghost in the Machine" where she sings, "You said all of my friends are on my payroll / You're not wrong, you're an a**hole / Screaming at you in the Ludlow / I was yours for free." The lyrics allegedly depict an argument. Bridgers confirmed to NME that she wrote the lyrics a few weeks prior to the album's release, meaning their breakup likely happened soon after they announced it to the world. Whatever went down in the Ludlow Hotel, it looks like there's no coming back from it.
This article was originally published on