TikTok Is Obsessed With Pedro Pascal's Coffee Order
It was only a matter of time.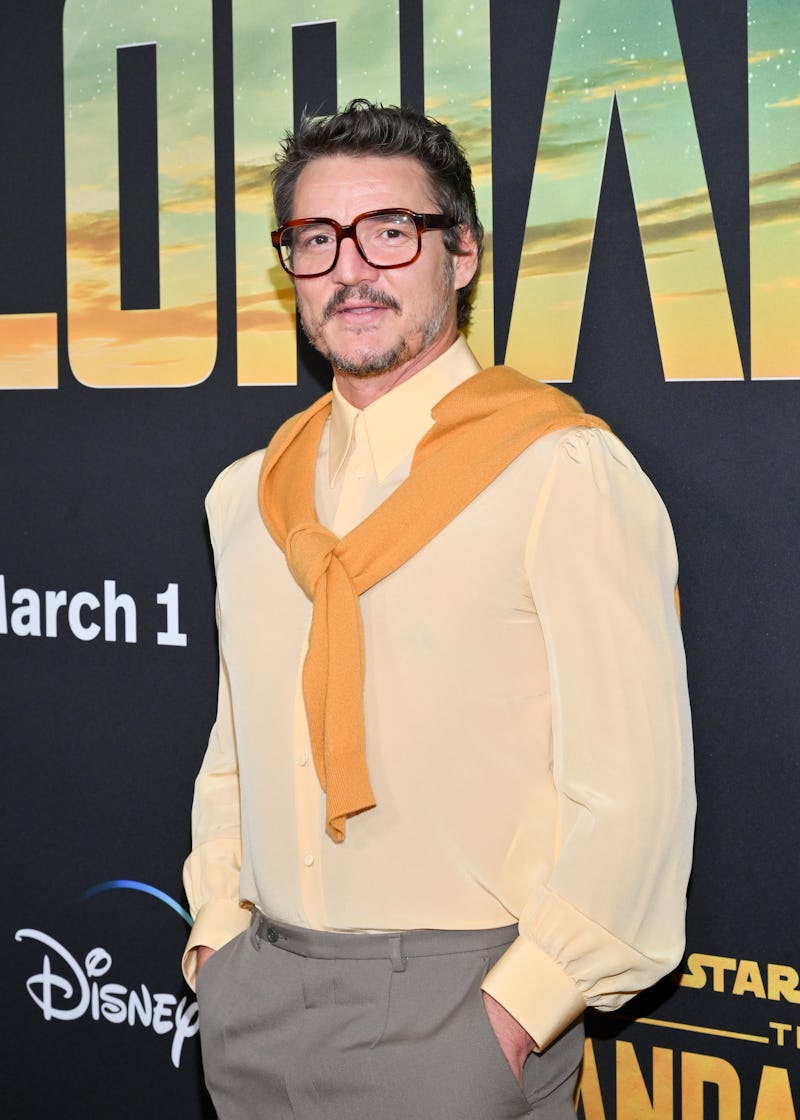 Michael Buckner/Variety/Getty Images
Pedro Pascal is still trying to figure out the difference between "daddy" and "zaddy," as he told Graham Norton in February, but he seems very clear on how much his fans who describe him as such adore him. They've shown their devotion time and time again through thirsty tweets about him, fancams, and resurfaced clips of his younger self. Now, even his coffee order has even gone viral, because of course the public needed to know his Starbucks go-to.
It all started when a fan named Alexa posted a TikTok of her chance encounter with Pascal in February. The video showed her POV as they chatted and she got him to sign a Mandalorian action figure in the street. "Met THE DADDY of the daddies 2 weeks ago and he was pure gold," she captioned her TikTok. Soon, her comments section was full of other fans' reactions to the run-in, and numerous people wanted to know more about his drink of choice after clocking his Starbucks cup. "Someone zoom in on his coffee order," one wrote.
Well, ask and you shall receive. Alexa posted a follow-up TikTok with a look at the sticker on Pascal's cup. "For everyone asking about Pedro's Starbucks Order," she wrote over the video, which had more than 766,000 likes at the time of publishing. The updated clip revealed the actor had opted for an iced quad espresso in a venti cup with extra ice and six shots.
If that seems like a lot of caffeine to you, you're not the only one. Numerous people specifically commented on the six espresso shots in the comments. "IS HE OKAY????" one person asked. Another fan wondered, "so if I survive drinking this do I become Pedro Pascal?"
Others, on the other hand, were unfazed. "This is the way," one commented, while another loved that they "drink the same amount of caffeine" as the Game of Thrones vet. (And no, he wasn't responsible for the infamous GoT Starbucks cup.) For Alexa, there was a simple explanation: "Daddy needs his coffee every morning to carry the entire world and a fandom over his shoulder," she captioned her TikTok.
The actor does indeed have a big job. Pascal currently stars in both The Mandalorian and The Last of Us, and he shared that two series at the same time is probably his limit. "I don't think I can handle a third, to be honest with you," he told Collider in May. He did, however, note he "couldn't be happier with being a part of these two experiences."
Pascal's Starbucks sticker shows that the encounter took place on Feb. 6, which is just two days after he hosted Saturday Night Live for the first time. He was busy with press for The Mandalorian Season 3 at the time, so it's understandable that he needed a caffeine pick-me-up (or six). Whether or not other people should try it is an individual choice and remains an ongoing social media debate.