Pedro Pascal's Cameo In Buffy The Vampire Slayer Is The Ultimate Throwback
And we have Sarah Michelle Gellar to thank for the reminder.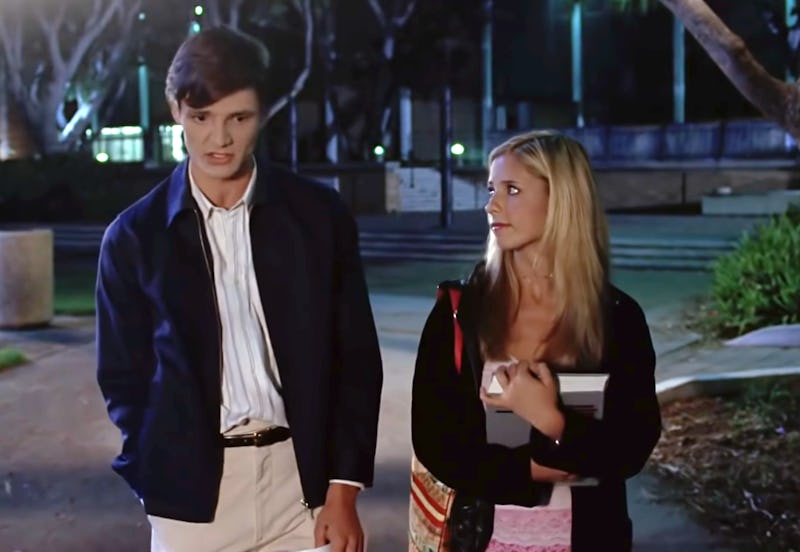 The WB
No matter which side of the internet you're on, Pedro Pascal's reigning superiority is unavoidable. Before The Last Of Us, the game changing zombie apocalypse show, many associated Pascal with Game Of Thrones and Narcos. However, a recent celebrity post reminded the public that the 47-year-old actor also appeared in another iconic cult show. Sarah Michelle Gellar shared a photo of herself and Pascal on her Instagram, throwing it back to his appearance on Buffy The Vampire Slayer.
Captioned "When #Mother met #Father," the picture shows Buffy (Gellar) walking with Edward (Pascal) as they exchange a shy and hopeful glance. As true fans might remember, Edward and Buffy met on his first day at college and made plans to meet later but unfortunately that never came through. Soon after, Pascal's character got kidnapped and transformed into a vampire whom Buffy successfully slays. Fans are now mourning the rapid end to what could have been an interesting romantic tale. One comment reads, "In an alternate BUFFYverse he survived and went on to become a great love interest."
Pascal's present day role in The Last Of Us feels like a full circle of sorts as his character fights fungal mutations to protect humans instead of vampires. Some fans see the similarities and wishfully manifest a fun crossover or spinoff between the two thrillers. "The Last of Buff spin-off when" and "Buffy the Clicker Slayer" were some of the creative names they offered.
Other commenters were shocked that they didn't remember Pascal was in the show or that it took decades for the actor to find the fame he has today. Back in 2015, the actor spoke to Vulture about his role in Buffy The Vampire Slayer and said, "That was one of the first jobs I got after I graduated, being a vampire — albeit briefly."