25 Phoebe Buffay One-Liners That Are Still Hilarious
Apparently even Lisa Kudrow couldn't help but laugh.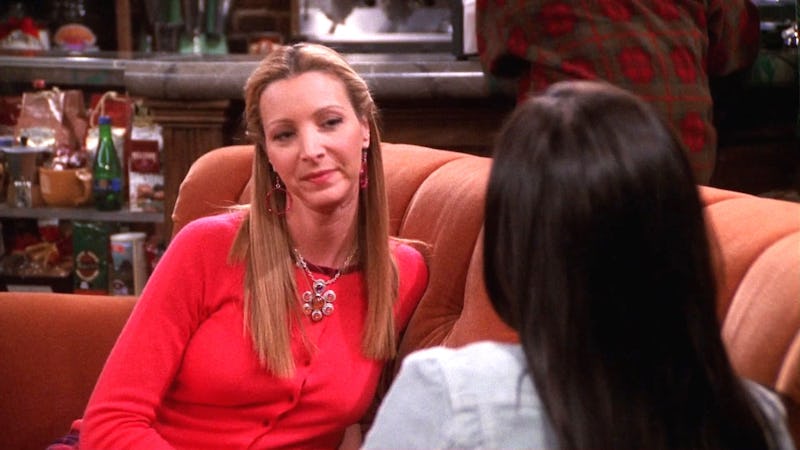 Warner Bros. Television Distribution
Phoebe on Friends always said what was on her mind. Self-censorship was the opposite of her way of life, but she didn't just say what she thought, she said it in the most concise way possible. Yep, Phoebe Buffay loved a one-liner, and they were all the better when she was delivering a much-needed dose of reality to the (initially) spoiled daddy's girl Rachel Green, or any of the other residents of 495 Grove Street. After all, having moved out to live on the streets of New York City at just 14, Phoebe could and did take offense to the others bellyaching over relatively small issues.
But it wasn't just reality checks where Friends' resident boho weirdo came into her own. It was her deliberately quirky take on the world, too. In fact, in 2009, Lisa Kudrow revealed in an interview that she drew on her colleague Jennifer Aniston's knowledge of that world to build out the character. "Phoebe was so spiritual and 'out there' — and I wasn't at all. Not at all," she told WENN, per Digital Spy. "If anyone was, it was Jennifer. She introduced me to certain books that gave me an insight into that world — which was a more spiritual realm."
So skillful was Kudrow's execution of the kooky best friend that in recent years critics have reexamined the centrality of Phoebe to the success of the show. In 2019, the New York Times published a feature arguing, "25 years later, it's Phoebe who emerges as the least hyperbolic, most nuanced and ahead-of-her-time character on the show." Central to that were her one-liners, which Aniston recently revealed in a 2020 chat with Kudrow for Variety that Kudrow herself would often break at. "You and I would always get into these fits of laughter because you had this wonderful ability to — you were about to hit your punchline, and you would do this adorable thing where you would break. You would say the punchline, and you would always turn to the audience and say, "I'm sorry, it's really funny," Aniston explained. Same, so here are 25 of Phoebe's best one-liners from Friends.
This article was originally published on